On February 15th Lawrence Central Rotary welcomed four new members to our family.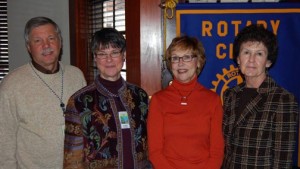 From left to right: Fred Atchison,
Kate Campbell,
Roberta Suenram,
Paula Gilchtrist
Location:
Eldridge Hotel
All American Room
701 Massachusetts
Lawrence, KS 66044

Time:
Wednesday's at Noon
Download our two page brochure!
Do you like what you see?
Want to take the conversation further?
Click Here to request more information.