Over two dozen eighth graders from Southwest Middle School told Lawrence Central Rotarians their ideas about how to make the world a better place. The students are all members of the Future City team that placed first in regional competition and then took home the fifth-place prize at the national Future City competition in Washington, D.C. In May, members of the team will give their presentation once again at the annual meeting of Underwriters Laboratories, a Future City sponsor. They are one of two teams who have been invited to attend the meeting.
The Future City competition encourages middle schoolers nationwide to "imagine, research, design and build cities of the future." This year the challenge for the competition was "The Power of Public Space." The Southwest team selected Jakarta, Indonesia, to re-imagine 150 years in the future. They called their new city "Teratai," a word that means lotus in Indonesian, symbolizing "the peace and serenity that is part of the rebuilt city."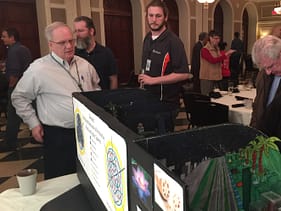 In the process of their work, the students learned and followed engineering methods: identify the problem; learn the specifications; brainstorm solutions; design it; build it; then test, improve, and re-design. The program requires each team to develop a project plan, create the city virtually, compose a 300-word essay to describe their solution, build a working model out of recycled materials, and present their concept in a seven-minute talk.  Co-coaches Danielle Lotton-Barker and Jamie Shaw guided the team in their work.
When asked what they had learned from their experience, the students repeatedly exclaimed about the power of teamwork. They came together last fall as individuals with diverse talents, interests, and expertise, and they learned to work together to create not only a prize-winning product but also to develop respect for each other's contributions and strong friendships. Several said that they intend to pursue careers in engineering and related professions because they enjoyed working on the project so much.