About Lawrence Central Rotary

Have a program suggestion? – Lawrence Central Rotary Email
Membership information – Fred Atchison
Current Club President – Jim Evers
Club Officers 2022-2023
President – Jim Evers President-Elect -Kade Meyer
Vice President – Club Administrator – Shelly McColm
Treasurer – Megan Richardson Past President -Lee Anne Thompson
Program Coordinator – Scott Wagner / Jim Peters Membership Chair – Fred Atchison
"Getting things done and having fun" describes the Rotary Club of Central Lawrence. Lawrence Central Rotary was formed and chartered in the spring of 2003. Ed and Jerry Samp are brothers who brought their vision of a new Rotary group located in historic downtown Lawrence to fruition. Our membership is small, right at 30 members, but growing.
To read an article in the Journal-World back from February of 2003 when Ed Samp announced the forming of the new club click HERE. Our club is located in District #5710 and our club is #61504.
What is Rotary?
Rotary was born in 1905, the idea of an attorney Paul Harris, who along with four of his business friends founded the first Rotary Club. Harris' idea was that business leaders should meet periodically to enjoy camaraderie, and to enlarge their circle of business and professional acquaintances. The name "Rotary" derived from the early practice of rotating meetings among member's offices. As Rotary grew, its mission expanded beyond serving the professional and social interests of Club members. Rotarians began pooling their resources and contributing their talents to help serve communities in need. The organization's dedication to this ideal is best expressed in its principal motto: "Service Above Self."
The Four-Way Test
From the earliest days of the organization, Rotarians were concerned with promoting high ethical standards in their professional lives. One of the world's most widely printed and quoted statements of business ethics is The Four-Way Test, which was created in 1932 by Rotarian Herbert J. Taylor (who later served as RI president) when he was asked to take charge of a company that was facing bankruptcy.
This 24-word test for employees to follow in their business and professional lives became the guide for sales, production, advertising, and all relations with dealers and customers, and the survival of the company is credited to this simple philosophy. Adopted by Rotary in 1943, The Four-Way Test has been translated into more than a hundred languages and published in thousands of ways. It asks the following four questions:
Of the things we think, say or do:
1. Is it the Truth?
2. Is it Fair to all concerned?
3. Will it build Goodwill and Better Friendships?
4. Will it be Beneficial to all concerned?
---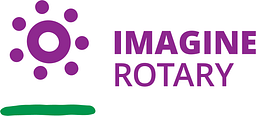 Imagine Rotary" is the 2022-23 presidential theme RI President Jennifer Jones revealed on 20 January. She is asking Rotary members to dream big and take action: "We all have dreams, but acting on them is a choice. Imagine a world that deserves our best, where we get up each day knowing that we can make a difference."
The logo for the theme was designed by Riki Salam, an Australian artist and graphic designer specializing in contemporary Indigenous art, design, and communications. He also created the 2023 Rotary International Convention logo which will be held in Melbourne, Australia, thus connecting the two by a shared visual language.
Meaning of the design elements
There is, of course, a deeper meaning behind each element of the design. The circle in aboriginal culture for instance, signifies our connections to one another. The dots around it represent people and there are seven because of Rotary´s areas of focus.
The circle and the dots together become a navigation star – our guiding light. The solid line underneath is what is referred to as a digging stick and it is used when doing hard work. And since Rotary members are people of action – it represents a tool for getting things done.
The colors
The colors green, purple, and white are not necessarily connected to aboriginal culture. President-elect Jennifer Jones asked the new crew of Governors to use one, two, or all three when dressing for official events instead of using a theme jacket. "As we celebrate diversity, equity and inclusion, I wanted all of us to be able to express ourselves differently in what we wear, but still have connection," she explained.
There are several ways to interpret the colors: Purple for example stands for polio eradication, green for the environment, the newest addition to our areas of focus, and white for peace, our core mission. Together, they are the colors of the women's movement, the Suffragette – a subtle nod to this history as Jones pointed out, since she will be the first female RI president.