Archive for the 'History' Category
8/18 UPDATE:  We've been working with the staff of the Eldridge on the event and  Exec Sous Chef Nicholas Haxton is planning a special meal for all of the people who decide to have lunch with us on Wednesday.  Here's a snippet of an email from late last week:
"Here is my idea for the buffet.  I have in my cookbook collection a book titled The Kansas Home Cook Book and it was printed in 1882 from Leavenworth.  One on the great things about it is that it contains authentic recipes from the time period but it also has where the recipe came from.  So for the buffet I came up with a menu that is not only historically appropriate, but it also utilizes some recipes from people that actually lived in Lawrence during that time:
 Roast chicken served with Mrs. A.M. Jenkins chow chow
Mrs. O.B. Gunn nice muffins (how it's really listed in the book!)
Kansas prairie salad served with Fannie Woodard dressing
Mrs. G.E. Jones baked sweet corn"
We've had a lot of people RSVP and if you plan on coming please try and RSVP by the end of the day Monday 8/19/13 to lawrencecentralrotary@gmail.com.
___________________________________________________________________________________
Did you know that the Eldridge Hotel where Lawrence Central Rotary holds our weekly meetings was burned and destroyed during Quantrill's Raid in 1863, but what happened to the guests who were staying there? You may be surprised to learn that most of them escaped harm. Provost Marshall Alexander Banks, a hotel guest, called out to Quantrill to allow guests to leave before the hotel was burned, and they were escorted to the City Hotel for safekeeping during the raid.
At Lawrence Central's August 21st meeting local historian and author of "Lawrence Survivors of Quantrill's Raid" Katie Armitage will present a talk about this horrific event and explain what happened to the Eldridge Hotel guests, on the exact one-hundred and fiftieth anniversary of the raid, August 21, 2013.
Please join the Eldridge Hotel and Lawrence Central Rotary for this special event in the Crystal Ballroom of the at noon to approximately 1pm for this special presentation.
We have planned a buffet lunch that includes coffee, tea, or water for those who wish to partake for the cost of $12 (includes, tax and tip.)
If you plan to attend please RSVP to lawrencecentralrotary@gmail.com
10 years ago former Lawrence Central charter member Ed Samp had an idea. Samp and several other area residents began talking in November 2002 about the idea of forming another chapter. They had heard of several people who were interested in joining a Rotary club but the meeting time, location or size of the existing two chapters wasn't appealing to them.
A decade later the current members of the Lawrence Central Rotary celebrated our 10th anniversary.   On March 13th, instead of our usual haunt at the Eldridge All American room, we descended upon Famous Dave's banquet room and discussed the past and the future of our club.  Members old and new brought their significant others and families for some time together to celebrate.  Many thanks to Lynn O'Neal for putting together a slide show of memories and taking pictures.
Below pictures from the event and a scan of the program from the Rotary Charter Night held March 12, 2003.  We've also posted our current President Bob Swan's remarks to the attendees below.   Thanks to everyone for coming!
Continue reading "Lawrence Central Rotary Celebrates 10 Years" »
At the February 15th meeting club member Lynn O'Neal had a copy of a story from February of 2003 announcing his intention to create a new Rotary Club in Lawrence. A link to the original story by Chad Lawhorn is here, but we've also re-posted it below.
---
CornerBank leader forming new Rotary club
Area business professionals interested in joining a Rotary club should have a third choice by May, according to the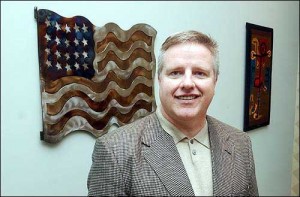 leader of a group interested in starting a new Lawrence chapter of the international organization.
Ed Samp, president of Lawrence's CornerBank, is leading a group of area residents who hope to form the Lawrence Central Rotary Club.
It would be Lawrence's third chapter of Rotary International, which is a service organization comprised primarily of business owners, managers and professionals who meet weekly to support charitable causes.
Samp and several other area residents began talking in November about the idea of forming another chapter. They had heard of several people who were interested in joining a Rotary club but the meeting time, location or size of the existing two chapters wasn't appealing to them.
Both clubs meet each week at the Hereford House at Sixth Street and Wakarusa Drive. The Lawrence Rotary Club meets at noon Mondays. The Jayhawk Breakfast Rotary Club meets at 7 a.m. Thursdays.
"I had talked to several people who were a little reluctant to come all the way out to the west side of Lawrence for lunch," Samp said. "That's why we thought a club that met somewhere more centrally located might be popular, hence our name."
Samp said the group, which has grown to 17 people, meets at noon each Wednesday. The group hasn't selected a permanent meeting place, but it is considering the Lawrence Holidome, 200 McDonald Drive; the Eldridge Hotel, 701 Mass.; and the Lawrence Arts Center, 940 N.H., Samp said.
According to Rotary International rules, the new group needs at least 20 charter members before it can become an official chapter. Samp said he expected the group to get its 20th member within the next week, allowing it to file the formal paperwork this spring.
He said the chapter hoped to be officially chartered by Rotary International in May.
The presidents of Lawrence's two existing Rotary clubs said they didn't have any objections to the new chapter.
"Rotary is always interested in increasing its membership, so my thinking is the more the merrier," said Vickie Randel, president of the Lawrence Rotary Club. "We understand that a lot of why a person decides to join Rotary has to do with the when and the where of the meetings."
Ron Hurst, president of the Jayhawk Breakfast Rotary Club, said he also understood that some people were interested in belonging to a smaller club. The Jayhawk Club has about 90 members and the Lawrence Rotary Club has slightly more than 200 members.
"When we started our club about nine years ago, the thinking was that the original club had grown pretty large and it was difficult to get to know everyone," Hurst said.
Samp said the new group hadn't decided what membership fee to charge, but he said it likely would be $100 a year or less, in addition to a weekly meal fee of about $10.
Originally published at: http://www2.ljworld.com/news/2003/feb/04/cornerbank_leader_forming/