Archive for the 'News' Category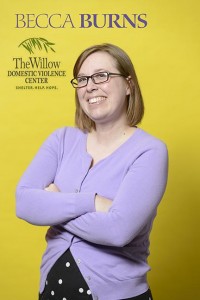 Becca Burns, the Director of Volunteer Services for The Willow Domestic Violence Center, joined Rotarians for lunch to kick off the club's third annual fund-raising effort on behalf of the agency. Each May, Lawrence Central Rotary collects personal hygiene items and financial contributions for The Willow.
Burns highlighted the range of services available at The Willow as well as the wide-spread need for those services. One in three women will experience some sort of domestic violence in their lives; one in six men are victims. The agency is now providing programs to educate and prevent domestic violence as well as assist those escaping from it. The Willow is also addressing the issue of human trafficking for labor or sexual exploitation. Their programs include efforts in Franklin, Jefferson, as well as Douglas County.
Becca is responsible for training, recruiting and supervising volunteer and intern advocates, many of whom work directly with the survivors The Willow serves. She obtained her Master of Social Work degree from Washington University and her Master of Education from the University of Missouri at St. Louis.
All month Lawrence Central encourages members and guests to come to our meetings and drop off cash donations or items that will go directly to help the work that The Willow does.  Please consider making a cash donation or picking up some items from the list provided by Willow:
1. Ethnic hair care products (wide-tooth combs, Pink brand products, Pantene in the brown bottles) – if your members have any questions about where to go, they can stop by Sally's in the Kohl's shopping center or check out the Ethnic hair care sections of Walmart and Target
2. Tampons
3. Over-the-counter stomach remedies, pain medication, and allergy relief
4. Adult body wash
5. Baby wipes
6. Diaper rash cream
7. Diapers, size 0-6
8. Flash drives
9. Planners
10. Watercolors – for the Art Program
11. Bubble machine – for the Children's Program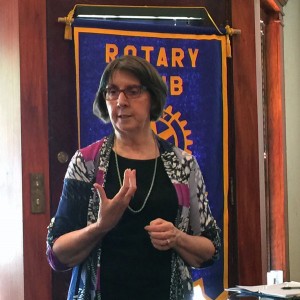 In the week before she spoke to Lawrence Central Rotary on April 29, Theatre Lawrence executive director Mary Doveton supervised the return of a water buffalo head to the Museum of Natural History and took part in a contest to pick the best bloody Mary recipe for the theatre bar to feature at the upcoming performances of South Pacific.
The water buffalo head was a prop for the recently completed  production of  The Explorers' Club .  Other parts of the scenery included a life sized stuffed brown bear, also from the museum, pretend poisonous snakes and  a full sized giraffe skin rug created by a theatre volunteer.
At their new Theatre Lawrence facility on Lawrence's westside, Doveton oversees 835 volunteers.  "It's been a quantum leap from the smaller, old facility we were in for years to the new 35,000 square foot facility," she said "and has required more staff and volunteers. Although," she added "not all of them have to create a giraffe skin rug."
Theatre Lawrence began in the '70s as a community theater, building sets, rehearsing and giving shows in whatever spaces they could find. In 1984 they moved to a remodeled former church, which was damaged by a fire in 2003.
In 2012, after a capital campaign, which is still going on, construction began on the new theater ,that opened in 2013 with a performance of Ragtime on the new mainstage.
Theatre Lawrence also sponsors a concert series, and programs for children and seniors.
The 2015-2016 season will feature six full scale productions, community activities, children's shows, and activities and opportunities for seniors.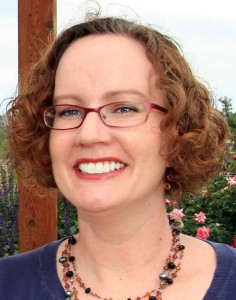 A self-described serial entrepreneur, Central Rotarian Kris Adair and her husband recently opened the Lawrence Center for Entrepreneurship.  The business grew out of the fledgling Lawrence Free-Net which is now where the local gigabit internet provider Wicked Broadband and their data center is now housed.   The Center, she said, is for anyone who wants to make something, start something or create something.
The Center, at 925 Iowa, has three main components: A co-working space, a maker studio and an on-site data center.  The co-working space is a membership or occasional walk-in space for single entrepreneurs, start ups, and, often,  people who don't have an office. There is 24-hour access with high speed internet, a mail center and a conference room.
The maker studio is an on-site fabrication area which is a premium work area for members. All of the needed tools are available including CNC milling, 3D printing equipment and power tools.  The center is offering beginner classes on 3-D printing and other topics in the evenings.  Their on-site data center has Gigabit fiber and is peered directly to Wicked Broadband's fiber backbone. There is carrier class internet and rack space options available to members.

The goal for Adair is to provide a collaborative environment where people can work together to help grow businesses, teach management skills, and show how to fast track key components to get ideas to market quickly. Membership rates vary but include monthly memberships, day passes and extras such as a reserved desk, various sizes of storage and a private office.
"We give tours of the Center during open house Fridays, between 2 p.m. and 6 p.m.," Adair said, and Working Wednesdays from 6 to 9 p.m. each week. She said she could be contacted at kris.adair@larryville.com or 785-840-7989.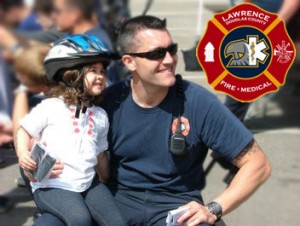 The Fire Medical Department will hold their annual Helmet Fair on Saturday, April 25th on the University of Kansas campus alongside the annual Spring Football Scrimmage. The event will be the parking lot just West of Memorial Stadium in Lot 58. The event will run from 11:00 a.m. to 1:00 p.m. and is free to attend.
Immediately following the Helmet Fair, the KU Spring Football Scrimmage will take place at 1:00 p.m. in Memorial Stadium.
At the event, public safety staff will be on hand to provide and custom-fit bike helmets for children age 15 and younger (with an adult, while supplies last). Participants can have their bicycle inspected and take a ride on the Safe Ride Course. Staff will provide information on bicycle safety tips, bike trail etiquette, booster seat safety and swimming safety.
The Hyvee Hawk Zone will be offered from 11:00 a.m. to 1:00 p.m. featuring family-friendly inflatables, face painting, music and appearances by Big Jay and Baby Jay.
The city's Police and Fire-Medical Departments and Kansas University Public Safety are joining efforts to provide this event, along with several private and non-profit business partners including Kansas Athletics, Laird Noller, Safe Kids Douglas County, McDonalds, Sunflower Outdoor and Bike Shop, Douglas County Medical Society, Lawrence Mountain Bike Club, Dillons, Ranjbar Orthodontics and Lawrence Pilot Club.
Contact the Lawrence-Douglas County Fire Medical Department at (785)
830-7000 for more information.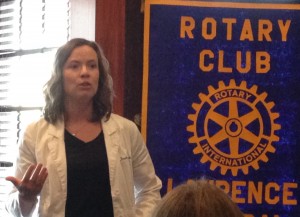 Janelle Williamson's job description is that she provides pain and palliative care services through Lawrence Memorial Hospital—a simple description for a very complicated service.  And, complex as the job is, Williamson, says she loves what she does because it's "a wonderful and rewarding experience."
Williamson has been a nurse for 13 years, receiving her Master's Degree in Nursing from Washburn University in 200 7.  She has an impressive string of initials after her name (APRN/NP-C)  and has worked in private practice as well as with hospitals.  But palliative care is her passion.
"Palliative care is not hospice, although many people think it is," she told members of  Lawrence Central Rotary on April 8.  Palliative care is specialized medical care for people with serious illnesses. The overall goal is to improve the quality of life for both the patient and family, not just help the dying as does hospice.
"Palliative care is a philosophy of medicine for someone with serious illness," she said. "For each patient, working with his or her medical team, family, friends and sometimes social workers, we ask the patient 'What do you want out of life? What's quality of life for you?'  And then we try to help him or her achieve that.
"Sometimes a patient will say 'I've done what I want to do and I'm tired. I'm done.'  We help the families accept that and we help the patient to make decisions without feeling guilty."
Palliative care workers communicate patient's wishes to family and other providers within the hospital and the community to ensure that they are heard. They also provide education and support to direct care staff.  They discuss spiritual concerns with patient and family and provide bereavement follow-up.
"Our motto," Williamson said "is to help you live each day as well as possible."