Archive for the 'News' Category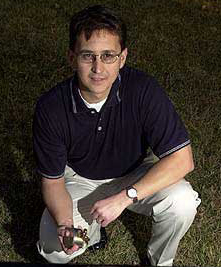 A rise in sea levels may not seem like a problem that would concern Kansans,  but Michael Steinle told his fellow members of Central Rotary Club that it's a situation that could affect everyone.
Steinle is  Principal Management Consultant with ARCADIS, a  privately owned company that deals with risks in the infrastructure, with water, the environment and in buildings. ARCADIS  provides risk assessment in all these areas. He said rising sea levels along the coasts are going to be a major problem
"In evaluating situations such as this, we go through several steps," Steinle said. "We identify risks and then work on ways to mitigate them.
"We repair damage, getting specialists in many areas to help us."
Steinle said the company studies responses to situations and provides training , for example, simulating search and rescue exercises.
"And then," he said "we work on helping with recovery from incidents."
Steinle said the company is also looking at resilience as the infrastructure is aging and at asset management.  They do earthquake planning,, especially studying  providing shelters for quake victims. They have grant applications out to FEMA on behalf of  clients and they work with the highway patrol in several states on crash response.
"Our clients are starting to understand the sea water rise and we're currently looking at a project in New York to provide water barriers.
"We're working hard on getting everyone to be aware and follow the necessary guidelines," he said.
Ben Alford and Karl Fundenberger, volunteers representing the Topeka Community Cycle Project shared the history of the Topeka initiative with Lawrence Central Rotary.  The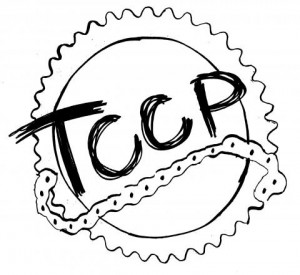 (TCCP) is a non profit volunteer organization committed to the reclamation and distribution of recycled bicycles and in the process promotes self-reliance, sustainability, and healthful living.
The TCCP work space is open on Thursday evenings and mid-day on Saturdays providing opportunities for members of the community to volunteer their time and/or have access to the free bicycle maintenance work space. The work space includes shop stands and tools in their downtown Topeka location. There are also opportunities for people to learn from shop volunteers how to repair and maintain bicycles.  Through an Earn-a-Bike (EAB) program, volunteers refurbish bicycles that would otherwise take up space in a landfill, giving new life and utility to bicycles.   Once an individual has invested 10 hours of volunteer time at TCCP, they may pick out a donated bicycle and work with a shop mechanic to refurbish it for their own use.  The organization also gives away bicycles and helmets to children and serves as an information source about all forms of cycling and cycling events in the area.
TCCP welcomes donations of time, money, and used bicycles, bicycle parts, and tools.  The group is located at 423 S. Kansas Avenue in downtown Topeka.  They are renovating a historic space for use as their permanent community bicycle work space.
Locally there is some interest in creating a similar work space to refurbish bikes and teach maintenance skills.  There is a local group, called Lawrence Unchained Bike Coop that is currently working on the creation of a similar project in Lawrence. For more information about their work and/or to get involved email lawrenceunchained@gmail.com.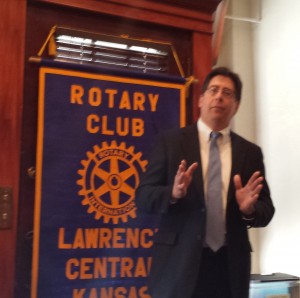 Professional Science Masters program is a new science-based professional degree, now offered on the  KU Edwards campus. Dr. Mark Jakubauskas, the program director, said the idea has been in the works for years and is now  available at 71 universities with 300 such programs across the country.
He told Central Lawrence Rotarians that the degree, which began at KU  in the summer of 2013,  is a combination of graduate-level science and/or mathematics. It is intended for math and science graduates who want careers at the intersection of science and management.
Students enroll in short courses such as business fundamentals, tech transfer, project management, entrepreneurship, regulatory affairs, leadership and ethics with training in communication and team building.  Rounding out the program is a required internship.
He called the internship the capstone project. Students are able to apply their skills in the disciplines they choose. Professionals from all areas are involved and provide evaluations of the program as it continues.
"We're trying to fit the  to the specific needs of the businesses out there," he said. "We're very excited about this. People who already have degrees in science and technology often don't want to go on for a Ph.D.  but do want to have a masters.
"There's a lot of interest from businesses about this and the program is exploding. It is the first PSM program within 200 miles of the Kansas City area."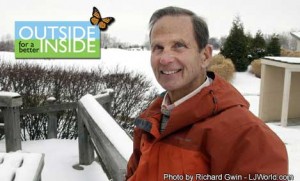 John McGrew has been interested in the relationship between nature and wellness for decades.  Richard Louv coined a term in his book Last Child in the Woods that gave John a name for what he was observing:  Nature Deficit Disorder.   Realizing that others shared his concerns that today's children are growing disconnected from nature, he renewed his commitment to luring children away from the plugged in culture that preoccupies them and  providing opportunities for them to enjoy the out-of-doors at farms, nature areas, and walking trails.  The goal is better physical and emotional development for every child.
John is founder of Outside for a Better Inside, a Lawrence organization that is becoming a leader in the national Children and Nature movement.  Outside for a Better Inside has sponsored annual Nature Education Days in Lawrence, often at the Rotary Arboretum in southwest Lawrence.   They also commissioned Kelly Hunt, well-known R&B musician, to compose and record a song with the Lawrence Children's Choir called "Let's Go Outside for a Better Inside."
The group's current initiative is a walking trail to be built this summer in conjunction with the City of Lawrence.  It will extend from an entry point northwest of Second and Indiana streets, go past Lawrence Memorial Hospital, Bert Nash, and Lawrence/Douglas County Health Department, continue along the Kansas River to the City of Lawrence Burcham and Constant Parks near Vermont and Sixth Street downtown. The trail has received funding from the Sunflower Foundation.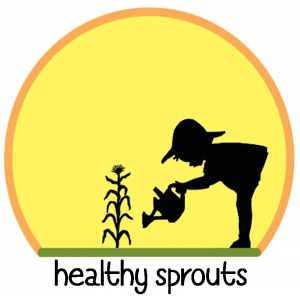 Emily Hampton has grown the seed of an idea for improving community nutrition into a strong program that is bearing fruit in Lawrence.
A few years ago as Emily became involved in the Lawrence community gardening program, she realized that many consumers—and especially children—had no clear idea of where their food came from other than a fast food restaurant drive-through or a convenience store shelf.  National studies found that French fries were the most common "vegetable" that children eat at 18 months of age.
In response, Emily launched what is now known as Healthy Sprouts.  This Farm to Preschool program teaches young children, their parents and their care-givers about gardening and about cooking and preserving the food that they grow.  The goals are to instill healthy eating habits early, to increase access to local, nutritious foods, and to provide comprehensive food education.
To date, the initiative has started 42 gardens in childcare settings in the Lawrence area.  Emily and her partner educator Melissa Freiburger work with twelve childcare centers, 30 home daycare providers, and over 1,000 children each year.  Melissa pointed out that the Lawrence curriculum has received national recognition from the Farm to School Peer Leadership Group.
Healthy Sprouts is a program within the Douglas County Child Development Association.  The initiative teams with Community-Supported Agriculture (CSA) in the area and is funded by Kansas Health Foundation, Assists Foundation, and donations from individuals and businesses in the community.
For more info about Healthy Sprouts check out their online links here: Facebook | Twitter | Wellcommons