Look for your ballot and be sure to vote!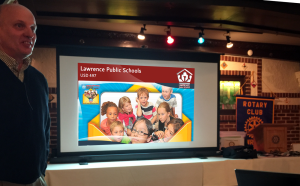 Dr. Rick Doll, Superintendent of Schools for District 497 in Lawrence, explained to Rotarians the school funding issue that is in front of voters.   A ballot will arrive in each resident's mailbox this week.
The question in front of voters is whether or not to maintain the current level of funding in the Local Option Budget (LOB) at 33% of the general fund amount that is provided by the state funding formula.  Passing this measure will not increase property taxes and will maintain District 497 LOB funding at the current level.
The LOB was originally established by the Kansas legislature to fund "extras" in a school district.  Now District 497 uses the LOB taxation to extend their general fund in order to pay for basic needs.  All other districts in the state have taken similar action.
Rotarians asked Doll to comment on a variety of topics in addition to the ballot measure.  He told the group that he is especially pleased to see the transformation of the older schools in the district, thanks to the bond issue that voters approved a year ago.  The new College and Career Center under construction on Haskell Avenue will offer exciting opportunities to both youth and adults.  He commended the City of Lawrence, Douglas County, and the Chamber of Commerce for their collaboration on the technical school planned in conjunction with the new facility.
Doll foresees that the District will next need to build a new elementary school to the west in coming years and to make improvements at Lawrence High School.   He notes that District 497 has the largest virtual school in the state and is proud of its success.  Common Core standards make sense in the current world, Doll says, but have become politicized.  The community should be concerned that 40% of the children in the District are eligible for free or reduced-price lunch.
Below is a video from the USD 497 website with a little more information on the ballot initiative.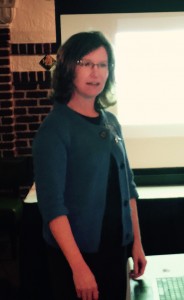 Mary Jo Mason, a dietician with Hy-Vee groceries, emphasized one of the basic principals of Rotary, when she said a big part of being healthy and aging successfully is connecting with others, something that has always been important to Rotarians.
Two related parts of maintaining good health are increasing activity and decreasing stress. A fourth rule to follow is "thinking your plate." Organizing a balanced plate replaces the old food pyramid in promoting good health.
Hy-Vee, the Midwest grocery chain, is involved in many aspects of healthy living from employing dieticians who work with customers, to stocking healthy products, to working with community organizations.
Customer concerns that also concern Hy –Vee are eco-conscious foods, memory function, fighting disease, monitoring allergies, cancer and heart disease prevention and working to maintain a vital immune system.
"Our bodies are fascinating," Mason said and cited several examples of the way nature has set us up to function if we will only cooperate. She listed products to watch for including NuVal and Responsible Choice, as well as several other brands. Hy-Vee sponsors programs for children such as Saving the World and works with many community health organizations such as the American Heart Association.
Mason discussed pro-biotics, the pros and cons of hormones in food, and closed with a question and answer session with questions ranging from genetic modification of foods to whether or not there really are medicinal benefits to chicken soup.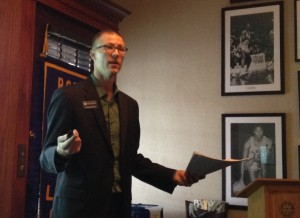 The Kansas Bar Association's Young Lawyers Section and the National Association of Women Judges have partnered together to put together a series of presentations called the "Informed Voters Project".
Nathan Eberline who is the Associate Legislative Director & Legal Counsel at the Kansas Association of Counties spoke to Lawrence Central about the need for an independent judiciary  and a knowledgeable electorate.  The presentation  was nonpartisan and apolitical (though judicial retention in Kansas has been a campaign issue and judicial appointments have increasingly been part of the legislative debate).
The current State Supreme and Appellate judicial branches in Kansas appoint differently.
The members of the State Supreme Court Nominating Commission are:
Four laypersons selected by the Governor, one from each of the four Congressional Districts
Four lawyers, one from each of the four Congressional districts, elected by the lawyers in their districts
One chairperson, a lawyer elected by lawyers statewide
The Kansas Bar Association has no role in the selection of lawyer members or the chair of the Supreme Court Nominating Commission
While until 2013, selection method for appellate court judges was identical to the merit system used for appointments to the Supreme Court. But the process established by statute, not the constitution and a new process passed by the legislature and signed by the Governor eliminated merit screening by a nominating commission. Now Governor selects and Senate confirms.
The whole idea of an independent judiciary is because laws passed are based on the needs/desires of their constituents or voters, their own beliefs, or their political party's agenda.  These laws must be interpreted and should not be influenced by politics, special interest groups, money, public opinion or their own personal beliefs.
Is most cases the only way to unseat a judge is for an informed electorate to vote them out and have new appointments.
That is what the Kansas Judicial Review Survey website is for. It compiles surveys of attorneys, lay people, court staff, and other judges about all appellate judges up for retention in Kansas.
As Eberline put it. "The most important thing is to stay informed. Not about making a statement. It's about maintaining a system that allows our republic to flourish."
For more information on this project you can visit their website at www.KansasJudgeReview.org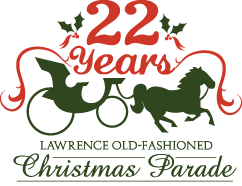 The weather was approximately 40 degrees warmer this year as members of Lawrence Central Rotary arrived downtown to help pass our programs for the Lawrence, Kansas Old-Fashioned Christmas Parade now in its 22nd year. It's one of the most unique parades in the nation, the Lawrence Old-Fashioned Christmas Parade kicks off the holiday season with exclusively authentic horse-drawn carriages parading down Massachusetts Street. Attendees arrive downtown early to park their vehicles along Mass Street and open up the backs or sit in the beds of trucks and cozy up with hot cocoa and blankets, and feel the true holiday spirit while watching dozens of beautiful horses and wagons adorned in garland and bells roll by.
Club members layer and bundle up and walked up and down the sidewalks and along the parade route to pass out programs that list all the entries that are in the parade so onlookers can see how far some of these groups traveled to be in the parade.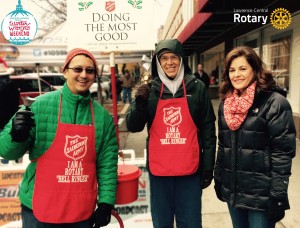 At the same time at the Southwest corner of 9th and Mass other club-members took shifts wishing season's greetings and ringing the bell next to the Douglass County Salvation Army's Red Kettle that raises money for the important work they do.
In 1891, Salvation Army Captain Joseph McFee was distraught because so many poor individuals in San Francisco were going hungry. During the holiday season, he resolved to provide a free Christmas dinner for the destitute and poverty-stricken. He only had one major hurdle to overcome — funding the project.
Where would the money come from, he wondered. He lay awake nights, worrying, thinking, praying about how he could find the funds to fulfill his commitment of feeding 1,000 of the city's poorest individuals on Christmas Day. As he pondered the issue, his thoughts drifted back to his sailor days in Liverpool, England. He remembered how at Stage Landing, where the boats came in, there was a large, iron kettle called "Simpson's Pot" into which passers-by tossed a coin or two to help the poor.
The next day Captain McFee placed a similar pot at the Oakland Ferry Landing at the foot of Market Street. Beside the pot, he placed a sign that read, "Keep the Pot Boiling." He soon had the money to see that the needy people were properly fed at Christmas.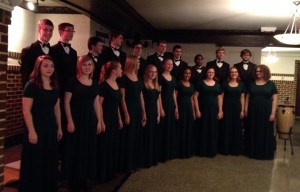 One of the yearly traditions of Lawrence Central Rotary is to invite family and guests to a December meeting and welcome one of the local high school chamber choirs join with perfectly pitched melodies of the season.  This year Free State High School's Chamber Singers which is an accelerated 20 member ensemble of students from the Chamber Choir, warmed the room with amazing harmonies both traditional and whimsical.
The tradition was started by club charter member, and long-time secretary Becky Castro who passed earlier this year.  President Carolyn DeSalvo talked about how this was one of Becky's favorite yearly events and took a moment to remember her.