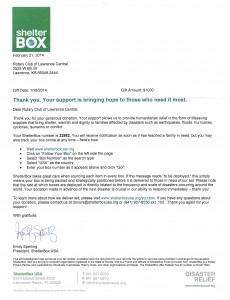 We got a note back from Shelterbox USA that they received our donation of $1000 for another shelterbox.  The letter has the serial number of the box so we can track where it went to help people in times of disaster.
If you don't remember Shelterbox responds instantly following natural and other disasters by delivering boxes of aid to those who need it most and each ShelterBox supplies an extended family with a tent and essential equipment to use while they are displaced or homeless.
When we know where it was deployed we'll update you!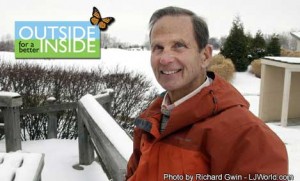 John McGrew has been interested in the relationship between nature and wellness for decades.  Richard Louv coined a term in his book Last Child in the Woods that gave John a name for what he was observing:  Nature Deficit Disorder.   Realizing that others shared his concerns that today's children are growing disconnected from nature, he renewed his commitment to luring children away from the plugged in culture that preoccupies them and  providing opportunities for them to enjoy the out-of-doors at farms, nature areas, and walking trails.  The goal is better physical and emotional development for every child.
John is founder of Outside for a Better Inside, a Lawrence organization that is becoming a leader in the national Children and Nature movement.  Outside for a Better Inside has sponsored annual Nature Education Days in Lawrence, often at the Rotary Arboretum in southwest Lawrence.   They also commissioned Kelly Hunt, well-known R&B musician, to compose and record a song with the Lawrence Children's Choir called "Let's Go Outside for a Better Inside."
The group's current initiative is a walking trail to be built this summer in conjunction with the City of Lawrence.  It will extend from an entry point northwest of Second and Indiana streets, go past Lawrence Memorial Hospital, Bert Nash, and Lawrence/Douglas County Health Department, continue along the Kansas River to the City of Lawrence Burcham and Constant Parks near Vermont and Sixth Street downtown. The trail has received funding from the Sunflower Foundation.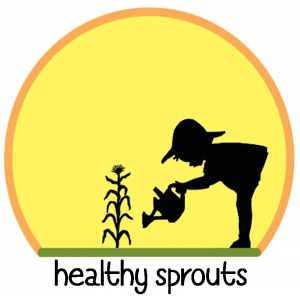 Emily Hampton has grown the seed of an idea for improving community nutrition into a strong program that is bearing fruit in Lawrence.
A few years ago as Emily became involved in the Lawrence community gardening program, she realized that many consumers—and especially children—had no clear idea of where their food came from other than a fast food restaurant drive-through or a convenience store shelf.  National studies found that French fries were the most common "vegetable" that children eat at 18 months of age.
In response, Emily launched what is now known as Healthy Sprouts.  This Farm to Preschool program teaches young children, their parents and their care-givers about gardening and about cooking and preserving the food that they grow.  The goals are to instill healthy eating habits early, to increase access to local, nutritious foods, and to provide comprehensive food education.
To date, the initiative has started 42 gardens in childcare settings in the Lawrence area.  Emily and her partner educator Melissa Freiburger work with twelve childcare centers, 30 home daycare providers, and over 1,000 children each year.  Melissa pointed out that the Lawrence curriculum has received national recognition from the Farm to School Peer Leadership Group.
Healthy Sprouts is a program within the Douglas County Child Development Association.  The initiative teams with Community-Supported Agriculture (CSA) in the area and is funded by Kansas Health Foundation, Assists Foundation, and donations from individuals and businesses in the community.
For more info about Healthy Sprouts check out their online links here: Facebook | Twitter | Wellcommons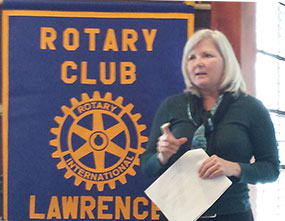 Dr. Barbara Gilbert, a clinical psychologist practicing in Lawrence, spoke to Central Rotarians on February 12th about True Power Communication in conflict resolution.
Her presentation, which was based on a three-hour workshop that she conducts, listed ways to build a successful relationship.
"The fundamental premise is that there is no one right way to engage in a relationship except authentically," she said.  "Everything in a relationship is up for negotiation. Thus skills for authenticity and for various forms of negotiation are the building blocks for healthy relationships."
Conflict in relationships usually is not true conflict but rather confusion about how to go about advocating well for ourselves.  Saying that the more skills we have to negotiate the better, she listed three tools to use: personal respect, which nurtures a relationship; personal accountability, knowing what you want; and responsibility to respond effectively.
A personal awareness path, she said, starts with the five senses and how we interpret sensory responses.  Emotions arise out of  the interpretation, then longings and then intentions which we can choose consciously followed by conscious choice of action.   Working with conflict resolution she said,  our authentic selves are the only things we can bring to conflict resolution.
For more information about Dr. Gilbert check out her website at barbarajgilbertphd.com