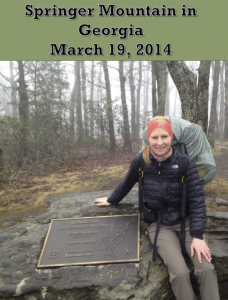 Known on the trail as "Johawk," local artist Joanne Renfro decided to leave her family and small business here in Lawrence last spring to fulfill one of her life's ambitions—hiking from Georgia to Maine on the Appalachian Trail. Following the series of white blazes that marked the trail, she made new and lasting friends of all ages and explored all types of terrain.
The numbers Joanne cited about at her trek were impressive:
14 states
2,185 miles
15 miles per day, on average
Backpack weighing 30 pounds
5 months and 5 days
318th finish for the season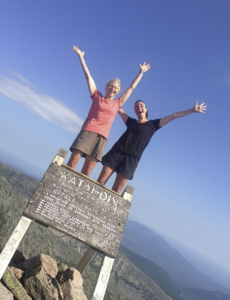 The hike is sometimes referred to as "walking the spring," since spring flowers and greenery are emerging as the hikers move from south to north along the trail. There was plenty of snow, fog, and rain, but also days of dazzling sunshine that revealed "the balds," as the mountain tops above the tree line are called. In the north, views of mountain lakes and the call of loons punctuated the days.
The trails themselves included well-worn dirt paths, boardwalks, river fjords, and rock crevices called a "gap" in the south and a "notch" in the northern states. Wildlife was plentiful—including the bear that made a visit to Joanne's tent area one night.
The trail is supported and maintained by volunteers all along the way. "Trail angels" leave "trail magic" for hikers—supplies of food, candy, and cool drinks hung from trees or a handwritten invitation to come off the trail for pizza and beer at the end of the day. Joanne told of boxes where you could swap gear with other hikers who had left things they didn't need. Rides into town always seemed to appear when she needed one.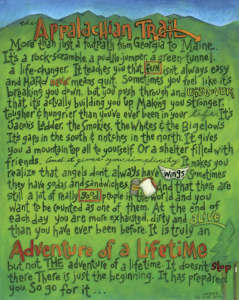 Only 25% of the people who begin this hike complete the entire Appalachian Trail. Joanne Renfro is proud to be among them!
If you would like so see some of Joanne's art check out her Facebook page or at LawrenceIsCool.com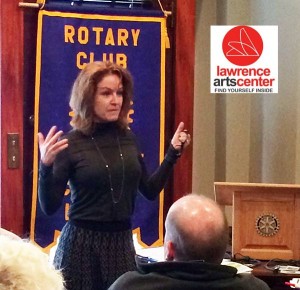 Susan Tate, director of the Lawrence Arts Center, told Rotarians on March 18 that Central Rotary's bike rack project is a microcosm of the Ninth Street Arts Corridor Project, currently in the planning stages in Lawrence.
"What Rotary has done for biking and walking has a deeper connection than just a practical way to store bicycles," she said.  "Creative place making is a new term," Tate said, "that is sometimes criticized but is a way of getting urban design to incorporate art in the community.
"It's not just a statue on a corner, but design of an area that is art itself and encourages use by those who live there, including walking, biking and using facilities."
The Lawrence Arts Center team, headed by Margaret Weisbrod Morris, chief program officer, received a $500,000 grant from ArtPlace America that they wish to use to work on the art district on ninth street that stretches from New Hampshire St. to Massachusetts.
The Lawrence Arts Center has already worked on projects that build education and exhibits. Now, beginning with public workshops in April and a citizens' advisory committee convening in March they want to start plans for a creative place.

"The city commissioners said if we got the grant, they would commit $3 million to the project," Tate said. "We got the grant but there are shadows in that picture now. Part of those shadows are the controversy over the Rock Chalk Recreation complex and the voters' defeat of a new police station. The makeup of the city commission will be changing and we don't know how new commissioners will feel about the commitment."
The Art Center has set up a team that includes well-known urban designers and engineers, an artist, conceptual urban landscape designers, an east Lawrence historian and a multi-media art technician.
"However," Tate said, "nothing will happen until we've gotten the city's commitment and input from the grass roots through our workshops."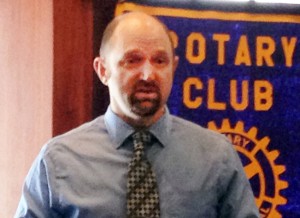 USD 497's Patrick Kelly  is the director of the new Lawrence College & Career Center (located at 2920 Haskell).
The Center will be open for high school juniors and seniors in the Fall of 2015.  It's mission is to prepare students for their future through hands-on learning experiences in an innovative, engaging environment.  With direct input from business and industry leaders, students will have access to technology and curriculum that is relevant and useful.
Earning college credit now, with an opportunity for free tuition, will give students a head start on their future.
Patrick shared that one of the goals was to provide students with a sequential set of classes to explore careers of interest and develop skills in preparation for college and a career.
All courses are two hours in length and students are provided an additional hour for transportation.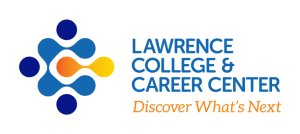 Introductory courses allow students to explore a wide variety of careers within the field.  Technical level courses focus on specific skills that are needed within the career area.  Students who have gained the technical skills within the pathway are eligible to enroll in Application level courses, which provide "real-world" experiences in the classroom with industry mentors or through professional workplace experience. Many courses are eligible for college credit.
USD 497 students also benefit from having The Dwayne Peaslee Technical Training Center located next door and can take advantage of programs and training offered offered through their consortium of community colleges and industries.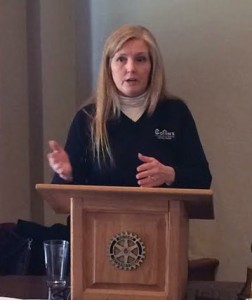 Linda Cottin is Lawrence's "Fix It Chick."  She and her husband, Tom, own and operate Cottin's Hardware and Linda writes the Fix It Chick column for the Lawrence Journal World.
The Cottins' focus at the store is customer service.  "Tom and I both grew up in the hardware business," she told Central Rotarians on February 18, "and we aimed at other careers for awhile but then went into what we knew." And what they knew is that many hardware store customers need help.
"The customers are not always right," Cottin said "in that they may think they know what is necessary for a project, but that's not always the case."
When helping a customer the Cottins don't say "What do you need?" because people often don't know what they need. Instead they find out what they're working on and then, based on years of experience, provide help.
"Customer service supersedes everything," Cottin said. "And interaction with people is most important."
The Cottins are good marketers. They know they have about 20 seconds with a customer in the beginning so they put items that they think  will be interesting by the door and then, in the next few seconds, greet the customer. Once they've solved a problem, they walk the customer to the cash register and finish the sale there.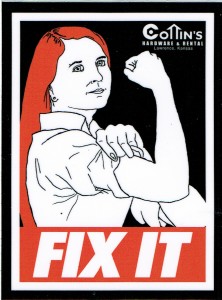 Cottin has written over 350 Fix It Chick articles for the local paper. She researches everything she writes. One reader complained about her columns because, he said, "using your articles my wife thinks I can fix everything." Another reader took her advice on the best way to get rid of poison ivy: get a goat.
The Cottins also sponsor a farmers' market in the store's back parking lot, starting in 2010 and growing ever since. They volunteer their time at the market and said their rewards from it are community involvement "and fun."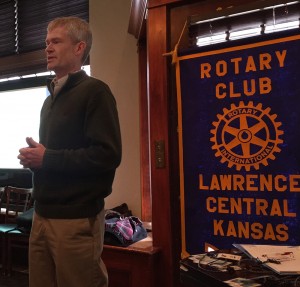 Currently, only 14.2% of children in Lawrence walk or bike to school.  The majority of children are driven by their parents, according to survey results compiled by the Lawrence-Douglas County Health Department.
The reasons vary.  Many parents are worried about children crossing busy streets without assistance.  They may believe that the school is too far away or that the weather can be too severe.  Some are concerned about the danger of potential crime.  Many do not believe that the school district even encourages their children to walk or bike on a routine basis.
Chris Tilden, Director of the Community Health division of Douglas County-Lawrence Community Health Department,  noted that new grants have allowed expansion of the initiatives for improving community health in Lawrence and the surrounding county.  In particular, Community Health has received a $1.3 million grant to promote physical activity, one of five areas of emphasis in the Health Department's five-year plan, Roadmap to a Healthier Douglas County.  One way to reach that physical activity goal for children is to encourage them to walk or bike to school.
Charlie Bryan, Planner in Community Health, reviewed statistics gathered in a recent Lawrence-wide survey to assess the this need and described the initiative developed in response.  "Safe Routes to School" hopes to increase biking and walking by 25% over the next five years.  The program "uses a comprehensive approach to make walking and biking to school safe and fun for students.  In Lawrence, we use Evaluation, Education, Encouragement, Enforcement, Engineering, and Equity to prioritize Safe Routes decision-making."
Lawrence Central Rotary will be one of the sponsors of a town hall meeting and safety fair on March 25, 2015, from 7:00 to 9:00 p.m. at Liberty Hall to raise awareness of this initiative.