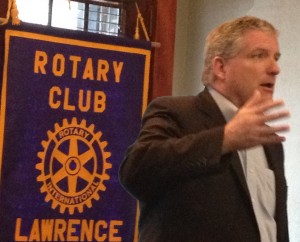 At Lawrence Central's October 30th meeting at the Eldridge we were updated by Lawrence City Manager David Corliss on what the 2014 budget has in store for us in Lawrence.  You can see a copy of the Lawrence 2014 Budget HERE but here's a quick bullet list of the headlines.
Work on a new sewage treatment plant south of the Wakarusa River.
Reconstruction of the intersection at 23rd and Iowa streets. Expect new turn lanes and greater vehicle capacity.
First phase of the 31st Street extension in eastern Lawrence. When completed in 2015, the project will extend 31st Street from Haskell Avenue to O'Connell Road.
Rebuild a portion of Wakarusa Drive from Oread West to Legends Drive.
Work is also starting on the K10 SLT (South Lawrence Trafficway) that will connect east from Iowa to K10 to allow traffic on K10 to flow around town and now down 23rd street.
Also is the money and infrastructure for the new Rock Chalk Park Rec center opening next year
Finishing up Venture Park on the east side and finding more tenants.
Curbside Recycling commencing next fall.
Here's a link to David's presentation, also available on the city's site at www.lawrenceks.org/prezi/public_presentation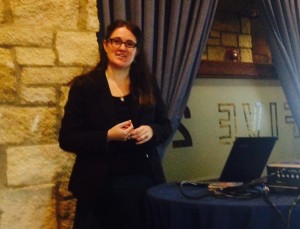 At Lawrence Central's October 23rd meeting at the Oread Hotel PhD Candidate Laura Dean spoke to us about her travels in the Ukraine.  She is ABD and finishing her Ph.D. in Political Science at the University of Kansas. She has a Graduate Certificate in Women, Gender, and Sexuality Studies (2013) and a Master of Arts in Political Science (2011) from the University of Kansas, a Master of Arts in International Studies focusing on Russian, East European, and Central Asian Studies (2006) from the University of Washington, and a Bachelor of Arts in World Politics (2003) from the University of Wisconsin-Eau Claire.
In 2007-2008, she was awarded a Fulbright Research Fellowship to Latvia where she examined the exploitation of women, focusing on sex tourism and trafficking. She studied Russian for three years with a Foreign Language Area Scholarship (FLAS) from the US Department of Education Title VI Center for Russian, East European, and Eurasian Studies at the University of Kansas. She also worked as a Teaching Assistant for the Department of Political Science from 2011-2012 and a Research Assistant for the Institute for Policy and Social Research 2010-2011 at the University of Kansas. While on Ambassadorial Scholar she conducted 15 months of fieldwork for my dissertation in Ukraine, Russia, and Latvia from May 2012- August 2013.
Laura speaks Latvian, Russian, have reading knowledge of Spanish and is learning Ukrainian. In her free time she likes to read obscure East European authors, travel to places most people have never heard of, and volunteer at local women's shelters.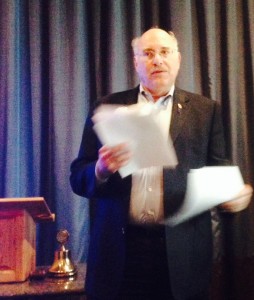 We also had a brief update  by Rotary District 5710′s Paul Harris Society chair Chuck Udell about Rotary's Paul Harris Society and how all the wonderful rotary sponsored and funded programs around the globe are supported by donations to the Rotary Foundation and even that a portion of these funds also come back to the clubs in the form of District Grants to help local clubs with the resources needed to spread these great programs to those most in need of them.
A  great reason to consider the society is while a Rotarian may not be able to directly serve somewhere else in the world, by being a Paul Harris Society member they can support those who do.  This is the important giving that makes all the other programs possible, without your commitment, the ideal of service fostered by Rotary would not be possible.
We thank both Chuck and Laura for visiting with us!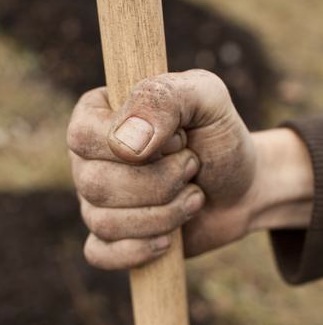 If it were only that simple, but this is a good way to start. Again this year, Lawrence Central Rotary is selling wreaths and holiday decorations from Lynch Creek Farms and all the profits from the sales are going to the Rotary Foundation.
The Rotary Foundation transforms these funds into projects that change lives both close to home and around the world. As the charitable arm of Rotary, the Foundation taps into a global network of Rotarians who invest their time, money, and expertise into Rotary's priorities, such as eradicating polio and promoting peace. Rotary Foundation grants empower Rotarians locally and worldwide to approach challenges such as poverty, illiteracy, and malnutrition with sustainable solutions that leave a lasting impact.
You can contact any of our members to purchase in person, wreaths are $39.95 and $10 of each sale goes to the Rotary Foundation helping make the world a better place.
But there's even an easier way! You can purchase a broader array of holiday decorations online by using this website. http://bit.ly/LCRWreath13 – It will direct you to the Lynch Creek Website and 25% of your purchase will come back to Lawrence Central Rotary to help locally and globally uniting for the common good.
Lawrence Central Rotary is proud to do our part locally and we encourage you to help us!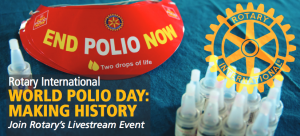 To mark World Polio Day on 24 October, Rotary and Northwestern University's Center for Global Health will host a live streamed global status update on the fight to end polio.  Invited guests include Global Polio Eradication Initiative partners, celebrity ambassadors, polio survivors, and Rotary members.
We are at a "tipping point" for polio eradication. In 2012, polio cases were at their lowest levels ever. Rotary and its partners have to finish the job or risk losing long-fought gains entirely.  Since the global initiative began more than 25 years ago, Rotary and its partners have reduced polio cases by 99 percent worldwide.  There are only three countries where the wild poliovirus has never been stopped: Afghanistan, Nigeria, and Pakistan.
Rotary's chief role is fundraising, advocacy, and mobilizing volunteers. Other partners in the Global Polio Eradication Initiative are the World Health Organization, U.S. Centers for Disease Control and Prevention, Bill & Melinda Gates Foundation, UN Foundation, and UNICEF, along with world governments.
Every dollar Rotary raises (up to US$35 million/year) will be matched 2-to-1 by the Bill & Melinda Gates Foundation for polio eradication efforts through 2018.

Rotary and Northwestern University's Center for Global Health will host a live streamed global update on polio eradication on World Polio Day, 24 October.
You can join the "World Polio Day: Making History" live event from wherever you are worldwide by visiting endpolionow.org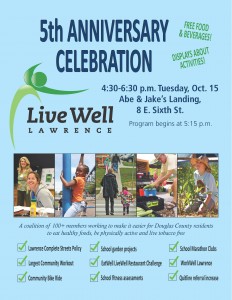 You are cordially invited to the fifth anniversary celebration of LiveWell Lawrence. The celebration will be from 4:30 p.m. to 6:30 p.m. Tuesday, Oct. 15, at Abe and Jake's Landing, 8 E. Sixth St., in downtown Lawrence.
LiveWell Lawrence is a coalition of more than 100 community members who are working together to make it easier for Douglas County residents to eat healthy foods, be physically active and live tobacco free.
The celebration's program begins at 5:15 p.m. and will include:
Welcome — Hank Booth
Bringing the vision of LiveWell to life — Marilyn Hull, of Douglas County Community Foundation
LiveWell, today and tomorrow — Cindy Johnson, chair of LiveWell Lawrence
LiveWell, a state leader — Jeff Usher, of Kansas Health Foundation, and Robert Moser, MD, secretary of the Kansas Department of Health and Environment
Community impact — Douglas County Commissioner Mike Gaughan and Lawrence Mayor Michael Dever
Special recognition of Marilyn Hull
We hope you can attend the event and celebrate our community's successes, which include passage of a Complete Streets Policy in Lawrence, adoption of school marathon clubs and school gardens, and establishment of WorkWell Lawrence, a network of employers who are working together to create a culture of health in the workplace.
There will be free food and beverages along with information booths about community activities ranging from school gardens and bicycling to workplace wellness and transportation planning. It's a great opportunity to network and learn about LiveWell!
Lawrence Central Rotary and Ride Lawrence will be set up with information about local biking and other exciting giveaways!
Help us promote the celebration. Download and share the event flyer here.