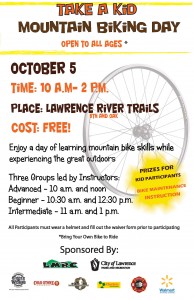 Enjoy a day of learning mountain bike skills while experiencing the great outdoors!
Three Groups led by Instructors:
Advanced – 10 a.m. and noon
Beginner – 10:30 a.m. and 12:30 p.m.
Intermediate – 11 a.m. and 1 p.m.
All Participants must wear a helmet and fill out the waiver form prior to participating and bring own bike to ride.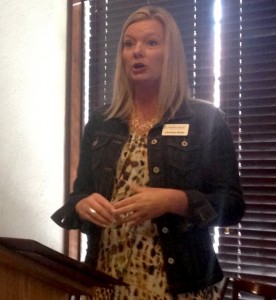 Our September 18th meeting had Lawrence Convention & Visitors Bureau director Christina Phelps speak about her work on the Kansas River Development Committee.
The committee was launched to recommend ways to spur recreational use of the Kansas River and develop tourism and economic growth along the river. The committee's work will build on the July 2012 designation of the Kansas River as a National Water Trail by U.S. Department of the Interior Secretary Ken Salazar.
Now that the trail has federal designation it opens the doors to potenial federal funding to improve the trail and the areas near it.  Whether it be bank improvements in cities, better signage along the river so people can more clearly find and know how far upcoming ramps are.  There has even been discussions of possible white water rafting features for local kayak enthusiasts and for fire and safety rescue training use.
There are currently 19 river ramps located in 15 communities along the river, and another ramp was recently completed at Belvue.  The committee is also working with to add at least two more ramps between Belvue and Topeka.
Phelps said Lawrence is particularly placed well along this route as our two ramps are close to the city center while a lot of the other ramps are far away from transportation through private land.
For more information about the river trail, contact the Lawrence Convention & Visitors Bureau for copies of the new map about the trail or check out the Friends of the Kaw website.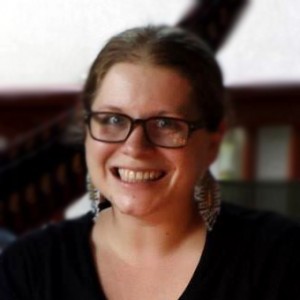 On August 25th Lawrence Central held an induction ceremony for our two newest members, Jessica Mortinger and Michael Steinle.
Jessica Mortinger ventured to Lawrence, KS in 2003 to attend KU, from Hays, KS. Graduating in 2010 with a Masters Degree in Urban Planning, she joined the City's planning department as a Transportation Planner. In her free time, Jessica enjoys gardening, reading, weaving, mosaics, road trips and pitching horseshoes. As a lifetime member of Girl Scouts, Jessica also serves on the Douglas County Gold Award Advisory Committee and mentors Girl Scouts with their Gold Award projects.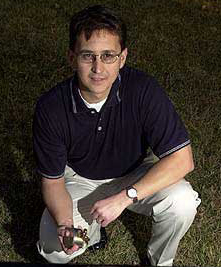 Michael Steinle currently serves as a Principal Management Consultant for Arcadis and has over twenty three years of experience in project management, emergency response, and environmental, health and safety stewardship. He has served as the Project Manager on several large-scale federal, state and local emergency preparedness, bioterrorism and public health projects. He served as a task lead on the New Madrid Seismic Planning Project and recently completed a project developing Contaminant Warning Systems for water utilities in cities throughout the United States. Michael holds a Bachelor of Science in Biology and a Masters in Business Administration from Kansas State University.Michael is married to Dee Steinle and they have two children, Aaron 10 and Nora 6. Michael is also on the Board of Directors for Hilltop Child Development Center.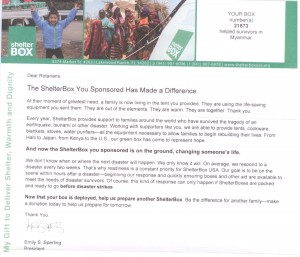 Lawrence Central along with the help from the Lawrence Monday Noon Rotary and District 5710 grants were able to purchase 3 ShelterBoxes last year.
Shelterbox is a Rotary-based organization that responds instantly following natural and other disasters by delivering boxes of aid to those who need it most. Each ShelterBox supplies an extended family with a tent and essential equipment to use while they are displaced or homeless. ShelterBox is now firmly established at the forefront of disaster relief and our work constantly earns the respect of outside agencies.
We recently received news that the second box we purchased was deployed to Myanmar for refugees who have lost everything due to the ongoing conflict in Kachin state in northern Myanmar.
We'll be tracking the last one and will post updates on where it went.
If you would like more information on ShelterBox check out their Website.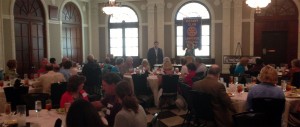 At the same hour on August 21 that Quantrill's Raiders burned the Eldridge Hotel 150 years to the day, almost 90 members of Lawrence Central Rotary Club and their guests packed the Crystal Ballroom of the risen-from-the-ashes Eldridge to hear Lawrence historian Katie Armitage read first hand accounts from hotel guests who survived.
The day in 1863 the day started with raiders surrounding the hotel.  Out of town guests staying at the hotel negotiated amnesty from Quantrill after hanging a bedsheet from a window as a flag of surrender.  Only then, guests were evacuated from the hotel which was then destroyed.  Many recorded their experiences in journals or in letters home which have been preserved and are at the Watkins Museum new permanent exhibit that highlights Quantrill's Raid survival stories both small and large.
Present day events started on a lighter note with a buffet that Eldridge Sous Chef Nick Haxton using recipes taken from pioneer cook books of the day.  Eldridge General Manager and Lawrence Rotarian Nancy Longhurst also gave a welcome to everyone in attendance and the lecture closed with a question and answer session with Armitage, an expert on the Raid and its aftermath.