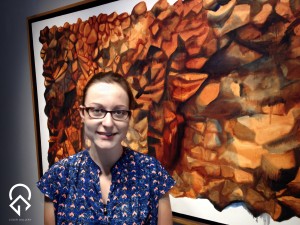 The glass doors at the Cider Gallery open into a spacious suite of rooms with gleaming wood floors, light pouring in from large windows, and brick walls hung with original artwork. Renovated in 2012, the structure originally housed the Kansas Fruit and Vinegar Company, and was built in 1894. It is now on the National Registry of Historic Places.
Ms. Bonny Murrell, director, welcomed members of Lawrence Central for their weekly meeting Bonny Murrell, Director. After lunch, Ms. Murrell talked about the Poehler Lofts, Cider Gallery, and other historic buildings in the up-and-coming Warehouse Arts District of East Lawrence that are being renovated.
Located at 810 Pennsylvania Street, the main floor of Cider Gallery is an art gallery featuring displays by both local and guest artists and a 5,000-square-foot event venue. The second floor is offices and a coworking area set up to encourage connection, creativity, and collaboration among the entrepreneurs, freelancers, and small businesses who rent workspace there.  A garden patio offers an additional inviting area north of the building that has areas designed by local artist Stan Herd.
Eventually, the district will tie seamlessly to downtown Lawrence via a renovated 9th Street corridor.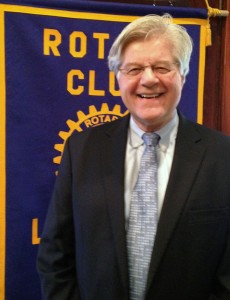 David Ekerdt, professor of sociology and director of the Gerontology Center at KU, reminded the members of Lawrence Central Rotary that Social Security was developed as an insurance program in 1935 to prevent people from falling into poverty.  It has contributed significantly to the well-being of the United States populations during the past 74 years:  reducing poverty, managing the labor force by providing incentives to retire, enhancing the prosperity of children, and allowing intergenerational relationships to be influenced by affection rather than financial concerns.
Social Security protects not only the old from poverty, but also dependents of the deceased and those who are disabled.  In Kansas, a half million people, or 18% of the population, are receiving benefits.  That number includes 38,000 children.
Ekerdt addressed the controversy concerning Social Security solvency, referencing "The Future Financial Status of the Social Security Program" by  Stephen Goss. and "Social Security Modernization" published by the U.S. Senate Special Committee on Aging.  Ekerdt explained that Social Security collects its own tax and must pay for itself by law.  The program represents 20% of the federal budget.  Concerns about exhausting the trust fund in 2033 mean that if no action is taken, recipients will receive 77% on the current dollar.
Why is there a shortfall predicted?   Ekerdt points to two reasons:  (1) the falling birth rate is falling so that in the future fewer workers will support more recipients;  and (2) under-collection of revenue—more individuals are earning large salaries and do not pay Social Security tax on the amount they earn over $117,000.   A variety of reforms are under discussion, but in general, they take the form of either decreasing benefits or increasing revenues.
On October 13th Ekerdt will present a six-hour class called The Struggle over Social Security for Osher Lifelong Learning Institute.  The class will take place in mid-October at the KU Edwards Campus in Overland Park location.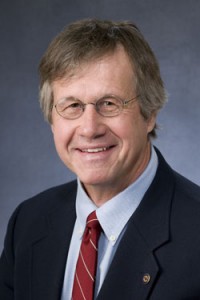 Rex Buchanan, Interim Director of the Kansas Geological Survey, has written books about Kansas geology and landmarks.  As a journalist, a biologist, and a science historian, he pursues a broad set of interests in natural resources, the environment, and public policy.  At a recent meeting of Lawrence Central Rotary, he focused on current issues regarding water and energy in the state, declaring that Kansas at a crossroads.
Current efforts to define and implement a 50-year vision for water in Kansas must address both surface water in the eastern part of the state and ground water in the western part of the state.  In the east, reservoirs need dredging in order to maintain hydroelectric power sources and recreation areas.  In the west, farmers maintain that their water rights allow them to irrigate land as they wish, despite dangerous depletion of the Ogallala aquifer.   Costs and benefits to both issues are complex and controversial.
Buchanan also talked about the impact of the oil and gas industry in Kansas.  To date, there is no evidence that wells are contaminating water resources.  Buchanan confirmed that the number of earthquakes in south-central Kansas has increased dramatically in the past several years.  Although there is a correlation of the earthquake locations with the oil and gas drilling fields, he explained that the earthquakes are not likely a result of fracking but probably occur due to the practice of disposing in deep wells of the salt water that is a natural by-product of oil and gas production.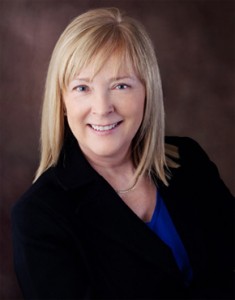 Margie Wakefield, the Democratic candidate for Kansas Representative from the 2nd Congressional District, said she believes the coming election is crucial.
Wakefield, a family lawyer, said she is running on a platform of what is true, what is fair, and, she said to Central Rotarians " you'll recognize this" of what is beneficial to the family and to the individual.
"I believe," Wakefield, said, "that, in Washington, politics have become more important than progress and I would represent the needs of the people in Kansas rather than the party.
"I will work across the aisle. Right now there are almost no conversations between Republicans and Democrats."
Wakefield said service to communities is her priority, with a focus on school, on academics, and on getting parents, students and educators together.
"I would build an infrastructure in my office to interact with Kansans, "she said. "Any success I would have on the job should be seen as formulating a way to bring communities together and not just serve politics and parties."
In a question and answer time after her talk she was asked if she would support limits on campaign spending.
"I'm very concerned about what's being spent," she said. "I'd support legislation to change finance laws and bring special interest groups under control. "
When asked if she'd support term limits she said two years is really too short a term to accomplish much but she believes term limits should be built in. She also discussed Affordable Care—the issue is splitting the state, she said.
"What made you want to run?" one Rotarian asked.
"I had a huge attack of idealism," she said. "With partisan bitterness you can't get anything done. I want to be a voice of compromise. "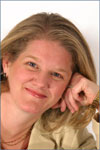 Beth Clark, a Diversity Consultant and a motivational speaker, ended her talk to Central Rotarians last Wednesday with just one sentence which summed up a complicated subject.
"Let's all just get along," she said.
She talked about diversity across cultural divides that can involve gender, race, religion, or background. Companies, she said, need to get into the world view of the minority in their culture, whatever it may be.
"We have to expand our world view to encompass and understand differences. If we don't," she said "it's going to make a big impact on the bottom line. We really need to understand fundamental differences and learn to speak each other's language."
Focusing on gender diversity, she said the biggest predictor of change is what's going on in the workplace particularly now that more and more women are moving into executive positions.
In general, each sex hones a skill set to take into adulthood. Boys are more competitive, have a "win-lose" attitude and banter with each other in a way that girls would find offensive. Girls, on the other hand, are more sensitive and collaborative.
The new generation of organization leaders is realizing that team building is important and companies are moving into team structures. The fundamental differences in the ways people communicate are being studied with linguists taking a look at communication skills.
"Ask, don't tell, is a good rule to follow in communicating," she said. "It helps us all to get along."
For more information about diversity training and other services available from Ms. Clark you can visit the website www.allegrotraining.com.