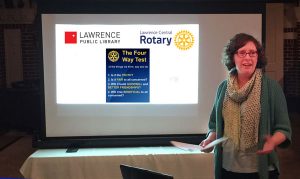 Melissa Fisher Isaacs, the information sources coordinator for the Lawrence Public Library, took the Rotary Four-Way test as her model and related it to  aspects of the library when she spoke to Lawrence Central Rotary on June 1.
"Is it the Truth?" Isaacs quoted the statement: "Google will get you 100,000 answers; a librarian will get you the right one."
"Librarians help you get true, reliable information," she said. "This year the Lawrence Public Library has answered 70,000 questions so far. Library information is vetted and reliable."
"Is it Fair to all concerned?" 
Isaacs said the internet is necessary to daily life anymore and 88 percent of people in  Lawrence have it but there is a digital divide—and there are those who don't have it.  So the public library offers help in using the computer and offers internet resources. Currently, they are sponsoring coding workshops for elementary school teachers, a filmmaking series and thousands of  book titles.
"Will it build Goodwill and better friendships?"
Joining a group builds goodwill and friendships. Isaac repeated the quote that joining a group "boosts your life expectancy as much as quitting smoking."
The Lawrence Public Library offers book clubs, book talks, free meeting rooms, a sound & vision studio and several programs including one on genealogy.
And, finally, "Is it Beneficial to all concerned?"
The Lawrence Public Library is open to everyone and, currently, in the town of 90,000, there are 75,000 people in Lawrence who have a library card.  The library offers free yoga classes,  and programs that promote public health. It sponsors walks, free summer lunches for children and inexpensive lunches for adults.
Isaacs closed by saying the library staff is doing a community needs assessment to see in how many other  ways they can best serve the community.
A link to a PDF of Melissa's complete comments is available here – it's an interesting read!