10 years ago former Lawrence Central charter member Ed Samp had an idea. Samp and several other area residents began talking in November 2002 about the idea of forming another chapter. They had heard of several people who were interested in joining a Rotary club but the meeting time, location or size of the existing two chapters wasn't appealing to them.
A decade later the current members of the Lawrence Central Rotary celebrated our 10th anniversary.   On March 13th, instead of our usual haunt at the Eldridge All American room, we descended upon Famous Dave's banquet room and discussed the past and the future of our club.  Members old and new brought their significant others and families for some time together to celebrate.  Many thanks to Lynn O'Neal for putting together a slide show of memories and taking pictures.
Below pictures from the event and a scan of the program from the Rotary Charter Night held March 12, 2003.  We've also posted our current President Bob Swan's remarks to the attendees below.   Thanks to everyone for coming!
Continue reading "Lawrence Central Rotary Celebrates 10 Years" »
Shelly I. McColm, D.D.S., P.A., is a downtown businesswoman providing patients with comprehensive orthodontic care.  She has spent the past few years establishing her dental practice and now is looking for ways to meet people and become involved in community activities.  Shelly earned her Bachelor of Science in Biochemistry from the University of Missouri in 1987 and then attended UMKC School of Dentistry. In 1992, she completed her Advanced Education in General Dentistry with the United States Air Force and received her Certificate in Orthodontics from Oregon Health Sciences University in 1997.  Shelly maintains memberships in many professional organizations.  In her personal life, Shelly has been married to her husband for over 20 years. They have two daughters and a Maltese named Oscar. Shelly spends most of her free time in activities related to her children. She also enjoys reading, biking, traveling and going to the lake.
Marty Mosier has considered joining a Rotary club in the past, but accepted a temporary position with the Federal Deposit Insurance Corporation which took him out of town before he could complete the process.  Marty has lived in Lawrence since 2003.  Currently, he is a commercial loan officer at Central National Bank. Prior to working at Central National Bank and the FDIC, he worked as a lender for Peoples Bank and as a Real Estate Closing Manager for Kansas Secured Title, both in Lawrence, KS.  Marty has been married to wife Tammy for 22 years and has two children, Oliver age 21 and Frank age 20.
Jim Peters, J.D., has been Director of the Osher Lifelong Learning Institute at KU since 2011.  A native of Quincy, Ill., Jim has a bachelor's degree in government from Southern Illinois University at Carbondale and a law degree from the New England School of Law in Boston.  After practicing law for eight years, Jim relocated to Washington, D.C., where be became involved in publishing—first as a writer and then in marketing. He is the author of Arlington National Cemetery: Shrine to America's Heroes, which has been the nation's best-selling book on Arlington Cemetery for more than 20 years.  Jim worked for 11 years as director of marketing for Kendall-Hunt Publishing Company, a national textbook publisher in Dubuque, Iowa. Jim also spent three years as assistant director of Publications and Alumni Communication for the University of Missouri–Columbia.  He joined KU Continuing Education  in 2005 as director of Marketing and Communications and served as director of Professional Programs and Communications before assuming his current role.
Nancy Thellman is beginning her second term as a Douglas County Commissioner for the Second District. Nancy was educated in Lawrence public schools,holds a Bachelor of Science degree in Nursing from Kansas University, and a Master of Divinity degree from Vanderbilt University. She is currently an ordained Presbyterian minister and is a former registered nurse.  She serves on a variety of church and county boards:  Destination Management, Inc., Freedom's Frontier National Heritage Area, East Lawrence Village, Metropolitan Planning Organization, and Just Food.  "The job of a county commissioner isn't just about roads and bridges any more. It's about growing our community responsibly. It's about jobs," Thellman said in a news release during her recent campaign. "It's about human services and safety. It's about public amenities. Being a county commissioner these days is really about building quality of life."  She declares her governing principles to be "a responsible use of taxpayer dollars; open, honest and accessible government; a balanced approach to growth and environmental stewardship; and compassionate, comprehensive social services.  These are key elements to build a healthy and resilient community." She and her husband Scott, a local physician, live on a hay and vegetable production farm north of Lawrence.  They have three children.
Debbie Briggs is owner of Extra Virgin Olive Oil, 937 Mass.  In addition to carrying more than 50 flavors of extra virgin olive oils and balsamic vinegars, Debbie sells specialty items like stuffed olives, pasta, cruets from Italy, plus body care products made of olive oil.  "I've always loved using olive oil myself and realized the health benefits of using olive oil," she says.  "I had (the shop idea) in my head for a couple of years, and knew I wanted to do it in Lawrence."  Running a business is a new venture for Debbie, who lived in Overland Park before deciding to open the store in 2011 and move to Lawrence.   Two of her sons and two employees assist her with the job of keeping the store open seven days a week.  Debbie is active in the Lawrence Chamber of Commerce and Downtown Lawrence, Inc. and enjoys walking, movies, and motorcycling.  She has seven children and twelve grandchildren.  http://www.lawrence.com/news/2012/jul/10/oil-boom-extra-virgin-captures-niche-olive-oil-mar/ 
On March 6th the members of Lawrence Central welcomed four new members into our burgeoning community.  The induction ceremony was held and then we had a panel discussion lead by our Membership Chair Kate Campbell where each of the members told us a little about themselves in a relaxed setting. We're very excited to have these new faces at our meetings and to help the work that we do locally and internationally.  Our fifth new member Debbie Briggs was unable to attend but we will  have an upcoming meeting we all get to meet her.
The story below is from the Smart Growth America National Complete Streets Coalition.

Complete Streets Help Create Livable Communities
The streets of our cities and towns are an important part of the livability of our communities. They ought to be for everyone, whether young or old, motorist or bicyclist, walker or wheelchair user, bus rider or shopkeeper. But too many streets are designed only for speeding cars, or worse, creeping traffic jams. They are unsafe for people on foot or bike – and unpleasant for everybody. Continue reading "Benefits of Complete Streets in Communities" »
The Kansas Department of Transportation is seeking public input to help identify statewide bicycling and pedestrian needs.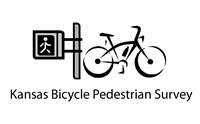 Becky Pepper, KDOT bicycle pedestrian coordinator, said an online survey has been posted on KDOT's website,www.ksdot.org, to collect the opinions and comments of Kansans. The survey takes about 10 minutes to complete.
"The survey will help us better understand how to use limited resources for bicycling and pedestrian facilities in Kansas," Pepper said. "The survey is part of the Kansas Bicycle and Pedestrian Transportation Plan update to enhance transportation and related goals of safety, public health, recreation, tourism and community development."
Survey respondents will be asked how they use and value bicycling and walking facilities and policies and whether changes are needed.
"We are interested in knowing whether there are differences in how rural, suburban and urban Kansans view bicycle/pedestrian needs," Pepper said. "We are also surveying public agencies on how KDOT can best serve cities, counties, regional planning organizations and others to promote local objectives related to safe biking and walking."
KDOT planners are also interested in identifying possible collaborations and cost sharing arrangements to best leverage limited resources for the greatest impact, she said.
An 18-member Kansas Bicycle and Pedestrian Transportation Plan Advisory Board is providing multiple perspectives and guidance on this study that will completed by fall 2013. The consultant team includes the Transportation Research Institute of the University of Kansas, with Smalley Community Planning LLC., Fairway, Kansas.
Lawrence Central Rotary, LiveWell Lawrence, Ride Lawrence and a host of others present a FREE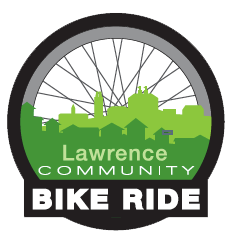 community bike ride Saturday, July 20th 2013 to promote cycling as a part of a healthy lifestyle at the The Rotary Arboretum at Clinton Park (by the YSC Soccer fields)
We're firming up plans, but be sure to mark your calendar!
More info soon!