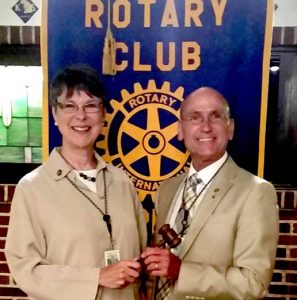 Kate Campbell's last meeting as president of Lawrence Central Rotary on June 29 reflected a theme she has been emphasizing all year—"Getting to Know You."
A panel of new members, Taryn Parillo and Jay Holley, and long time members, Glenn Davis and Lynn O'Neal, talked about their jobs, their hobbies, and their favorite things.
"I think the deepening friendships are what has made the comradery at the meetings so evident," Kate said. "One of my favorite things has been watching people get to know each other. Building relationships was one of the reasons we set up potlucks that included spouses and children. And attendance at the holiday luncheon, the anniversary dinner, and the Family Frolic Picnic reinforced new friendships. At every meeting we each put in 'Happy Money' and talk about things that have happened during the week."
On the 29th all four Rotarians told about their love for family gatherings, Christmas for Taryn and the fourth of July for Jay (although "we set the barn on fire with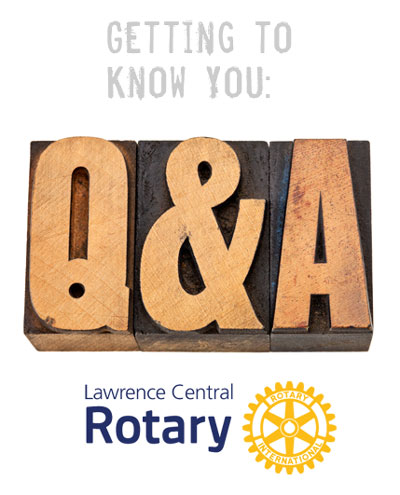 fireworks once," he said.) Lynn told about big family get togethers in Branson and Glen travels often with some of his five children.
Differing in occupations, Taryn is a financial planner, Jay an architect, Glen in insurance, and Lynn a retired ophthalmologist, they have a common interest in community service that benefits Lawrence. Taryn said she especially enjoyed helping with the bike ride, while Jay talking about hearing about Rotary when members were planting flowers downtown. Glen, who said he is a "bike nut" has worked on several cycling projects over the years. Lynn said he joined Rotary for the friendships as well as the community service projects.
"It has been so good this year to have members bring spouses, children, and grandchildren to our volunteer projects," Kate said. "There are so many examples of this such as the Community Bike rides, Christmas bell ringing, and presentations from Sister Cities, to name a few.
"Although fostering relationships was key, I'm also pleased that we continued all of our fundraising efforts and our international involvements'" she said." Nearly everyone in the club has a project or has taken on responsibility for a particular task at some time during the year. And we've updated the 'nuts and bolts' for running the club by setting a budget, timely invoices, meeting notes and sending monthly Highlight emails."
As Kate turns the gavel over to incoming president, Jim Peters, all the panel members agreed that her "Getting to Know You" project, aided by her warm and welcoming personality, has definitely been a success.