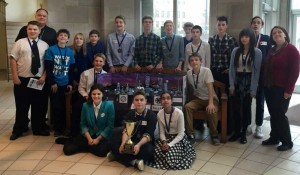 Students from Lawrence's Southwest Middle School presented their award winning city design and described the work required to participate in the National Engineer's Week Future City Competition.  The eighteen 8th graders took first place in the Great Plains Regional competition in January, earning the right to compete in the national event in Washington DC, in February.  The students were required to develop a design for a city at least 150 years in the future.  The design was to address current and future city problems using technology, science, and engineering solutions. A special focus of the design was to solve the city's waste management system.  The students chose to re-imagine the city of Mumbai in the year 2170.  At approximately 75 million residents, the city would be transformed into a walkable, thriving commercial hub attracting millions of worldwide citizens.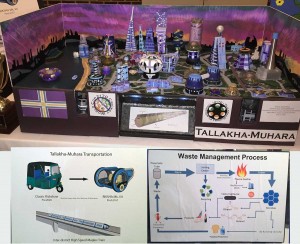 The competition included requirements for a seven-minute verbal presentation, a three-dimensional model with moving parts, a virtual city created with SimCity software, a project plan, and a city essay. Developing skills such as teamwork, fundraising, planning, and communications to mention a few, this group of teens is ready to take on real world challenges. Outstanding teachers, mentors, and advisors assisted along the way, and many local businesses supported the team in their fundraising efforts to defray the cost of traveling to DC.  The team was honored to take home special recognition for Best Use of Renewable Energy, and enjoyed four days in the nation's capitol.
Learn more about the project here.