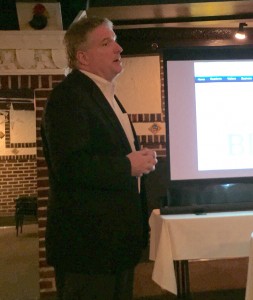 David Corliss, Lawrence City Manager, said the last half of 2014 was full of successes for the city and one major disappointment.
Corliss told the Central Lawrence Rotarians on January 28 that  one of the major successes was the roll out of curbside recycling with the big blue carts being delivered to Lawrence homes.
"A push in 2015 is going to be further education about recycling," he said.
The opening of Lawrence VenturePark, a business park on K-10 for business and individual development was accomplished when 200 acres were made available to be divided into development parcels.
Sports Pavilion Lawrence at Rock Chalk Park opened and in the first two months the recreation facility had 116,000 visitors.
Nine different road construction projects were either finished or almost completed including construction at 23rd and Iowa and a new turn lane at 6th and Iowa.  Work continues on South Lawrence Trafficway which will connect K-10 to  Iowa Street.
"There will be a lot of transportation changes in town in the next few  years," Corliss said  "to accommodate growth and demographic changes."
The disappointment was the failure of a bond issue to finance a new police facility. "We're holding listening sessions all over town now," Corliss said "to assess why the bond issue didn't pass. There is still a real need."
In the coming year a new Wakarusa Wastewater Treatment Plant is on the drawing board as well  as another new water line to North Lawrence.
"The city is growing and changing all the time," Corliss said "and we are working hard to make it continue to be a good place to live."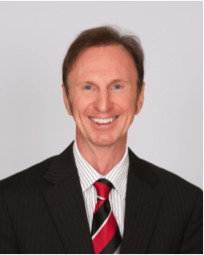 Dr. Marvin Hunt is a busy fellow these days, but he made time to give members of the Lawrence Central Rotary an update on work underway to establish the Dwayne Peaslee Technical Training Center.  This effort is a collaboration of City of Lawrence, Douglas County, and the Chamber/Economic Development Corporation in Lawrence.  The mission reads, "We are a catalyst for economic growth providing technical training to a diverse community of learners to meet the current and emerging needs of our communities and employers."
Hunt has already done a great deal of legwork, talking to area businesses and manufacturing firms during recent months to find out what training needs they have.  In particular, he found, workers need math and hydraulic principles and applications.   In response, Hunt has directed the development a curriculum of short courses specific to the industries that responded to his questions.  The Peaslee Technical Training Center will also provide training in employability skills such as conflict management and team work.  Affiliated businesses promise to stay involved with students, greeting them as they begin their study, providing internships and other input during their programs, and explaining career options as they complete their classes.  Area businesses will also provide some of the teachers for the training programs.
Because  students in the Peaslee training programs will be adult learners in or entering the workforce, communication and collaboration with Lawrence Public School (USD 497) and with other technical schools and regional community colleges are key to this initiative.  Community colleges in the region will bring courses and certifications to Peaslee, and the Peaslee Center will run the Auto Shop 1 and 2 classes for USD 497.
In terms of facilities, plans focus on avoiding redundancy with the Lawrence School District's College and Career Center that will serve high school students.  The two buildings will be immediately adjacent.  The Peaslee Technical Training Center will have 77,000 square feet in total, using a good part of that space for construction and manufacturing shops.  Heartland Works will lease some of the space as well.
The immediate priority for Hunt is marketing, branding, and a developing a "call to action."  Because the Center will open in August 2015, getting the word out to high school graduates and others interested in attending is key.  Prospective students must know about the school and its programs soon in order to make their decisions and enroll this spring.  Watch for a website soon!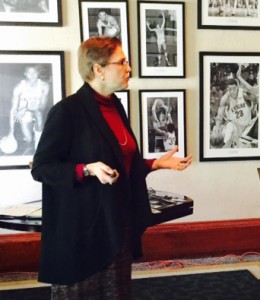 Nancy Hope, director of the Confucius Institute and executive director of the Kansas Consortium for Teaching about Asia, says she is a cheerleader for Americans getting to know more about East Asia.
"The economy makes it imperative that we know all we can about China," she told Central Rotarians on January 14. "The U.S. and China are the two big powers on the planet right now and China is not our friend."
In preparing for the future, the Confucius Institute's mission  is to teach Chinese culture and language to pre and post college age people.  It provides language and culture classes for businesses, offering onsite classes, free lectures and other presentations designed to help businesses work with their Chinese counterparts.
"The language is very difficult," she said. "You need to know at least 30,000 characters to be able to read it.  And the customs are so different from ours." As an example, she said, it would be wrong to offer a green hat  to a Chinese man, because it would imply that his wife is unfaithful.  "So we tell Kansas business people to leave the green John Deere ball caps at home!"
KU founded the Center for East Asian Studies in 1959 and was one of the first universities to offer Chinese language classes.  It cooperates with Chinese universities, exchanges scholars and performers and hosts language events.
China has a market economy, she said. It used to be the west fueled China's growth, but that is not the case now and Americans need to know more about it.
Hope said 1100 students in Kansas are now studying Chinese and she is working on funding for a summer program and summer language camps for students.
Look for your ballot and be sure to vote!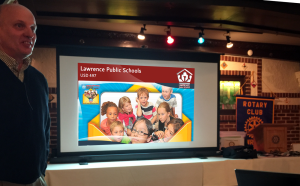 Dr. Rick Doll, Superintendent of Schools for District 497 in Lawrence, explained to Rotarians the school funding issue that is in front of voters.   A ballot will arrive in each resident's mailbox this week.
The question in front of voters is whether or not to maintain the current level of funding in the Local Option Budget (LOB) at 33% of the general fund amount that is provided by the state funding formula.  Passing this measure will not increase property taxes and will maintain District 497 LOB funding at the current level.
The LOB was originally established by the Kansas legislature to fund "extras" in a school district.  Now District 497 uses the LOB taxation to extend their general fund in order to pay for basic needs.  All other districts in the state have taken similar action.
Rotarians asked Doll to comment on a variety of topics in addition to the ballot measure.  He told the group that he is especially pleased to see the transformation of the older schools in the district, thanks to the bond issue that voters approved a year ago.  The new College and Career Center under construction on Haskell Avenue will offer exciting opportunities to both youth and adults.  He commended the City of Lawrence, Douglas County, and the Chamber of Commerce for their collaboration on the technical school planned in conjunction with the new facility.
Doll foresees that the District will next need to build a new elementary school to the west in coming years and to make improvements at Lawrence High School.   He notes that District 497 has the largest virtual school in the state and is proud of its success.  Common Core standards make sense in the current world, Doll says, but have become politicized.  The community should be concerned that 40% of the children in the District are eligible for free or reduced-price lunch.
Below is a video from the USD 497 website with a little more information on the ballot initiative.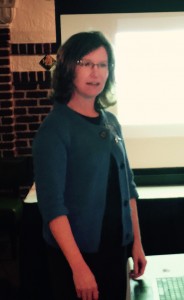 Mary Jo Mason, a dietician with Hy-Vee groceries, emphasized one of the basic principals of Rotary, when she said a big part of being healthy and aging successfully is connecting with others, something that has always been important to Rotarians.
Two related parts of maintaining good health are increasing activity and decreasing stress. A fourth rule to follow is "thinking your plate." Organizing a balanced plate replaces the old food pyramid in promoting good health.
Hy-Vee, the Midwest grocery chain, is involved in many aspects of healthy living from employing dieticians who work with customers, to stocking healthy products, to working with community organizations.
Customer concerns that also concern Hy –Vee are eco-conscious foods, memory function, fighting disease, monitoring allergies, cancer and heart disease prevention and working to maintain a vital immune system.
"Our bodies are fascinating," Mason said and cited several examples of the way nature has set us up to function if we will only cooperate. She listed products to watch for including NuVal and Responsible Choice, as well as several other brands. Hy-Vee sponsors programs for children such as Saving the World and works with many community health organizations such as the American Heart Association.
Mason discussed pro-biotics, the pros and cons of hormones in food, and closed with a question and answer session with questions ranging from genetic modification of foods to whether or not there really are medicinal benefits to chicken soup.