On February 4, the Lawrence City Commission is considering a Transportation Alternatives KDOT grant application to extend the Burroughs Creek Trail by creating a new multi-use path from historic Hobbs Park in the East Lawrence neighborhood through downtown Lawrence to Constant Park in the Pinckney neighborhood.
The members of Lawrence Central sent Mayor Mike Dever a letter expressing our support for this grant application being submitted by the City of Lawrence.
The proposed route will connect the Arts District to Downtown. Lawrence Central Rotary understands the importance of multimodal transportation in the Lawrence-Douglas County Region and throughout Northeast Kansas. Lawrence Central Rotary also strives to support local government commitments to create multimodal infrastructure and particularly the development of facilities for bicyclists and pedestrians. Many different types of people in our region use our area's bicycle and pedestrian facilities, and they desire to have a transportation system that is supportive of healthy and active transportation choices.
Lawrence Central Rotary strongly supports efforts to create a complete transportation system for Douglas County, and we believe that this proposed TA project will help in that effort.
Lawrence Central Rotary hopes that this project will be a fundamental first step of the local commitment to connecting the East Lawrence neighborhood not only to Downtown but also provide a pedestrian route that could access the Lawrence Memorial Hospital.
To see a copy of the letter click this link: –>  LCR BCT Trail Support Letter 01-14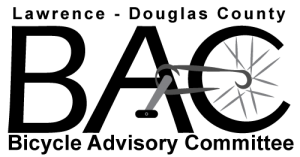 The Lawrence Douglas County Bicycle Advisory Committee is looking to fill two member seats at large, for positions Lecompton and Baldwin City have elected not to fill through their appointments. The first consideration for appointments will be at our February 4th, 2014 meeting. Please attend the February 4th meeting if you are interested in serving a three year term on the BAC.
Please find the agenda packet for our next BAC Meeting on February 4th, 2014 at the following link: http://lawrenceks.org/boards/bicycle-advisory-committee
This meeting will be held in the Public Works Conference Room, Lawrence City Hall, 6 East 6th Street, at 5:00pm.
The Lawrence-Douglas County Bicycle Advisory Committee provides a communication linkage between the City and County Commissions and the community on bicycling related issues. The Committee works to improve bicycle safety and awareness through education of motorists and non-motorists; review, update, and oversee the distribution of the City's Biking Map; seek information from multiple sources on current trends, programs, and facilities outside the local area; and promote bicycle awareness by coordinating activities with the City, County, the school district, universities, and the local bicycle clubs.
For questions please contact:
Jessica Mortinger, AICP, Transportation Planner – jmortinger@lawrenceks.org
Lawrence – Douglas County Planning & Development Services | www.lawrenceks.org/pds/
City Hall 6 East 6th Street
P. O. Box 708 Lawrence, KS 66044-0708
office (785) 832-3165 | fax (785) 832-3160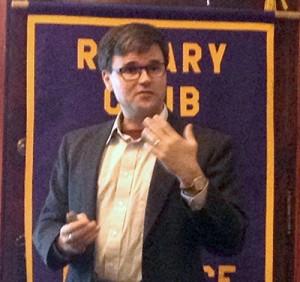 Dr. Paul Atchley, Associate Professor of Psychology at the University of Kansas, worked hard to dispel myths about distracted drivers when he spoke to the Lawrence Central Rotary on January 22, 2014.  Atchley conducts research as a part of the KU Transportation Research Institute that focuses issues of vision and attention related to driving. In his presentation he pointed out a few myths about technology and driving today.
Myth #1:  Everyone talks on the phone while driving, so it must be ok to do it.
Atchley declares that the probability of being in a car crash goes up 400% if the driver is distracted by texting, talking on a cell phone, or even talking to a passenger in the car.  And he has the statistics to back it up!
Myth #2:  When people know the risks, they will change.
So why do people persist in dangerous behaviors?  Atchley says that the human brain deceives us into unrealistic expectations about our own abilities.  He gave a number of examples to demonstrate that seeing is not just a visual capacity, it is a process of "attending."  And everyone thinks they are better at it than they really are!
Myth #3:  Multitasking.
Atchley reminded club members that when traffic gets heavy, usually the driver of a vehicle stops conversation and both the driver and the passenger focus on other the cars around them.  If a driver is listening to the radio or a book on tape, he probably will miss a chunk while navigating a difficult traffic situation.  No one can do two things at once, not even talking and driving.
So certainly we won't make a phone call from our car on the way home from the meeting.  Another myth!  Our attitudes are disconnected from our actions.  Most of us won't change the way we behave.
So what do we do?  Atchley's solution  to stopping distracted drivers is "education and enforcement."  He and others conducting research have the story to tell.  The next step is to enact tougher laws against the use of cell phones in moving vehicles.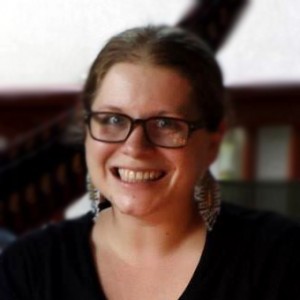 Central Rotary's own Jessica Mortinger was the speaker at the  January 15 meeting, telling the club about her work as a transportation planner with Metropolitan Planning Organization (MPO).
Jessica works with a network of committees and groups in a variety of ways. She and her supervisor conduct surveys, prepare flyers and releases, create long range transportation plans, do population projections and update existing situations to name a few of their functions.
Her work is funded out of a consolidated grant program, rather than by the city of Lawrence, and some federal funding is also involved.
"We're stewards of public money so it requires our processes to be up to standard." she said.  "We maintain and update regional planning regularly. We have a technical advisory committee of public officials and a city/county advisory committee." They also work with a regional transit advisers committee.
"We  bring people together to find out what they want through open houses, public meetings and surveys," Jessica said. "Getting people concerned on the local level helps us see  where we should work. While politics is a reality of planning and we have to incorporate financial reality, what we really want is to get people where they need to go, safely."
Future projects include bikeway expansion and pedestrian issues such as accessing transit and crosswalks.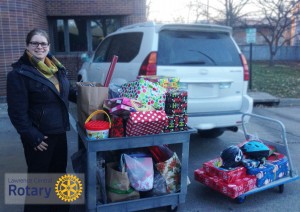 Lawrence Central Rotary Club collected gifts for three families as a part of the local The Salvation Army USA Douglas County Adopt a Family program.
Here's our own Jessica Mortinger who along with Scott Wagner collected all the items so they could be dropped off.
Thanks to all our members who helped out!