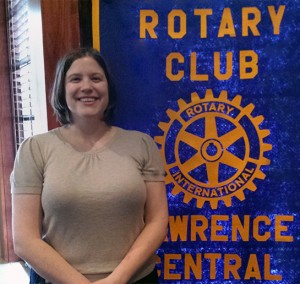 Dezeree Hodish spent the summer of 2013 in Moscow, Russia, as an intern in the United States Embassy there.  Lawrence Central Rotary helped make her adventure possible with a grant to help pay for her airfare.  Last week, Dezeree told club members about her internship.
The residence in which interns and short-term contractors are housed is located many miles away from the US Embassy itself in Moscow.  The collection of pre-fab townhouses are made in America and furnished just as American homes would be furnished.  As an intern, Dezeree had the advantage of living in that free housing.
To get to work, Dezeree could take the daily chartered bus to the embassy in downtown Moscow, a 1.5 to 2 hour ride one way.  If she wanted to get the embassy more quickly, she could take a shuttle to the Metro, ride the Metro into the city, and then walk about five blocks to the Embassy—an hour-and-a-half journey.  The lengthy commute was the most difficult part of the internship experience.
Most of Dezeree's hours were spent in the embassy compound itself.  The compound is guarded by Russian guards and high gates.  On the interior, US Marines are present.  The Russian Embassy is considered to be the second most secure in the world, next to embassy in Baghdad.  The United States hires many Russian nationals to work at the embassy.
Dezeree was one of ten summer interns from America working at the embassy.  The application process and security review were long and rigorous;  she applied in the fall of 2012 for the summer 2013 internship.  Her assignment was in the press office of the press section of the Public Affairs division.
Dezeree's job was to read the Russian media and write English summaries for the ambassador and U.S. Department of State community.  The object of her work was to convey the mood of the Russian press to the Ambassador.  Dezeree has advanced proficiency in the Russian language in connection with her doctoral studies in Russian history at KU, and she was surprised to find that very few of the Americans on staff at the Embassy could speak Russian proficiently.  All her writing was done in English.  Once she was finished with a piece, translators translated her ideas into the Russian language.
Edward Snowden arrived in Russia during Dezeree's time in Moscow, so she spent significant time reading what the Russian press thought about him.  She noted a change in the Russian media after Snowden came which she attributed to a tightening of state control and increased censorship.  Dezeree also planned social media campaigns presenting the point of view of the United States.   In preparation for the Olympics held in Russia last winter, the Embassy press office focused on promoting human rights awareness.
In addition to her work in the press office, Dezeree was assigned to monitor a Russian news crew, helped to plan a Fourth of July party at the ambassador's residence, worked with the American culture camps, and met her counterparts in the Russian foreign service.  She was surprised and especially pleased that she had personal access to the Ambassador himself during her stay.
Since all personal services were available to employees within the Embassy compound, staff had little reason to leave and get to know Moscow.  Dezeree spent her free time exploring the city, however.  She enjoyed the murals and artwork in the metro stations, saw a ballet in the Bolshoi Theater, visited Red Square and its tourist attractions, and explored the many public gathering places in Moscow such as Gorky Park and its gardens.  She did not visit a Rotary club there because of a recently passed Russian law that places restrictions on Russian NGOs' interactions with foreign organizations. She commented that the stereotype of Americans in Russia is that we are rich and selfish, but many of these stereotypes are challenged when Russians and Americans interact on a personal level. She also told Rotarians that Putin was very popular in Russia, especially in smaller towns and villages.
Dezeree continues her commitment to public affairs as she works on her dissertation.  She is currently employed by the State of Kansas as a Fiscal Analyst in the Legislative Research Department in Topeka.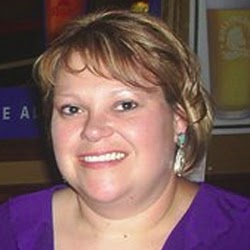 Megan Gilliland has had her work cut out for her this summer as Lawrence Communications Coordinator. Working with what has been called a "perfect storm" of road construction she has used all the communication resources available to present construction zone alerts.
"My job" she told members of Lawrence Central Rotary "is to reach community and www.lawrenceks.org is one of the best ways to do it."
In addition to presenting information about the many areas of road construction in Lawrence, the web site offers job opportunities, city commission agendas, Parks and Recreation information, and the city calender.
Subscribers who sign up for city news–and currently there are 9,000 of them–can get information about licensing, rentals, development and various other topics.  Residents can sign up to receive text and/or email alerts for solid waste services such as collections of trash, yard waste and recycling. "We're hoping to expand this service," she said. "There is also a video program about Lawrence 'Lawrence In Focus.'
"Journalism has changed so much," Gilliland said " and there are so many more ways to communicate now. Videos tell the story better than I could write it." To prove her point she showed a video about the Hazardous Waste Facility now operating.
"But there are other ways to communicate also," she said. A newsletter and inserts go into the city bill and 32,000 customers get three pieces per month.
She also cited local business partners, the media, neighborhood organizations and old-fashioned word of mouth as other ways the city uses to communicate.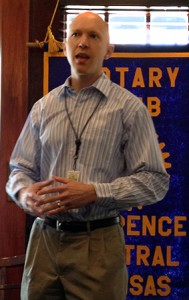 The Lawrence Central Rotary Bike Ride is gearing up (literally) again and Steve Lane got the ball rolling at the Central Rotary Club meeting on June 11.
Steve, who definitely holds the title "most organized man on the planet," presented a schedule of dates and time frames, got volunteers for various areas, and  showed the poster for the July 19 Community Bike Ride at the Lawrence Rotary Arboretum.
The idea for a community bike ride started in 2009 when Central Lawrence Rotary reached out for a project and wanted to provide a way for local people to live a healthier lifestyle.  The first activity was to install bike racks around the city, and creating the Ride Lawrence Website as a clearing house for all thing bicycle related in Lawrence.  The initiative evolved into the Community Bike Ride and by 2011 the ride included 60 children and their parents.
It has has grown each year and now offers three routes: a one-mile easy tour; a three-mile family ride; and a 10-mile ride to I-70.
In summer 2013, Steve said the club applied for and received a grant and will focus on people who are new to riding. There will be training wheel take-off, with experts helping young riders, bike helmet fitting and a helmet give-away. Lawrence Memorial Hospital Safe Kids will assist. Karrey Britt, communications coordinator for the Lawrence Douglas County Health Department, has also offered her services.
And, Steve said, he has scheduled Sunday, July 20 as an alternative date to avoid the  cancellation that occurred in 2013 when  a torrential rain storm  washed out the ride.
He was excited to confirm that based on the grants Lawrence Central has received we will have officially been able to schedule a second ride to be held the third Saturday of September on Lawrence's Burroughs Creek Trail to commence from the Haskell Indian Nations stadium Parking lot that is alongside the trail.. More information will be posted soon both here and at RideLawrence.com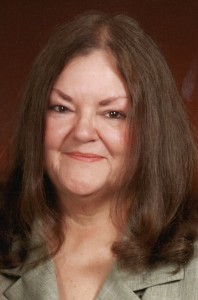 We found out earlier this week the sad news of the passing of Lawrence Central member Becky Castro.
Becky was one of the founding members of our club to quote one of our members, "Becky has always been the rock/foundation of Lawrence Central Rotary.  Always the first person to welcome guests and new members, the historian, and the one to make sure everyone was thanked, thought of, appreciated."  She will be dearly missed.  Her spirit and excitement about the club was a bright spot in the week.
Funeral services will be held at 11:00 a.m. on Saturday, June 14, 2014 at First Christian Church in Lawrence.  The family will greet friends from 6:00 – 8:00 p.m. Friday, June 13th at Warren-McElwain Mortuary in Lawrence.
Becky, your work here is now done, go and accept your wings — and say hello to Paul Harris for us.