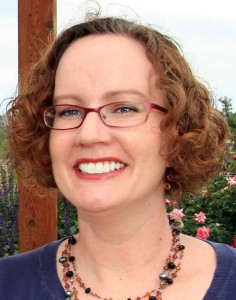 A self-described serial entrepreneur, Central Rotarian Kris Adair and her husband recently opened the Lawrence Center for Entrepreneurship.  The business grew out of the fledgling Lawrence Free-Net which is now where the local gigabit internet provider Wicked Broadband and their data center is now housed.   The Center, she said, is for anyone who wants to make something, start something or create something.
The Center, at 925 Iowa, has three main components: A co-working space, a maker studio and an on-site data center.  The co-working space is a membership or occasional walk-in space for single entrepreneurs, start ups, and, often,  people who don't have an office. There is 24-hour access with high speed internet, a mail center and a conference room.
The maker studio is an on-site fabrication area which is a premium work area for members. All of the needed tools are available including CNC milling, 3D printing equipment and power tools.  The center is offering beginner classes on 3-D printing and other topics in the evenings.  Their on-site data center has Gigabit fiber and is peered directly to Wicked Broadband's fiber backbone. There is carrier class internet and rack space options available to members.

The goal for Adair is to provide a collaborative environment where people can work together to help grow businesses, teach management skills, and show how to fast track key components to get ideas to market quickly. Membership rates vary but include monthly memberships, day passes and extras such as a reserved desk, various sizes of storage and a private office.
"We give tours of the Center during open house Fridays, between 2 p.m. and 6 p.m.," Adair said, and Working Wednesdays from 6 to 9 p.m. each week. She said she could be contacted at kris.adair@larryville.com or 785-840-7989.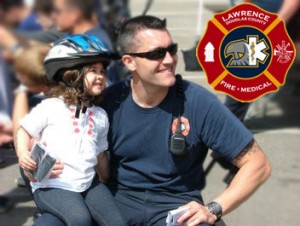 The Fire Medical Department will hold their annual Helmet Fair on Saturday, April 25th on the University of Kansas campus alongside the annual Spring Football Scrimmage. The event will be the parking lot just West of Memorial Stadium in Lot 58. The event will run from 11:00 a.m. to 1:00 p.m. and is free to attend.
Immediately following the Helmet Fair, the KU Spring Football Scrimmage will take place at 1:00 p.m. in Memorial Stadium.
At the event, public safety staff will be on hand to provide and custom-fit bike helmets for children age 15 and younger (with an adult, while supplies last). Participants can have their bicycle inspected and take a ride on the Safe Ride Course. Staff will provide information on bicycle safety tips, bike trail etiquette, booster seat safety and swimming safety.
The Hyvee Hawk Zone will be offered from 11:00 a.m. to 1:00 p.m. featuring family-friendly inflatables, face painting, music and appearances by Big Jay and Baby Jay.
The city's Police and Fire-Medical Departments and Kansas University Public Safety are joining efforts to provide this event, along with several private and non-profit business partners including Kansas Athletics, Laird Noller, Safe Kids Douglas County, McDonalds, Sunflower Outdoor and Bike Shop, Douglas County Medical Society, Lawrence Mountain Bike Club, Dillons, Ranjbar Orthodontics and Lawrence Pilot Club.
Contact the Lawrence-Douglas County Fire Medical Department at (785)
830-7000 for more information.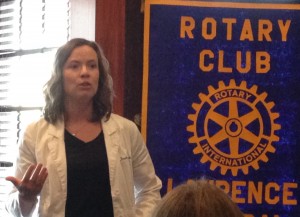 Janelle Williamson's job description is that she provides pain and palliative care services through Lawrence Memorial Hospital—a simple description for a very complicated service.  And, complex as the job is, Williamson, says she loves what she does because it's "a wonderful and rewarding experience."
Williamson has been a nurse for 13 years, receiving her Master's Degree in Nursing from Washburn University in 200 7.  She has an impressive string of initials after her name (APRN/NP-C)  and has worked in private practice as well as with hospitals.  But palliative care is her passion.
"Palliative care is not hospice, although many people think it is," she told members of  Lawrence Central Rotary on April 8.  Palliative care is specialized medical care for people with serious illnesses. The overall goal is to improve the quality of life for both the patient and family, not just help the dying as does hospice.
"Palliative care is a philosophy of medicine for someone with serious illness," she said. "For each patient, working with his or her medical team, family, friends and sometimes social workers, we ask the patient 'What do you want out of life? What's quality of life for you?'  And then we try to help him or her achieve that.
"Sometimes a patient will say 'I've done what I want to do and I'm tired. I'm done.'  We help the families accept that and we help the patient to make decisions without feeling guilty."
Palliative care workers communicate patient's wishes to family and other providers within the hospital and the community to ensure that they are heard. They also provide education and support to direct care staff.  They discuss spiritual concerns with patient and family and provide bereavement follow-up.
"Our motto," Williamson said "is to help you live each day as well as possible."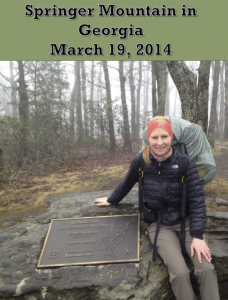 Known on the trail as "Johawk," local artist Joanne Renfro decided to leave her family and small business here in Lawrence last spring to fulfill one of her life's ambitions—hiking from Georgia to Maine on the Appalachian Trail. Following the series of white blazes that marked the trail, she made new and lasting friends of all ages and explored all types of terrain.
The numbers Joanne cited about at her trek were impressive:
14 states
2,185 miles
15 miles per day, on average
Backpack weighing 30 pounds
5 months and 5 days
318th finish for the season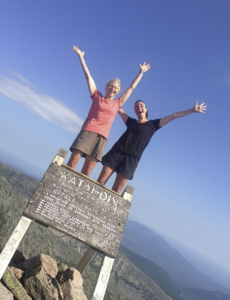 The hike is sometimes referred to as "walking the spring," since spring flowers and greenery are emerging as the hikers move from south to north along the trail. There was plenty of snow, fog, and rain, but also days of dazzling sunshine that revealed "the balds," as the mountain tops above the tree line are called. In the north, views of mountain lakes and the call of loons punctuated the days.
The trails themselves included well-worn dirt paths, boardwalks, river fjords, and rock crevices called a "gap" in the south and a "notch" in the northern states. Wildlife was plentiful—including the bear that made a visit to Joanne's tent area one night.
The trail is supported and maintained by volunteers all along the way. "Trail angels" leave "trail magic" for hikers—supplies of food, candy, and cool drinks hung from trees or a handwritten invitation to come off the trail for pizza and beer at the end of the day. Joanne told of boxes where you could swap gear with other hikers who had left things they didn't need. Rides into town always seemed to appear when she needed one.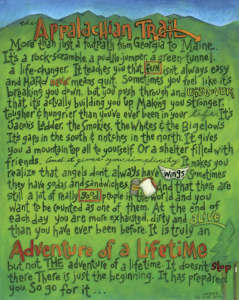 Only 25% of the people who begin this hike complete the entire Appalachian Trail. Joanne Renfro is proud to be among them!
If you would like so see some of Joanne's art check out her Facebook page or at LawrenceIsCool.com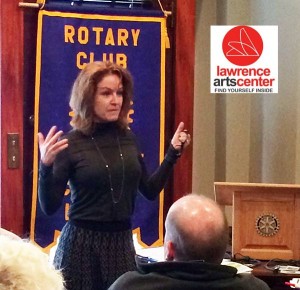 Susan Tate, director of the Lawrence Arts Center, told Rotarians on March 18 that Central Rotary's bike rack project is a microcosm of the Ninth Street Arts Corridor Project, currently in the planning stages in Lawrence.
"What Rotary has done for biking and walking has a deeper connection than just a practical way to store bicycles," she said.  "Creative place making is a new term," Tate said, "that is sometimes criticized but is a way of getting urban design to incorporate art in the community.
"It's not just a statue on a corner, but design of an area that is art itself and encourages use by those who live there, including walking, biking and using facilities."
The Lawrence Arts Center team, headed by Margaret Weisbrod Morris, chief program officer, received a $500,000 grant from ArtPlace America that they wish to use to work on the art district on ninth street that stretches from New Hampshire St. to Massachusetts.
The Lawrence Arts Center has already worked on projects that build education and exhibits. Now, beginning with public workshops in April and a citizens' advisory committee convening in March they want to start plans for a creative place.

"The city commissioners said if we got the grant, they would commit $3 million to the project," Tate said. "We got the grant but there are shadows in that picture now. Part of those shadows are the controversy over the Rock Chalk Recreation complex and the voters' defeat of a new police station. The makeup of the city commission will be changing and we don't know how new commissioners will feel about the commitment."
The Art Center has set up a team that includes well-known urban designers and engineers, an artist, conceptual urban landscape designers, an east Lawrence historian and a multi-media art technician.
"However," Tate said, "nothing will happen until we've gotten the city's commitment and input from the grass roots through our workshops."