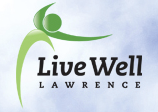 During the Lawrence City Commission meeting on Tuesday, December 3, commissioners will receive a presentation of the Roadmap to a Healthier Douglas County: 2013-2018 Douglas County Community Health Plan.
LiveWell was involved in the development and implementation of two of the five priority areas of the plan: access to healthy foods and improving rates of physical activity. The Roadmap also addresses mental health, access to health services and addressing poverty and lack of jobs.
The following members of the Community Health Plan Steering Committee will make the presentation:
David Ambler, Lawrence-Douglas County Health Board
Erika Dvorske, United Way of Douglas County
Dan Partridge, Lawrence-Douglas County Health Department
The plan has been adopted by the Douglas County Commission and Eudora City Commission. The plan will also be considered by the Baldwin City Council tonight. Lecompton council members are expected to consider the plan at their meeting on December 16.
Please consider attending the Lawrence City Commission meeting tomorrow evening, December 3, to show your support. The meeting begins at 6:35 p.m. and will be held at Lawrence City Commission Meeting Room, First Floor, City Hall, 6 East 6th Street, Lawrence.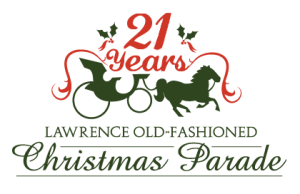 With a blend of Currier and Ives, Norman Rockwell, the expansive history of the American West and Christmas rolled into one, the Lawrence Old-Fashioned Christmas Parade (by clicking on the underlined words, you link to the parade's website) kicks off its 21st season on Saturday, Dec. 7, starting at 11 a.m. in downtown Lawrence.
This must-see Christmas parade, named by USA Today as one of the top 10 great places to put a spin on Christmas, is the only exclusively "horse" parade in the Midwest and one of very few throughout the United States.  It kicks off the holiday season in Lawrence with exclusively authentic horse-drawn carriages and even a stagecoach. Cozy up with hot cocoa and blankets, and feel the true holiday spirit while watching dozens of beautiful horses and wagons adorned in garland and bells. Join us to celebrate our American heritage and keep our traditions alive this holiday season.
Lawrence Central Rotary volunteers will be distributing flyers describing the entries before the parade next Saturday morning.  Come and say hello, then enjoy the holiday spirit on Mass Street—one of the things that is so great about Lawrence!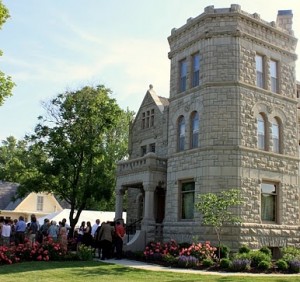 The Castle Tea Room has gone from being the large, elaborate home of a prosperous merchant to a Lawrence landmark.  It is now operated by the board of a non-profit foundation whose mission is to maintain the physical structure while keeping it available to the public and telling its story.
Lindsay Ibarra, executive director of the Castle Tea Room, outlined the  history of the building for Lawrence Central Rotarians.  The story began with wealthy merchant John Roberts who came to Lawrence several years after the end of the Civil War and built the castle in 1894 at what is now 13th and Massachusetts. Roberts utilized the services of well-known architect John Haskell and English artist Sidney Endacott to create a building with museum quality interiors and the most modern conveniences of the era.
After a series of owners, the Castle was sold in 1947 to Libuse (Libby) Kriz-Fiorito who operated a restaurant in the Castle for over 50 years.  In addition to providing warm hospitality, the Castle gave Libby a way to give aid, comfort and employment to KU students for many years.  She made arrangements to place her assets into a foundation to preserve the property after her death in 2004.
The Libby Kriz-Fiorito Foundation, operating with a five-person board, closed the historic building for renovation in 2005 and reopened it in 2009. It is now a non-profit facility available for tours and all kinds of events including weddings, receptions, fund raisers and private parties.
"Our challenge now," Ibarra said, "is to increase public awareness of the Castle, to re-establish its availability, and to continue telling its story."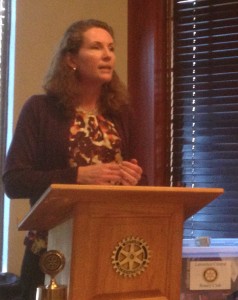 Lawrence Central Rotary's speaker on November 13 was Anne Brockhoff, a freelance journalist who is a member of the Northern Kansas Boyd family, known for community journalism in the state for more than 100 years.
Brockhoff, who lives with her family on a farm outside of Lawrence, writes regularly about food, beverages, farming and business for the Kansas City Star, the Star's blog, "Chow Town" and Lawrence Business Magazine.  A journalist for 20 years, she has contributed to Bloomberg News, Reuters, and The New York Times among others.
Trends in eating change, just as trends in fashion, Brockhoff said. Citing a day when Jello and Cheese Whiz were part of  cutting-edge cooking, she said the move now is to fresher foods, locally provided, which are healthier for the consumer, support the local producer and stimulate the local economy.
People in Lawrence care about quality, she said, and the Kaw Valley is an incredible resource.  Restaurants and markets are buying locally-produced food and beverages. She listed local breweries and wineries, talked about specialty coffee shops in the area, and confirmed a growing interest in eating "old" foods such as kale and beets and enjoying foods associated with various nationalities.
And there is even a trend toward "food trucking" with trucks delivering food to individuals and serving foods at various markets. Lawrence, she said, has a "food taxi" service that will pick up and deliver food that is ordered at restaurants that don't ordinarily deliver.
Brockhoff also discussed how interest in gluten-free eating and the use of less-common foods such as quinoa are helped by the public's access to the Internet and its wealth of recipes and health information.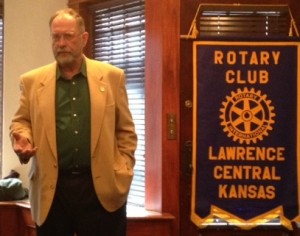 In his 9th term representing West Lawrence and Rural Douglas County, Tom Sloan stopped by to give us an update of the happening and potential challenges of the next legislative session in Topeka.
He currently is the Chairman of the Vision 2020 Committee which is the Legislature's long-range planning committee.  He also is a member of the Energy & Utilities, Local Government, and Agriculture & Natural Resources Budget Committees.
He reiterated his goal in each case is to bring best practices back to Kansas and to educate state and federal colleagues on Kansans' common sense approaches to solving problems and building a better future for ourselves and future generations.
He spoke about the water challenges our state faces down the road and his work to try to address these potential issues now before they become a crisis down the road.