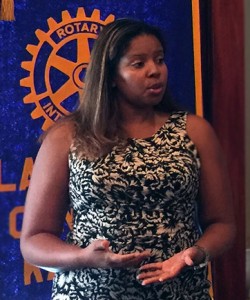 Crystal Swearingen, a realtor with McGrew Realty and president of the Lawrence Board of Realtors said her job is both rewarding and challenging.
The ups and downs of real estate, tied in with both the health of the community and of the economy and the development of technology  keep realtors on their toes, she said.
"The first half of 2015 from January through June finished strong," Swearingen said.
Seven hundred seventy homes sold in the period compared to 633 homes in the same period in 2014 and 698 home sold during the entire year in 2011."
The $150,000-$300,000  price range for single family homes has been the sweet spot for the Lawrence market and the measure of inventory levels, the "Months Supply" of homes, is at the lowest it has been in many years.
"Lawrence realtors work to build better relations with home owners and to have Lawrence continue to be a place of good jobs and good wages," she said. "We work with the Lawrence Chamber of Commerce."
A new generation is used to doing everything on line and this has created a problem for realtors when prospective buyers do their shopping on the internet.
When asked where she predicts the city will expand she said she really doesn't know. A lot of it depends on school placement. She said she believes the South Lawrence Traffic way is going to be  good for the market.
Questions for the future, in addition to expansion, she said, are affordable housing in Lawrence, how many rentals are too many, and  what the economy will do next.