Group Study Exchange  is Rotary's International Exchange Program for Young Professionals. The GSE team will visit District 5710  April 28 – May 28, 2013, and will be visiting the Central Lawrence Rotary at our May 15th Lunch Meeting.  The team is from East Africa and all are medical professionals and their leader is Medical Doctor from Uganda working as a public health consultant.  She is also Past President for Rotary Club Kampala South and Past Assistant Gov D9200.
District 9200 comprises the six East African countries Eritrea, Ethiopia, Kenya, South Sudan, Tanzania and Uganda. The geographical variation ranges from beautiful coastal beaches (both in Kenya and Tanzania), to Mt. Kilimanjaro, the highest mountain in Africa and Lake Victoria, the largest fresh water lake in Africa. The Big Five – lion, leopard, elephant, rhino and buffalo – still roam our vast savannahs and bush land. The equator passes through Kenya and Uganda. The total population of all five countries is about 130 million in an area of 3,139,000 sq kms.
These programs are always very informative so if you have time please make it to the Wednesday Meeting!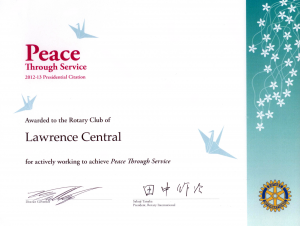 Rotary District 5710′s annual conference club president Bob Swan was on hand to receive two awards on behalf of the club.
The first award is the 2012-2013 Peace Through Service Presidential Citation.  The Presidential Citation recognizes Rotary clubs for achieving an array of accomplishments that help them become stronger, deliver more effective service, and enhance their public image. By qualifying for the Presidential Citation, clubs contribute to Rotary's organizational goals and multiply the impact of their good work through the collective focus of 34,000 Rotary clubs worldwide.
In order to qualify Clubs were asked to assess their accomplishments this Rotary year. In order to qualify for a citation, clubs must meet the Presidential Challenge and complete one required activity, along with at least three additional activities, in each of the three categories listed. All activities had to be undertaken and completed between 1 July and 31 March of the 2012-13 Rotary year.
We're proud to say we accomplished these tasks and we are a better club for it!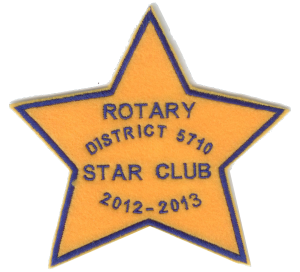 The second award Lawrence Central was for being a District 5710 Eastern Kansas Rotary Star Club for 2012-2013.  District 5710 recognizes as a STAR CLUB every club whose annual contribution to the Annual Program Fund averages $100 or more per member.
(Per capita calculation based on APF giving.)
In order for a club to receive STAR CLUB designation, and be recognized at the District Conference, the club MUST turn in its Annual Fund contributions by March 31 each year. This will allow enough time to determine which clubs will be recognized at the annual District Conference.
Lawrence Central is proud to continue our designation as one of the District 5710 Star Clubs that achieved this annual level of support for our Rotary Foundation.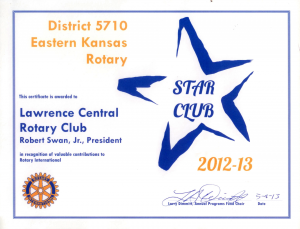 Jeremy Farmer will be at our meeting on May 8th update update Lawrence Central about Just Food's work in Douglas County.
Just Food's mission is to serve as the central food distribution facility in Douglas County and to directly provide food assistance for those in need and to coordinate with and support efforts of partner agencies that maintain community food pantries.
Their vision is to be an innovative leader in alleviating the problem of hunger.  In collaboration with our partner agencies, as well as government and community leaders, we work together to build the public will to ensure that no one in Douglas County, Kansas goes hungry.
They envision a day when everyone in our community has access to nutritious food through an efficient and sustainable acquisition and distribution network.
If you'd like to know more about Just Food or Lawrence Central stop by the Eldridge for lunch with us from Noon to 1pm!
Lawrence Complete Streets is a campaign to educate citizens about the benefits of enacting policies that consistently create safe transportation networks for all users.
You might ask yourself why are complete streets important?  Well, the main reason is that streets are important to the health and productivity of Lawrence, KS. They serve young and old, motorists, bicyclists, walkers, wheelchair users, bus riders and businesses.  Efficient, safe and accessible transportation supports our economy and our individual health.
"Complete streets" are road networks that are consistently designed and operated to enable safe access for all users. Pedestrians, bicyclists, wheeled-device users, transit riders and motorists of all ages and abilities are able to move safely along and across a complete street.
Complete streets:
Connect people with popular destinations cost effectively
Help keep people healthy by supporting daily physical activity
Improve safety and accessibility for all ages, including children and seniors
Give businesses many safe routes for shoppers and employees
Reduce traffic congestion and reliance on motor vehicles
Conserve energy and improve air quality
Encourage walking and biking to work, school and activities
Make Lawrence more inviting to retirees with active lifestyles
What do complete streets look like?
While there is no set formula for a complete street, common features include:
Sidewalks with curb cuts
Bike lanes
Wide shoulders
Plenty of crossing opportunities
Bus shelters and crossings
Raised crosswalks
Traffic signs
Elements that buffer, beautify and improve drainage
Landscape that provides safety and invites community activity
How are complete streets achieved?
Complete streets can be achieved through a variety of policies: state laws, local ordinances. local resolutions, inclusion in comprehensive plans, rewrites of design manuals, inclusion in comprehensive plans, and agency policies or internal memos from directors of transportation agencies.
Regardless of the format, the best complete streets policies apply to all road projects and require high-level approval of any exceptions. The best complete streets policies direct transportation planners and engineers to consistently design with all users in mind, including drivers, public transportation vehicles users, pedestrians, and bicyclists as well as older people, children, and people with disabilities. (More on the elements of a good complete streets policy can be found at http://www.completestreets.org/changing-policy/policy-elements/).
The Lawrence Complete Streets committee is working closely with the Lawrence/Douglas County Metropolitan Planning Organization (MPO), which establishes goals, objectives and policies governing transportation planning in the region. The MPO is currently developing a complete streets policy that is expected to be available for public consideration later in 2011. The goal of the Lawrence Complete Streets committee is to educate the public about complete streets in general and about this specific complete streets policy proposal once it is available for public consideration.
Portions adapted with permission from the National Complete Streets Coalition.
Do you walk, bike, drive, or use the T in Lawrence or Douglass County? A public open house will be held on Wednesday, June 5 from 4:30 to 7:30 p.m. at the Lawrence Union Pacific Depot (402 N. 2nd Street) in Lawrence. Members of the project team will be at the meeting to discuss the three elements of the multimodal planning studies. An online, interactive-mapping tool (additional information provided below) will be available at the open house to allow attendees an opportunity to identify deficiencies, gaps, and other mobility issues. Click Here to download the Open House Flyer.
If you have any questions regarding the public open house please contact:
Todd Girdler, Senior Transportation Planner, Lawrence-Douglas County MPO, at (785) 832-3155 or email tgirdler@lawrenceks.org
Jessica Mortinger, Transportation Planner, Lawrence-Douglas County MPO, at (785) 832-3165 or email jmortinger@lawrenceks.org
Can't Attend? Use the Online Interactive Maps to Provide Your Comments.
The project team is currently collecting and analyzing data for the three multimodal planning studies and we need your help. Please take a few minutes to use the online, interactive-maps to identify deficiencies, gaps, and other mobility issues within the region. An online map has been developed for each of the three multimodal planning elements which you can access by clicking on the following links. Once you have accessed the first map, you will be able to access the other maps within the program, or you can return to this page to access the other maps.
We encourage you to provide as much information as possible. Feel free to complete one, two, or all three of the maps. You can also return at any time to add comments or review comments that other people have provided. The online, interactive-mapping tool will also be available at the public open house.