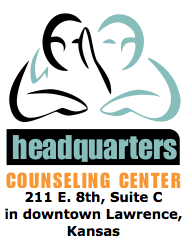 Andy Brown started his job as Executive Director of Headquarters Counseling Center on May 15, 2014, with the top priority to restore 24/7 access to the support center.
By June 1, that schedule had been restored, thanks to dedicated staff and volunteers in the revived organization.
As a certified crisis center for the National Suicide Prevention Lifeline (NSPL), Headquarters staff and volunteers are one of only two such crisis center in the state.  The agency receives calls from persons wanting a listening ear as they contemplate suicide—a problem much more prevalent in the state than many realize, according to Brown.  The agency also seeks to build local capacity for suicide prevention through the Kansas Youth Suicide Prevention Program, an initiative funded through the coming year by a federal grant.  Headquarters also operates the Kansas Suicide Prevention Resource Center, offering training, professional assistance, and a website and resource map.
Started in 1969 as an information and referral service in Lawrence, Headquarters, Inc., grew, matured and flourished during the next three decades.  By 2000, however, challenges began to arise, and in 2013, the Board of Directors scaled back services and undertook a strategic planning process that could carry the agency into the coming years.  Their mission statement now reads:  "Our trained volunteer and paid staff improve the emotional well-being and safety of adults and children through readily available counseling, education, and information services."
With a Masters in Social Work Administration, Andy Brown is well-prepared to take the leadership position in the revamped organization.  Working with core staff members, he has not only re-instituted the round-the-clock call center, he is developing alliances statewide with others involved with suicide prevention and is spearheading a variety of fund-raising initiatives.  He and his staff have recruited and trained a new cadre of volunteers and are seeking to find more people interested in assisting with this life-saving work.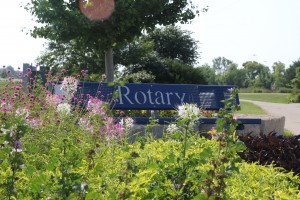 The weather spirits were with us the third weekend in July when we arrived to set up at Lawrence's Rotary Arboretum for our 4th Community Bike Ride.
Over 100 families and approximately 200 people came out to enjoy the summer morning with one of three bike rides.
There was a 10 mile (actually 11.1) mile ride that rolled out at 8:00am followed by a three mile ride out to Clinton Park's Sander's Mound at 8:30 whole local kids rode around the 1 mile closed loop at around the Arboretum throughout the morning.
Funds raised were used to purchase kid's bike helmets that were free to kids who came and they were also fitted on-site to make sure there was a proper fit.
We'd again like to thank all the sponsors who make this event possible:  Anderson Rentals, The Merc, Sunflower Outdoor & Bike, Lawrence Econolodge, Ryde Barre, Ortho Kansas, McDonalds, GP Velotek, Lawrence Bicycle Club, Lawrence Community Hospital, Safe Kids Douglas County, and Bev West Creative.
We're in the planning stages for a new fall Community Bike Ride on Lawrence's East side starting from the Haskell University Stadium Parking lot and riding the Burroughs Creek Trail. The Ride is scheduled for September 20th and more information if coming soon. If you'd like to be a part and volunteer or help sponsor please email us at lawrencecentralrotary@gmail.com.
For a gallery of the individual pictures we took that day navigate your browser over to RideLawrence.com.  Below is a picture pile.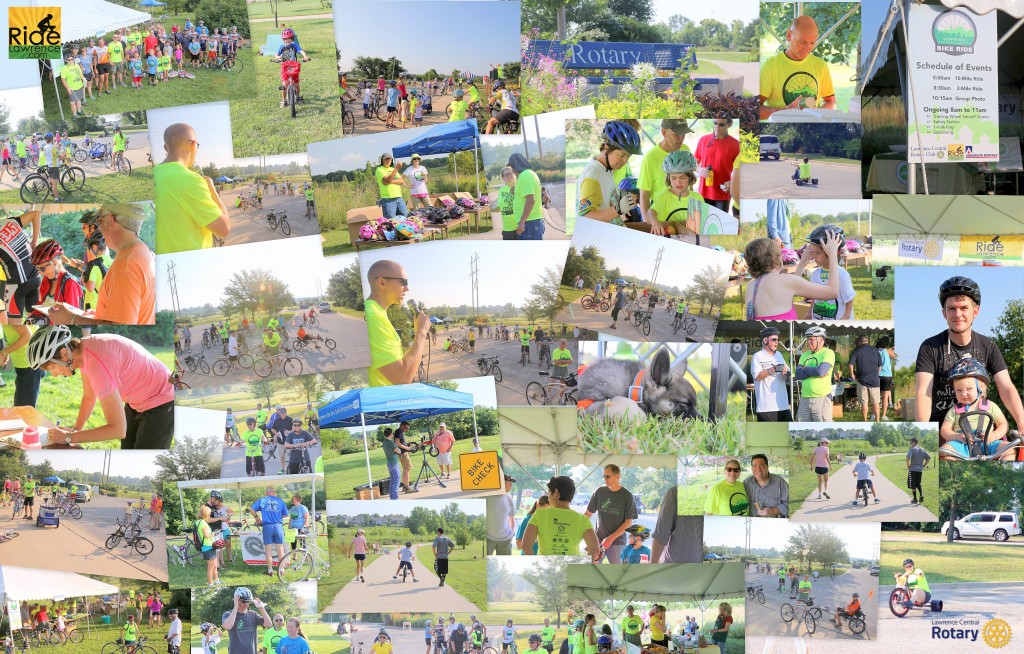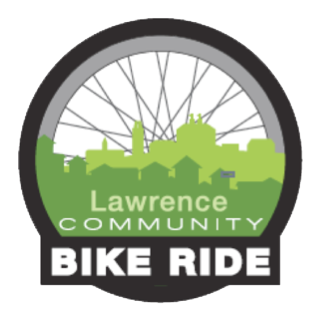 Lawrence Central Rotary Club is hosting a Lawrence Community Bike Ride on Saturday, July 19, at the Lawrence Rotary Arboretum, 5100 W. 27th St., near the Youth Sports Complex soccer fields. The event is open to anyone and there is no cost to participate.
There will be three rides to choose from and they all travel along the South Lawrence Trafficway bicycle path, a paved surface that is a car-free environment:
Ten-mile ride. It begins at 8 a.m. and travels almost to the Lecompton interchange on the Kansas Turnpike and back.
Three-mile ride. It begins at 8:30 a.m. and goes to the Clinton Lake Overlook and back.
One-mile ride. It loops around the pond at the Lawrence Rotary Arboretum and is available anytime between 8 a.m. and 11 a.m.
Other activities from 8 a.m. to 11 a.m. include:
A Training Wheel Takeoff. Experts will help children who are ready to take off their training wheels in a safe environment.
Safety Zone. Safe Kids Douglas County will help outfit children with helmets while supplies last and provide bicycling safety tips.
"We hope more and more people discover cycling as a fun and healthy activity," said Steve Lane, a member of Central Rotary Club. "This event is a great opportunity for families and individuals to enjoy cycling in a safe and scenic area of Lawrence."
Participants should wear a bicycle helmet and they are encouraged to bring water and wear sunscreen. This is the third year for the Community Bike Ride. The first event in 2011 drew 50 participants, followed by 125 in 2012. Last year's event was rained out.
If it is raining July 19, the ride will be held on Sunday, July 20, at the same times. Registration for the event is required and can be done before the event. For more information, visit ridelawrence.com.
Releases will be available at the event or you can download one HERE.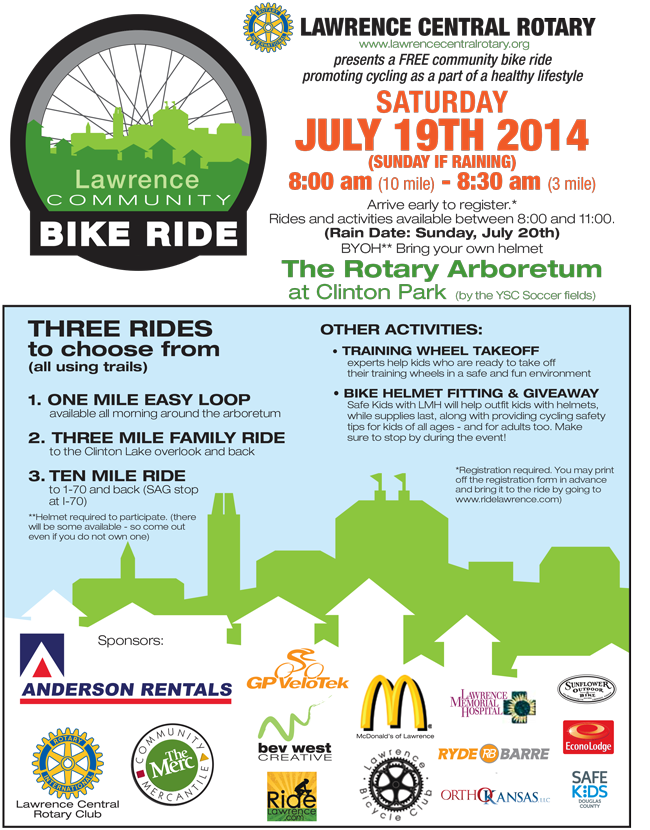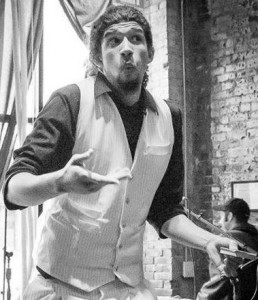 Lawrence self-described illusionist, magician, sleight of hand artist, pickpocket, thief, conman and master of deception Korso the Curious joined Lawrence Central Rotary for an impromptu performance and discussion on his life as a performer.
Originally from San Diego, but attended high school in Manhattan and then made his way to Lawrence, but he travels around the country performing.
Originally intrigued by theatre and acting, but yet keenly aware of staging and the technical aspects of performance, Korso soon found interest in the physicality of mime and then slight of hand and up-close illusions.  He especially likes entertaining for small groups and crowd work during cocktail hours that let guests seamlessly glide from arrival to the main event without the dull time in between. 
Korso the Curious moves group to group entertaining and involving everyone in the fun by making seemingly normal objects will do extraordinary things such as coins traveling through the air, cards vanishing all while witty banter abounds. 
He also told us about his one man show "My Road as a Magician" he would be performing in Kansas City at the Kick Comedy Theater. Located beneath the Westport Coffee House Sunday July 13th.  Doors open at 7:00 pm ~ Show starts at 7:30 pm.