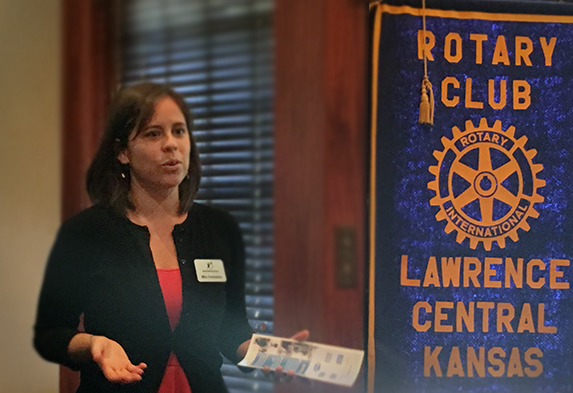 A "Big" can change a life of a "Little" when matched up in a mentor relationship.  This was the message Mia Gonzales, Development Director for Big Brothers Big Sisters, brought to the September 31 meeting.  Bigs are caring adults who volunteer  to spend at least an hour a week for a year building a friendship with a "Little"—a child in need of some extra guidance and encouragement.  These kids come from single parent homes, from alcohol and drug addiction backgrounds, and are living at or below the poverty level.  Kids enter the program as walk-ins or are referred from schools or social agencies.  Participating families are assigned a case worker who makes a complimentary match with a carefully screened volunteer.  Research shows that kids benefit significantly from a mentor relationship and show growth in skills and confidence.  Youth with Bigs are less likely to skip school, be involved with violence, or use drugs.  They are more likely to improve academic performance, improve self-esteem and attend a 4-year college.  Adult mentors also find great satisfaction from these relationships.  The organization also provides programs and mixers for Bigs and Littles.
There are 250 active matches presently in Douglas county and there is a waiting list of 75 to 100 kids. The organization also faces financial challenges as grant sources for non profits disappear.  Find out more about Big Brothers Big Sisters, or volunteer by going to the web site:  Douglas.KansasBigs.org.
Mia showed a powerful video that is a true story of how being in a young person's life can have amazing outcomes, we've posted it below.