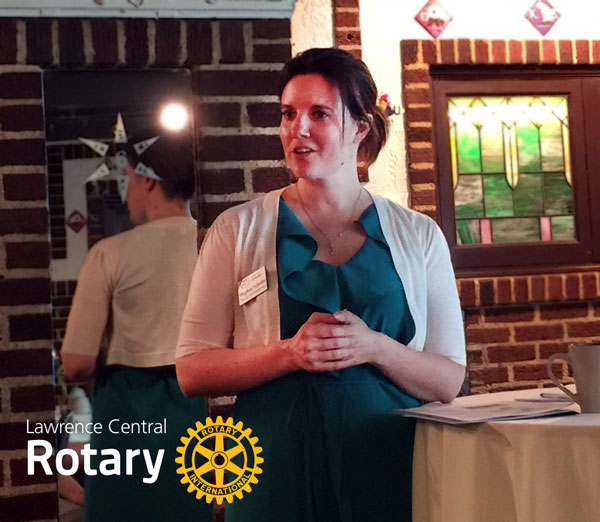 Megan Scheibe of the Lawrence Humane Society said she always has loved animals and proves her point by currently being the adoptive "mother" of four pets.
Speaking at Lawrence Central Rotary on June 8, she said the Humane Society nurtures the human-animal bond by providing shelter, care and advocacy for abused and homeless pets.  In 2015 the Lawrence Shelter took in 3,571 pets including 2,186 strays and 851 that were surrendered by their owners. Dogs made up 1,611 of the received animals, cats were 1,883 and there were 74 others.
When an animal comes into the shelter there is an intake exam . Workers get as much information as possible and give the animal a medical check.  They prepare a behavior evaluation making sure the animals are happy, healthy (mainly  in the case of dogs) and what their personalities are like—if they are high energy or would be better off with an older family. They also see if surgery would be necessary.
"The place for a pet is in a home, not a shelter," Scheibe said "and we work hard to place them."  The number of adoptions is on the increase with over 2,000  in 2015. "We don't keep them any longer than necessary," she said.  The holding period for strays is three days minimum and for surrenders there is no hold. Others are handled case by case.  The average length of a stay is 27 days, with dogs averaging a 15-day stay.
The shelter staff also does cruelty investigations, 24 hour injured or ill pickup, community outreach education and low-cost micro-chipping.
"We can always use help," she said. "We train volunteers, have a fostering program, encourage adoptions and are always very happy to accept donations."