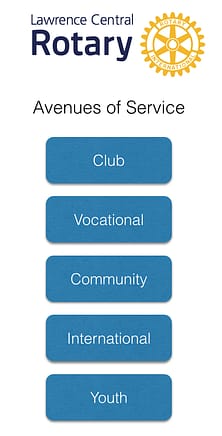 Lawrence Central Rotary channels our commitment to service at home and abroad through Rotary's "Five Avenues of Service," which are the foundation of club activity.
Club Service focuses on making clubs strong. A thriving club is anchored by strong relationships and an active membership development plan.

Lawrence Central is a small club with close ties. We strive to be diverse and tend to skew younger than some of the other clubs in town.  To that end, our service tends to be very hands-on.

Vocational Service calls on every Rotarian to work with integrity and contribute their expertise to the problems and needs of society. Learn more in An Introduction to Vocational Service and the Code of Conduct.

Members make themselves available to team-solve challenges to the community and world beyond.

Community Service encourages every Rotarian to find ways to improve the quality of life for people in their communities and to serve the public interest. Learn more in Communities in Action: A Guide to Effective Projects and this Community Service presentation (PPT).

We now host a Community Bike Ride twice a year to promote healthy living and give people a chance to safely explore bicycling. We provide free helmets and fittings to kids, maintenance on site and safe riding instruction.
Through efforts of club members we have set up Ride Lawrence to be a resource for local people on bicycling options in Lawrence & Douglas county. We also do a wide range of help for local groups like The Willow, Salvation Army, and other groups in the area.

International Service exemplifies our global reach in promoting peace and understanding. We support this service avenue by sponsoring or volunteering on international projects, seeking partners abroad, and more.

Lawrence Central has rallied around Rotary's Shelter Box program and meeting and working with other projects as our budget allows.

Youth Service recognizes the importance of empowering youth and young professionals through leadership development programs such as Rotaract, Interact, Rotary Youth Leadership Awards, and Rotary Youth Exchange.

For several years Lawrence Central works with the Sister Cities program who's goal is to "Promote peace through mutual respect, understanding and cooperation — one individual, one community at a time." Lawrence Central works to fund scholarships to the students who travel abroad each summer as our budget allows.
If you'd like to learn more about Lawrence Central and Rotary in general please attend one of our weekly meetings.