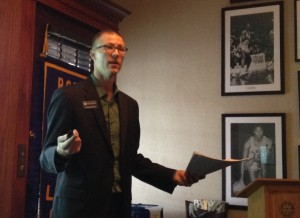 The Kansas Bar Association's Young Lawyers Section and the National Association of Women Judges have partnered together to put together a series of presentations called the "Informed Voters Project".
Nathan Eberline who is the Associate Legislative Director & Legal Counsel at the Kansas Association of Counties spoke to Lawrence Central about the need for an independent judiciary  and a knowledgeable electorate.  The presentation  was nonpartisan and apolitical (though judicial retention in Kansas has been a campaign issue and judicial appointments have increasingly been part of the legislative debate).
The current State Supreme and Appellate judicial branches in Kansas appoint differently.
The members of the State Supreme Court Nominating Commission are:
Four laypersons selected by the Governor, one from each of the four Congressional Districts
Four lawyers, one from each of the four Congressional districts, elected by the lawyers in their districts
One chairperson, a lawyer elected by lawyers statewide
The Kansas Bar Association has no role in the selection of lawyer members or the chair of the Supreme Court Nominating Commission
While until 2013, selection method for appellate court judges was identical to the merit system used for appointments to the Supreme Court. But the process established by statute, not the constitution and a new process passed by the legislature and signed by the Governor eliminated merit screening by a nominating commission. Now Governor selects and Senate confirms.
The whole idea of an independent judiciary is because laws passed are based on the needs/desires of their constituents or voters, their own beliefs, or their political party's agenda.  These laws must be interpreted and should not be influenced by politics, special interest groups, money, public opinion or their own personal beliefs.
Is most cases the only way to unseat a judge is for an informed electorate to vote them out and have new appointments.
That is what the Kansas Judicial Review Survey website is for. It compiles surveys of attorneys, lay people, court staff, and other judges about all appellate judges up for retention in Kansas.
As Eberline put it. "The most important thing is to stay informed. Not about making a statement. It's about maintaining a system that allows our republic to flourish."
For more information on this project you can visit their website at www.KansasJudgeReview.org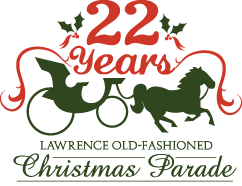 The weather was approximately 40 degrees warmer this year as members of Lawrence Central Rotary arrived downtown to help pass our programs for the Lawrence, Kansas Old-Fashioned Christmas Parade now in its 22nd year. It's one of the most unique parades in the nation, the Lawrence Old-Fashioned Christmas Parade kicks off the holiday season with exclusively authentic horse-drawn carriages parading down Massachusetts Street. Attendees arrive downtown early to park their vehicles along Mass Street and open up the backs or sit in the beds of trucks and cozy up with hot cocoa and blankets, and feel the true holiday spirit while watching dozens of beautiful horses and wagons adorned in garland and bells roll by.
Club members layer and bundle up and walked up and down the sidewalks and along the parade route to pass out programs that list all the entries that are in the parade so onlookers can see how far some of these groups traveled to be in the parade.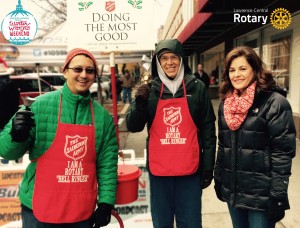 At the same time at the Southwest corner of 9th and Mass other club-members took shifts wishing season's greetings and ringing the bell next to the Douglass County Salvation Army's Red Kettle that raises money for the important work they do.
In 1891, Salvation Army Captain Joseph McFee was distraught because so many poor individuals in San Francisco were going hungry. During the holiday season, he resolved to provide a free Christmas dinner for the destitute and poverty-stricken. He only had one major hurdle to overcome — funding the project.
Where would the money come from, he wondered. He lay awake nights, worrying, thinking, praying about how he could find the funds to fulfill his commitment of feeding 1,000 of the city's poorest individuals on Christmas Day. As he pondered the issue, his thoughts drifted back to his sailor days in Liverpool, England. He remembered how at Stage Landing, where the boats came in, there was a large, iron kettle called "Simpson's Pot" into which passers-by tossed a coin or two to help the poor.
The next day Captain McFee placed a similar pot at the Oakland Ferry Landing at the foot of Market Street. Beside the pot, he placed a sign that read, "Keep the Pot Boiling." He soon had the money to see that the needy people were properly fed at Christmas.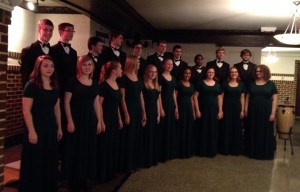 One of the yearly traditions of Lawrence Central Rotary is to invite family and guests to a December meeting and welcome one of the local high school chamber choirs join with perfectly pitched melodies of the season.  This year Free State High School's Chamber Singers which is an accelerated 20 member ensemble of students from the Chamber Choir, warmed the room with amazing harmonies both traditional and whimsical.
The tradition was started by club charter member, and long-time secretary Becky Castro who passed earlier this year.  President Carolyn DeSalvo talked about how this was one of Becky's favorite yearly events and took a moment to remember her.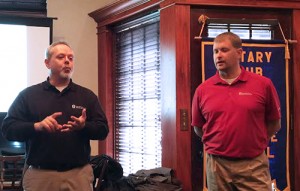 Tim Laurent, of the Lawrence Parks and Rec Department and Chad Towen, facilities operation supervisor for Rock Chalk Park, said the new Rock Chalk Park "engenders pride." And then they proceeded to show their pride by presenting an impressive array of facts and figures about the new facility to Central Rotarians on November 19.
"Lawrence has needed this for a long time," Laurent said. The project began in 2006 with a study, surveys, committee meetings and public meetings that extended into 2009.
In  2011 the Lawrence City Commission conducted study sessions involving the City, Kansas University and private citizens.
Rock Chalk Park opened in October of this year and includes a 10,000 seat track and field venue, women's softball and soccer areas, eight lighted tennis courts, five miles of trails,  and an 18,000 square foot recreation center. There are full-size gyms, volley ball courts, half-court gyms, an indoor turf area, fitness, dance and meeting rooms, and a weight room, among other things. Hyvee runs a small grocery market there.
Laurent said in the first month 53,000 visits were logged in to Rock Chalk Park.
"We want to encourage tournament use but we  can host everything from big crowds to small birthday parties," Towen said.  "There are no fees for local residents. We want to keep local activities local."
Chad Lawhorn of the Lawrence Journal World specializes  in keeping an eye on what's going on in Lawrence. He told Lawrence Central Rotarians on Nov. 11 that one of the biggest issues currently with the Lawrence City Commission is the loss on the ballot of the police department consolidation and expansion.
When he was asked what contributed to the loss he said there were three reasons:
The first was the controversies over Rock Chalk Park, resulting in a loss of trust in the electorate.  The second was the fact that people don't want taxes raised and the third was the location of the proposed new facility.
"I think," he said "that the issue could have survived one or even two of the questions in voters' minds, but not all three.
"City commissioners still believe there's a need and are going to continue to work on it.  In the next election, three of the five commissioners are up for re-election and there may be some changes. Several people who have not served before are considering running. The Commission wants to rebuild trust with the voters, so it's going to be an interesting time."
In other issues he said the momentum of the city seems to be moving south. There is property for development along south Iowa street and the Southwest Traffic way is now a going concern. "There is a lot of vacant space there that realtors are looking at," he said.
He discussed the pros and cons of  online newspapers and ended with a question about his column. He was asked what his wife thinks of mention of her in his writing. "When she quits laughing, I quit writing," he said.