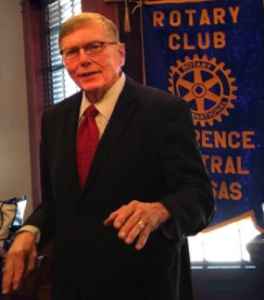 Dr. Ed Berger, retiring president of Hutchinson Community College and chair of Revitalization Initiatives at the Kansas Cosmosphere told Lawrence Central Rotarians about the work of revitalization at the Hutchinson Cosmosphere, already called one of the eight wonders of Kansas and on the White House's list of  the project to Save America's Treasures.
"The Cosmosphere is reinventing itself to become a world class museum that inspires education and innovation, " he said.  "Our vision is that the Cosmosphere will be recognized internationally for excellence in inspiring learning and innovation."
The Cosmosphere already hosts 105,000 visitors per year, one fourth of them from out of state.  Fifteen hundred campers per year attend field events there and  a goal is to make field trips more rigorous and inclusive, Berger said.  "We want to be part of the effort  to improve math and science education for U.S. students.  We want to get students interested in these programs as early as elementary school."
The Cosmosphere  now has the largest collection of U.S. space artifacts outside of the Smithsonian and the largest collection of Russian  space artifacts outside of Russia.  Hollywood director and producer Ron Howard used the Cosmosphere to reconstruct interiors from Apollo 13 for his Apollo 13 film, saying the Hutchinson museum had more authentic information than NASA.
For the 45th anniversary of the Apollo 13 flight,  astronauts  Fred Haise and Jim Lovell came to the Cosmosphere to see the capsule and other astronauts have visited frequently.
"We're going to need more and more highly skilled workers in technology," Berger said "and through our work here we want to encourage students to get these skill sets."