8/18 UPDATE:  We've been working with the staff of the Eldridge on the event and  Exec Sous Chef Nicholas Haxton is planning a special meal for all of the people who decide to have lunch with us on Wednesday.  Here's a snippet of an email from late last week:
"Here is my idea for the buffet.  I have in my cookbook collection a book titled The Kansas Home Cook Book and it was printed in 1882 from Leavenworth.  One on the great things about it is that it contains authentic recipes from the time period but it also has where the recipe came from.  So for the buffet I came up with a menu that is not only historically appropriate, but it also utilizes some recipes from people that actually lived in Lawrence during that time:
 Roast chicken served with Mrs. A.M. Jenkins chow chow
Mrs. O.B. Gunn nice muffins (how it's really listed in the book!)
Kansas prairie salad served with Fannie Woodard dressing
Mrs. G.E. Jones baked sweet corn"
We've had a lot of people RSVP and if you plan on coming please try and RSVP by the end of the day Monday 8/19/13 to lawrencecentralrotary@gmail.com.
___________________________________________________________________________________
Did you know that the Eldridge Hotel where Lawrence Central Rotary holds our weekly meetings was burned and destroyed during Quantrill's Raid in 1863, but what happened to the guests who were staying there? You may be surprised to learn that most of them escaped harm. Provost Marshall Alexander Banks, a hotel guest, called out to Quantrill to allow guests to leave before the hotel was burned, and they were escorted to the City Hotel for safekeeping during the raid.
At Lawrence Central's August 21st meeting local historian and author of "Lawrence Survivors of Quantrill's Raid" Katie Armitage will present a talk about this horrific event and explain what happened to the Eldridge Hotel guests, on the exact one-hundred and fiftieth anniversary of the raid, August 21, 2013.
Please join the Eldridge Hotel and Lawrence Central Rotary for this special event in the Crystal Ballroom of the at noon to approximately 1pm for this special presentation.
We have planned a buffet lunch that includes coffee, tea, or water for those who wish to partake for the cost of $12 (includes, tax and tip.)
If you plan to attend please RSVP to lawrencecentralrotary@gmail.com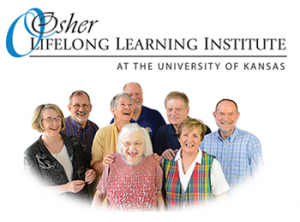 The Osher Lifelong Learning Institute at the University of Kansas offers short courses and special events specially developed for folks age 50 and over. This fall, Lawrence residents can enjoy 17 courses held at the KU Continuing Education Building, at 1515 St. Andrews Drive (near Kasold and Bob Billings Parkway) and Brandon Woods Retirement Community at 1501 Inverness Drive.
Courses are usually three weekly, two-hour sessions (e.g. three Tuesdays from 2-4 p.m.). Topics vary widely from the Vietnam War to Herman Melville and Walt Whitman; from digital photography to cowboys, Indians and homesteaders; and from the lost Gospels to Winston Churchill. For a full schedule of courses and descriptions or more information, please visit www.osher.ku.edu.
In addition to Lawrence, Osher Institute courses are also offered in 17 other cities in Kansas and Great Kansas City, including Topeka, Ottawa, Overland Park, Lenexa, and Olathe. For more information, contact Jim Peters at 785-864-9142 or jimpeters@ku.edu.
At our 8/7 meeting local architectural historian Brenna Young spoke about the 1863 Commemorate Lawrence activities and her exploration and interesting findings of the historic buildings in downtown Lawrence.  Working on her PhD at KU she's been the project manager for the 1863 Commemorate Lawrence Project and has researched older buildings in downtown Lawrence and found that several more survived Quantrill's Raid than originally thought.  She's quick to point out that Lawrence wasn't burned down entirely – the main downtown district that was burned during the raid.
She also gave us a preview of the events planned for the 150th anniversary that she's been working on including the website www.1863lawrence.com.
The date of the raid is 8/21 (check out the event we have planned that day during our normal meeting) which is on a Wednesday.  So the city's has planned a special City Band performance in historic South Park on Sunday 8/18 to commemorate the 150th anniversary of Quantrill's Raid on Lawrence from 6:30 to 8:00 pm.

During the program, Jonathan Earle, Associate Professor of History from the University of Kansas, will provide a brief presentation of the history and significance of Quantrill's Raid to the Lawrence Community.
A special reading of the victims' names of Quantrill's Raid will also occur.  After the evening's speakers, the City Band will perform specially selected works that are representative of the music of the 1860's and have significance to the Lawrence community.
The city will provide cold refreshments to enjoy during the performance.
Last week we had a visiting Rotarian from the Rotary Club of Albuquerque.  Bob Haladay came to lunch and presented us with one of their woven banners and told us about their work they've done over the last 97 years! We'll get a scan of it posted to the Banner page soon.  We've just ordered a new batch of Lawrence Central banners so the second they appear on our stoop we'll have one in the mail to the fine folks in Albuquerque.
Here's a great video from their club about the club and the work they do.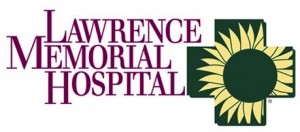 Join us Wednesday 7/24 from noon to 1pm as Allen Belot – Board Chair – Lawrence Memorial Hospital will come and speak to the club about all that is happening at LMH.
Lawrence Memorial Hospital is led by a nine-member Board of Trustees. Appointed by the mayor and confirmed by the Lawrence City Commission, trustees may serve four-year terms. They volunteer their time and expertise to improving our community hospital.
The LMH Board of Trustees meets at 9 a.m. the third Wednesday of the month in the LMH Auditorium. Meetings are open to the public.