The higher education section in Greater Kansas City is highly-competitive and innovative.
David Cook, vice-chancellor for the KU Edwards Campus, is invigorated and ready for that challenge.  Named to his new position in April 2014, David explained the focus on post-graduate and professional enrichment programs at the Edwards Campus.
Located in Overland Park, KS, the Edwards Campus complements the education offered at its neighbor Johnson County Community College with a two-plus-two program.  At JCCC, students can complete their freshman and sophomore coursework and then  transfer to KU classes at the Edwards Campus or in Lawrence.  Currently, the Edwards Campus has between 1500 and 2000 students.  Nineteen graduate degrees and nine undergraduate degrees are available, as well as a variety of professional certification programs.
Eighty percent of students at the Edwards Campus are seeking career advancement or a job change.  To accommodate the need for relevant coursework, traditional faculty work alongside teachers from business and industry.  In addition, the Campus hosts 1,252 conferences, programs, and other events for various companies and professional groups.  The 70,235 participants at these event during 2013 came from all counties in Kansas, all fifty states, and 51 countries.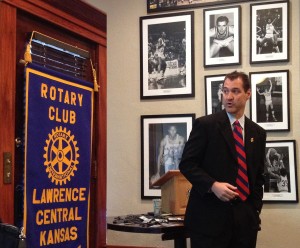 Twenty-five KU Continuing Education staff members are moving to the Edwards Campus from Lawrence at the end of May.  In addition to the relocations, Cook is overseeing a search for a new Assistant Vice Chancellor as well as a market analysis of the Kansas City continuing education marketplace.
Have you ever noticed how the planters at the intersections of Mass Street always look so nice?  A team of volunteers descended upon Mass Street Saturday, May 10th, for a great purpose,  the yearly cleaning and planting of flowers along Lawrence's Massachusetts Street.
The Lawrence Parks and Recreation Department provides the flowers and local residents and service groups come together to make the city a more beautiful place.
Downtown Lawrence Inc. Director Sally Zogry talks fast, moves fast and keeps up with approximately 150 members of the Downtown Lawrence Inc. (DLI)  Association, facilitating a list of activities that would leave most people dizzy. Wrapping up her first year as the new Executive Director of DLI Zogry spoke to Central Rotary on May 14 about her job. "It's the best job ever," she said "and we've had a great year."
Members of  DLI include retail businesses, food and beverage establishments, entertainment venues and places which provide services to name a few. Zogry uses social media such as facebook and twitter, the DLI website, and good old-fashioned face to face personal contact to keep track of what's going on and promote events and spread news.
She coordinates events and activities for visiting groups with the CVB and serves as a point of contact and a voice for city- county related matters. She works on downtown beautification and maintenance in collaboration with the city.  She coordinates  police, fire and medical services for downtown events and store security.
Fund raisers such as the Third Annual Girls' Night Downtown which is a benefit for the Willow Domestic Violence Center are part of her job. Free events such as dinner and a movie in conjunction with the Lawrence library and the summer concert series with the Parks and Rec Commission are on her list as are the annual Downtown Sidewalk Sale, the Busker Fest and the holiday lighting ceremony where Santa Claus is rescued from the roof of Weaver's Department Store.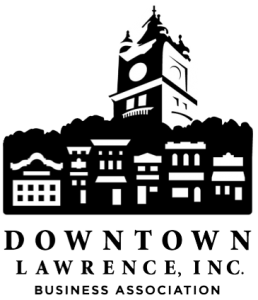 Downtown Lawrence also helps recruit new businesses, most recently Ten Thousand Villages. "We're working on a downtown grocery store now," she said.
Zogny works with a seven-member board elected from DLI members . "They are a great help," she said but many in her audience probably wondered if even seven of them can keep up with her.
For more information about Downtown Lawrence Inc check out their website at http://www.downtownlawrence.com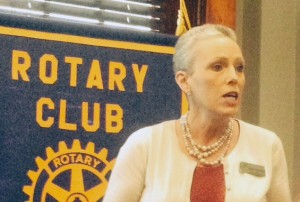 Diane Ensminger explained to the Lawrence Central Rotary Club that she created Allie's Village Memory Care Homes, LLC, in honor of her mother Allie, a victim of Alzheimer's disease.  As CEO and owner of Allie's Village, Diane is committed to providing comfort to the persons living with Alzheimer's & dementia and their families.  The facility promises customized care for those living with the disease.  Diane declares, "You do not need to walk alone or be afraid, we are here to help you."
Alzheimer's and dementia are potential issues for many as the population ages.  Statistics predict that one in eight people over age 65 will have Alzheimer's disease.  The Huffington Post blog gave a dire prediction on April 9, 2014:
Our country is in the middle of an Alzheimer's crisis that has already been devastating to millions among the "greatest generation," is well on its way toward doing the same directly to the "boomers," and has already immersed their progeny in caregiving. Right now there are more than 5 million Americans who have this progressive, degenerative and fatal disease.
Allie's Village opened just over a year ago in spring 2013.  Its eight bedrooms and five day-care openings are full, and there are five people on the waiting list.  The residence takes pride in its ratio of one caregiver for two every residents, ensuring that residents have an opportunity for constant interaction and activities that match their interests.  The family-centered philosophy at Allie's Village ensures its happy, loving environment and its partnership with the loved ones of its residents.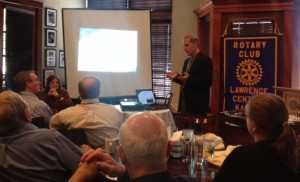 Bob Nugent, Administrator of Lawrence Transit, assured members of Lawrence Central Rotary that getting on any bus in town, no matter what the shape or the marking, can get riders where they want to go—six days a week, 307 days a year.
The City of Lawrence and the University of Kansas began coordinating their bus systems in 2009 through a memo of understanding.  Their cooperation means that riders in Lawrence pay a universal fare, no matter which bus they take.   Communication about routes, schedules, policy and procedures are found on a common website.  The two entities share vehicles and have a joint maintenance facility as well.  The cooperation between KU and the City allows the system to flex for high volume routes near campus and lower intensity routes in the perimeter of Lawrence.  There are nine routes that use 51 vehicles during peak times.
The City of Lawrence contributes $2.3 million annually, income from a 2.5% sales tax to support the buses and related transportation services.  Those dollars are supplemented by around $2 million in Federal money and $290,000 in state funds.  KU contributes $3.3 million collected from student fees and $1.5 million gleaned from parking revenue on campus. These coordinated services have 2.9 million passengers annually and have been recognized with awards for Ridership, Sustainability and System of the Year, since 2008.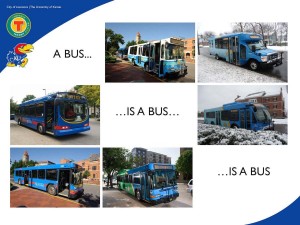 Members of Rotary testified to the high quality of customer service from bus drivers in Lawrence.  The City offers door-to-door service on "the T" by appointment, especially helpful to riders with physical limitations.  Riders may also call in advance for flex service and for rides between 8:00 p.m. and 6:00 a.m.  KU service includes Safe Bus and Safe Ride for students who call to request pickup outside of normal bussing hours.