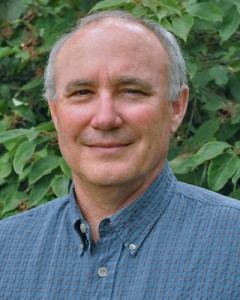 KU Biological Survey Researcher Scott Campbell visited Lawrence Central to talk about a hidden gem on the northern outskirts of Lawrence – The KU Field Station and our own Jane Huesemann was on hand to explain her firm's part in a project on one of the field station's trails.
Technically it is the "biological field station of the University of Kansas, was established in 1947. Its mission is to foster scholarly research, environmental education and science-based stewardship of natural resources.
The Field Station is situated within the grassland/forest transition zone (ecotone) of North America, where the eastern deciduous forest and tallgrass prairie biomes meet. Faculty, students and visiting researchers use the Field Station's diverse native and managed habitats, experimental systems, support facilities and long-term databases to undertake an outstanding array of scholarly activities. The Field Station is available to any person or group whose research, teaching, or conservation interests are compatible with our mission."
In real people terms that means the KU Field Station has become a small island of nature and biodiversity in an otherwise settled landscape, thus highly valuable for research.
There are trails for the public to explore and see, but the newest public trail amenity is a "Bee Hotel" which is a "sustainable resting space for solitary pollinator bees, which make up over 90% of the bee population. They are local bees that pollinate flowers and other plants. Solitary pollinators work independently to spread
pollen from plant to plant, flower to flower. Solitary bees are different than honey bees.  They live individually, rather than as part of a hive, and they don't make honey. The Hotel "rooms" are designed as small tunnels. Different species occupy different diameters of tunnels and will construct a series of 'cells' in each room. "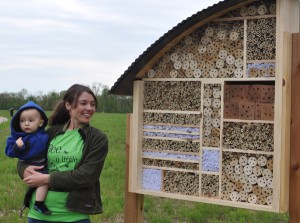 Places like this are important because bees play a keystone role in food production and in the beauty of our world through the pollination of fruits, vegetables, nuts, and flowers but these essential pollinators are
under threat and need our help. Bee numbers are declining and, for the solitary bee, this is mainly due to loss of habitat and safe living quarters. The plan was to help them by providing safe and well-designed places to stay. The hotel was researched and designed by Clark Huesemann and built and installed by Prosoco as a part of the USGBC Green Apple Day of Service with help from local Girl Scouts.
"The bee hotel adds another educational layer of interest to the features of the Rockefeller Prairie Trail," said Scott Campbell, outreach and public service director for the Kansas Biological Survey, which manages the KU Field Station.
The Rockefeller trail, part of the Field Station's five-mile public trail system, is ADA-compliant and runs along native and restored prairie. Amenities include interpretive signage, a restroom, a drinking fountain and benches. At the trail's turnaround point, the Overlook deck, built by KU architecture students, offers a view across the Kansas River valley to Mount Oread.
Images from the flier that promotes the project are below with instructions on how you could create your own bee hotel.