Susan Earle, curator of European and American art at the Spencer museum chronicled the life and death of a downtown Lawrence mural when she told the story of The Pollinator.
The Pollinator was on a wall of what was then the Aquila building at 9th and New Hampshire from 2007 until March, 2015. It was inspired by the work of Aaron Douglas, a black Topeka artist, who graduated from Topeka High School in 1917 and, against formidable odds, became the first black to get an art degree at Nebraska University. He also earned a masters degree at Columbia. He studied in Paris, taught at Fisk University and, in addition to murals, designed posters, book covers for major authors and journal covers.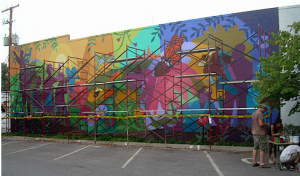 After the Spencer purchased one of his murals, the idea grew for a mural in Lawrence to commemorate the influence of Douglas and other Kansas blacks including Langston Hughes, Gordon Parks and Gwendolyn Brooks, in pollinating art in America. The mural's name reflects one of Brooks' poems: "We are each others' harvest . . ."
Local artist David Lowenstein led the project, aided by a large committee which included Central Rotarian Carolyn Chinn Lewis. Grants, community support and private donations provided funding. The completed mural faced the Farmers' Market, creating a downtown site celebrating all aspects of the harvest.
By 2014 the building had been sold and marked for demolition. "We spent months trying to figure out a way to save the mural," Earle said. " We thought of moving the wall or taking it apart brick by brick." But none of these ideas worked and the building was demolished in March.
"The owners have promised us wall space for a mural on the new multi-purpose building they are constructing at the site," Earle said. "And it will still face the Farmers' Market.