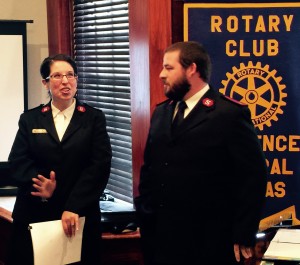 Central Rotarian Jim Evers introduced local Salvation Army Lieutenants Marisa and Matthew McCluer by describing the Salvation Army as an "amazing organization."
Jim, who was a volunteer on the Salvation Army board before becoming development director for the group in Lawrence, has high praise for the work the Army does.
The McCluers described the history of the Army which started in the 1800s in England and came to Lawrence in 1886.
"It started out," Matthew McCluer said "as an evangelical part of the universal Christian church, preaching the gospel outside of churches in order to get people back into churches."
But then, he said, it didn't do much good to send people into churches when they were hungry with no place to live. So the Salvation Army began to focus on more than just preaching. "The credo became 'soup, soap, and salvation.' "
Salvation Army help has always been individual as well as general. After the San Francisco earthquake in 1906, the then director of the Army (and daughter of the founder) gave the organization's entire budget to help recovery.  After the 9/11 disaster, Salvation Army members provided shelter and comfort  to recovery workers, giving them places to rest and taking care of their feet, sore from walking through the burning rubble.
Marisa said the Salvation Army helped her family when she was a child and she was anxious to continue the work.
In Lawrence, the Salvation Army's weekly food program serves about 12,000 meals a year.  Special Services provides what people need when they need it. "But we don't just serve as a band-aid," Marisa said.  "We want people to have a plan to break their cycle of poverty.
"We collaborate with other agencies. For instance we work with United Way to help get kids back into school and provide what they need."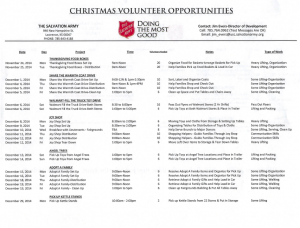 During the holidays they work with numerous community agencies to help the approximately 700 families who need assistance. Saying the Christmas donations provide 30 percent of their yearly budget, they thanked Rotarians for donating and for ringing bells during the holiday season.
The Mcluer's passed out a flier that has all the upcoming Salvation Army events that volunteers are needed for.  Take a look and help a great local organization.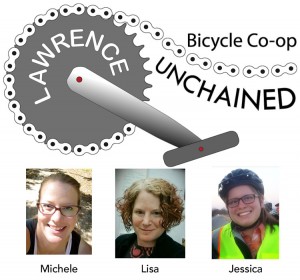 Lawrence Central was visited by the founders of a growing grass-roots movement in the US to get people on bikes by creating spaces where old bikes can be rehabilitated, where people can rediscover bicycling, learn how to maintain their bikes and learn how to bicycle safely and legally.
Lawrence Unchained was founded in 2014 by Michele Berendsen, Lisa Hallberg, and Jessica Mortinger.  All three are avid cyclists who were inspired by initiatives in Topeka – Topeka Community Cycle Project – and in Kansas City – Revolve KC and 816 Bicycle Collective, as well as other similar shops.
The founders make bicycling a part of daily life, both as regular bicycle commuters to jobs in and around Lawrence, Kansas, and also as social and sport cyclists.
Their mission is to share the enjoyment that bicycling brings to our lives to others in the area by advocating for cycling, by teaching safe bicycling techniques and, most importantly, bringing old bicycles out of sheds and basements and garages and getting them back to life and back on the street.
Lawrence Unchained first bicycle pop-up event with the Lawrence Community Shelter happened in September.  Attendees, in exchange for committing time to learn bicycle basics and taking a safety ride received refurbished bikes complete with  lights, locks and helmets.
Right now they have lots of bikes but are looking for a place to set up shop where people can come in, volunteer time, learn biking basics, and be able to eventually have dependable basic bicycling transportation and know how to be safe while doing it.
The three will happily discuss how to get anywhere around the region on a bike.  Michele even explained to someone how to get back and forth from Lawrence to Johnson County and that The Joe will let people take their bikes on it and drops you off at the KU Edwards campus.
The group recently submitted their 501-C3 tax paperwork and were granted non-profit status so now any donations to the Co-Op are tax deductible.
For more information about Lawrence Unchained Bicycle Co-Op check out their website at http://www.lawrenceunchained.com/
Again this year, and in memory of a tradition started by founding member Becky Castro who passed away earlier this year, Lawrence Central Rotary is selling wreaths and holiday decorations from Lynch Creek Farm and all the profits from the sales are going to the Rotary Foundation.
The Rotary Foundation transforms these funds into projects that change lives both close to home and around the world. As the charitable arm of Rotary, the Foundation taps into a global network of Rotarians who invest their time, money, and expertise into Rotary's priorities, such as eradicating polio and promoting peace. Rotary Foundation grants empower Rotarians locally and worldwide to approach challenges such as poverty, illiteracy, and malnutrition with sustainable solutions that leave a lasting impact.
You can contact any of our members to purchase in person to arrange a purchase, but there's even an easier way!
You can purchase a broad array of holiday decorations online by using this website http://bit.ly/lcrholiday14 – It will direct you to the Lynch Creek Website and 25% of your purchase will come back to Lawrence Central Rotary to help locally and globally uniting for the common good.
Lawrence Central Rotary is proud to do our part locally and we encourage you to help us!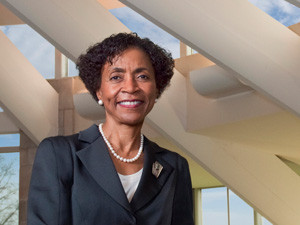 Central Rotarian Jim Peters introduced KU Chancellor Bernadette Gray-Little by listing all the areas she oversees and likening her to a CEO of a big company.
Speaking at the Oct. 1 meeting, Gray-Little talked about her responsibilities which range from  dealing with the budget to working to prevent sexual assaults on campus to wondering what to do with the old rails for a trolley car that were unearthed recently during street repaving near the chancellor's residence.
"We are very concerned" she said when talking about state finances.  Twenty percent of KU's budget comes from the state, the rest from tuition, research grants and other sources.  "Working with the legislature is very important," she said, and with the regents. "The regents are my bosses," she said.
The regents are considering developing a performance funding proposal, which, without additional funding, has not been a success in several other states.  "This is a concern," Gray-Little said.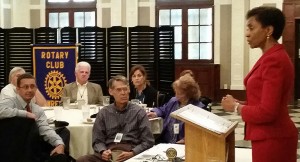 KU is establishing a task force to deal with sexual assault on campus.  When incidents are reported, there is  a robust policy for investigation, she said.  "If the incident has also been reported to the police, we work together with them. " In 2013 there were 12 cases of sexual assault reported, two were dropped and six resulted in expulsion from the university.
She also talked about campus construction, with new residence halls going up and construction soon to start on an energy environment center and a health building, roads being repaved and trees planted.
She said perception and reputation are important to a university and discussed research and acting on recommendations from committees and alumni.
She took questions from the audience about a variety of subjects including distance learning,  ("KU wants several options,") and working with international students.
And no one said a word about football.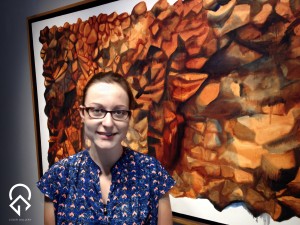 The glass doors at the Cider Gallery open into a spacious suite of rooms with gleaming wood floors, light pouring in from large windows, and brick walls hung with original artwork. Renovated in 2012, the structure originally housed the Kansas Fruit and Vinegar Company, and was built in 1894. It is now on the National Registry of Historic Places.
Ms. Bonny Murrell, director, welcomed members of Lawrence Central for their weekly meeting Bonny Murrell, Director. After lunch, Ms. Murrell talked about the Poehler Lofts, Cider Gallery, and other historic buildings in the up-and-coming Warehouse Arts District of East Lawrence that are being renovated.
Located at 810 Pennsylvania Street, the main floor of Cider Gallery is an art gallery featuring displays by both local and guest artists and a 5,000-square-foot event venue. The second floor is offices and a coworking area set up to encourage connection, creativity, and collaboration among the entrepreneurs, freelancers, and small businesses who rent workspace there.  A garden patio offers an additional inviting area north of the building that has areas designed by local artist Stan Herd.
Eventually, the district will tie seamlessly to downtown Lawrence via a renovated 9th Street corridor.