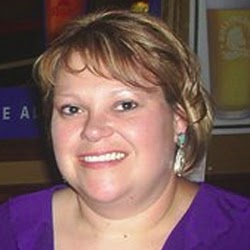 Megan Gilliland has had her work cut out for her this summer as Lawrence Communications Coordinator. Working with what has been called a "perfect storm" of road construction she has used all the communication resources available to present construction zone alerts.
"My job" she told members of Lawrence Central Rotary "is to reach community and www.lawrenceks.org is one of the best ways to do it."
In addition to presenting information about the many areas of road construction in Lawrence, the web site offers job opportunities, city commission agendas, Parks and Recreation information, and the city calender.
Subscribers who sign up for city news–and currently there are 9,000 of them–can get information about licensing, rentals, development and various other topics.  Residents can sign up to receive text and/or email alerts for solid waste services such as collections of trash, yard waste and recycling. "We're hoping to expand this service," she said. "There is also a video program about Lawrence 'Lawrence In Focus.'
"Journalism has changed so much," Gilliland said " and there are so many more ways to communicate now. Videos tell the story better than I could write it." To prove her point she showed a video about the Hazardous Waste Facility now operating.
"But there are other ways to communicate also," she said. A newsletter and inserts go into the city bill and 32,000 customers get three pieces per month.
She also cited local business partners, the media, neighborhood organizations and old-fashioned word of mouth as other ways the city uses to communicate.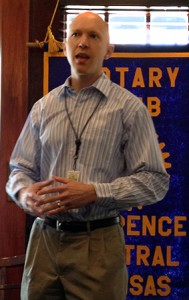 The Lawrence Central Rotary Bike Ride is gearing up (literally) again and Steve Lane got the ball rolling at the Central Rotary Club meeting on June 11.
Steve, who definitely holds the title "most organized man on the planet," presented a schedule of dates and time frames, got volunteers for various areas, and  showed the poster for the July 19 Community Bike Ride at the Lawrence Rotary Arboretum.
The idea for a community bike ride started in 2009 when Central Lawrence Rotary reached out for a project and wanted to provide a way for local people to live a healthier lifestyle.  The first activity was to install bike racks around the city, and creating the Ride Lawrence Website as a clearing house for all thing bicycle related in Lawrence.  The initiative evolved into the Community Bike Ride and by 2011 the ride included 60 children and their parents.
It has has grown each year and now offers three routes: a one-mile easy tour; a three-mile family ride; and a 10-mile ride to I-70.
In summer 2013, Steve said the club applied for and received a grant and will focus on people who are new to riding. There will be training wheel take-off, with experts helping young riders, bike helmet fitting and a helmet give-away. Lawrence Memorial Hospital Safe Kids will assist. Karrey Britt, communications coordinator for the Lawrence Douglas County Health Department, has also offered her services.
And, Steve said, he has scheduled Sunday, July 20 as an alternative date to avoid the  cancellation that occurred in 2013 when  a torrential rain storm  washed out the ride.
He was excited to confirm that based on the grants Lawrence Central has received we will have officially been able to schedule a second ride to be held the third Saturday of September on Lawrence's Burroughs Creek Trail to commence from the Haskell Indian Nations stadium Parking lot that is alongside the trail.. More information will be posted soon both here and at RideLawrence.com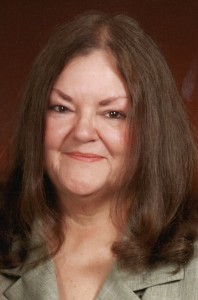 We found out earlier this week the sad news of the passing of Lawrence Central member Becky Castro.
Becky was one of the founding members of our club to quote one of our members, "Becky has always been the rock/foundation of Lawrence Central Rotary.  Always the first person to welcome guests and new members, the historian, and the one to make sure everyone was thanked, thought of, appreciated."  She will be dearly missed.  Her spirit and excitement about the club was a bright spot in the week.
Funeral services will be held at 11:00 a.m. on Saturday, June 14, 2014 at First Christian Church in Lawrence.  The family will greet friends from 6:00 – 8:00 p.m. Friday, June 13th at Warren-McElwain Mortuary in Lawrence.
Becky, your work here is now done, go and accept your wings — and say hello to Paul Harris for us.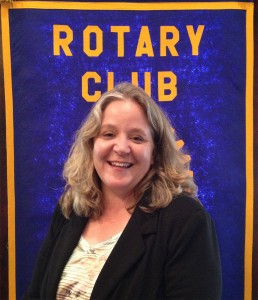 Junior Achievement is a program that is aptly named. It teaches young people how to achieve success in the business world as the business environment gets more and more complex.
Debbie Harman, the Douglas County District Program Manager for JA, works with public school officials and volunteer teachers from the business community.
"JA provided programs for 250 classrooms and more than 5,000 students in Lawrence this past year," she said.  Sixteen Lawrence elementary and middle schools participated.
"The purpose of the program" Herman said at the June 4  meeting of  Lawrence Central Rotary " is to educate young people to understand business and to inspire and prepare young people to succeed."
A non-profit operation, JA volunteers are business role models who teach five lessons of 30 minutes each, coordinating with the schools. Each lesson is prepared for the volunteers who then add real world examples. They build business knowledge about the work ethic, financial literacy, economics education, career exploration and business concepts and skills.
Working as part of the social studies curriculum JA teaches students to manage finances and develop job skills through grade level appropriate lessons. A favorite for younger students this year was how to start a doughnut business–complete with samples.
Supported solely by local business communities, JA reached 26,000 Kansas students last year. "We keep costs low and, locally, support the program with an auction, a fund drive, a Bowlathon, donations and sponsoring the Business Hall of Fame in Lawrence" she said.
"Our mission, " Harman said " is to inspire and prepare young people succeed in a global economy."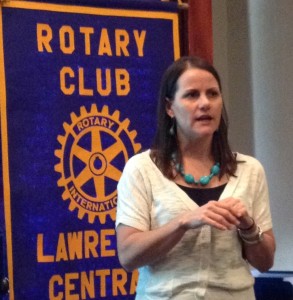 Trinity In-Home Care in Lawrence has two objectives, Executive Director Megan Poindexter said.  She told Rotarians at the May 28 meeting that the local agency promotes independent living and provides caregiver respite.
Formed in 1969 at Trinity Episcopal Church to provide respite to foster families, it became a 501c3 agency in 1976 and by 1980, no longer associated with the church, began providing in-home support for clients on Medicare with home and community based service waivers.  In 2005 it became Trinity In-Home Care.
Starting out with five clients, the agency now serves 230 clients, working about 6,000 hours each month.
"We provide services for folks ages five to 105," Poindexter said. "We help anyone who, with support, can stay at home and have a higher quality of life.  We don't turn anyone away."
"We help with things most people take for granted," she said. "We do light housekeeping, helping with bathing, personal hygiene, shopping and food preparation among other things.
"We help caregivers by running errands, taking clients to appointments, and generally providing rest and recuperation time for them. Respite care is for anyone whose loved one can't be left alone."
Trinity In-Home Care has 125 employees who are screened and trained. "The work can be labor intensive," Poindexter said "and we match people as best we can to create the best relationship."
Funding comes from Medicaid, private pay, donors and grants and various agencies.