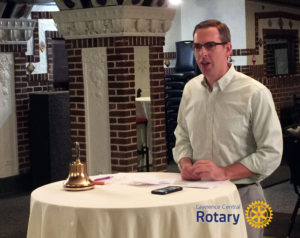 Patrick R. Miller, Assistant Professor of Political Science at the University of Kansas, emphasized the long-term consequences of the political races underway in both Kansas and the nation.
Miller pointed out that this election cycle in Kansas is really Governor Brownback's "midterm". Brownback is currently considered the most unpopular governor in the country, so it is likely that Democrats and moderate Republicans will gain seats in the legislature this fall in reaction to his policies. Despite these gains, Republicans will continue to control both the House and the Senate.  Republican legislative leaders will struggle to bring together both the conservative and moderate wings of their party to get consensus to pass legislation.  As a result, Miller does not expect that the volatile issues of the day, such as tax cuts or block grant structures, will be changed during the upcoming legislative session.
Nationally, Miller pointed out that Clinton is likely to win the presidency and projects that Democrats may regain control of the Senate.  Although Republicans have good control of the maps that will allow them to control the House, they are divided among themselves.  The conservatives will hold onto their seats there, while more moderate Representatives are more likely to lose to Democrats.  As a result, divided government is likely for the foreseeable future.
The Republican Party is now more and more identified as the party of white Americans, according to recent surveys.  Trump's candidacy has attracted those voters with less education and lower incomes, despite the fact that that constituency has traditionally voted Democratic.  College-educated, higher income voters, more likely to vote, are now leaning toward the Democratic ticket.  While Trump has not caused these changes, he is the symptom of them, according to Miller.
In Kansas, Miller noted that Kevin Yoder and Lynn Jenkins, Republicans on the ballot for national office, are not only distancing themselves from Clinton, but also from Trump and Brownback, despite the fact that their voting records are very conservative.
Dr. Miller, a specialist in American politics, conducts research on political psychology, public opinion, electoral behavior, political communication, and survey and experimental methods.  He did his undergraduate studies at the College of William & Mary and received his doctorate from the University of North Carolina at Chapel Hill.  He is also certified in survey research methodology from UNC Howard W. Odum Institute for Research in Social Science.