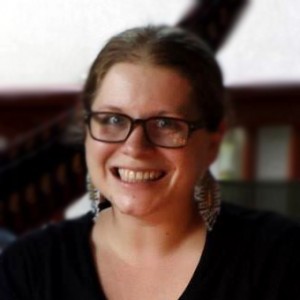 Central Rotary's own Jessica Mortinger was the speaker at the  January 15 meeting, telling the club about her work as a transportation planner with Metropolitan Planning Organization (MPO).
Jessica works with a network of committees and groups in a variety of ways. She and her supervisor conduct surveys, prepare flyers and releases, create long range transportation plans, do population projections and update existing situations to name a few of their functions.
Her work is funded out of a consolidated grant program, rather than by the city of Lawrence, and some federal funding is also involved.
"We're stewards of public money so it requires our processes to be up to standard." she said.  "We maintain and update regional planning regularly. We have a technical advisory committee of public officials and a city/county advisory committee." They also work with a regional transit advisers committee.
"We  bring people together to find out what they want through open houses, public meetings and surveys," Jessica said. "Getting people concerned on the local level helps us see  where we should work. While politics is a reality of planning and we have to incorporate financial reality, what we really want is to get people where they need to go, safely."
Future projects include bikeway expansion and pedestrian issues such as accessing transit and crosswalks.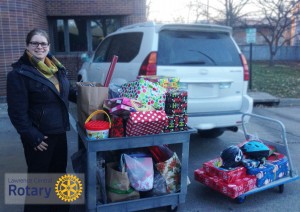 Lawrence Central Rotary Club collected gifts for three families as a part of the local The Salvation Army USA Douglas County Adopt a Family program.
Here's our own Jessica Mortinger who along with Scott Wagner collected all the items so they could be dropped off.
Thanks to all our members who helped out!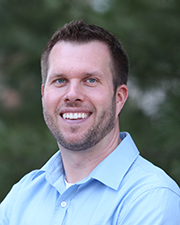 Jeff Severin, Director of the Center for Sustainability at Kansas University, got a lot of questions from Lawrence Central Rotarians this week about the new parking lot on campus that has pavement developed to reduce heat and to allow rain water to flow through it.  Not only is the lot an experiment to test the permeable pavement, it also features trees and other landscaping, LED lighting, and accessibility enhancements that are cutting edge, according to Severin.
Jeff sees KU's campus as a "living lab" for sustainability.  At its core, sustainability is respect for all relationships that build community.  His small staff works to foster sustainability awareness in all aspects of campus living including administration, buildings and grounds, curriculum and research, student life, energy, waste management, transportation, and procurement.  They  encourage innovative projects like the parking lot as well as the research that will determine the success of its features.
Other sustainability initiatives at KU include implementing a method of quantifying sustainability factors using the Sustainability Tracking, Assessment and Rating System (STARS).  Jeff leads a Tree Advisory Board that develops policy, plans work priorities, and raises funds to replace trees on campus.  He chairs Bike KU, a group encourages student biking by providing information about bike maintenance, parking, safety, and theft prevention as well as by coordinating with the City of Lawrence rideability initiatives.  Another project this fall was to oversee the collection of waste at the football games on campus in order to recycle and compost in an effort to reduce the amount of garbage brought to the landfill.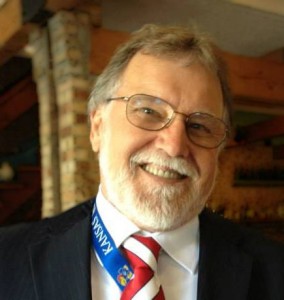 Flexibility and being open to change, combined with solid values make for a successful business, Ernie Cummings of Kizer-Cumming jewelers told members of  Lawrence Central Rotary on December 11.
Cummings, who said he was an army brat who grew up near an army base in Missouri, came to Lawrence in 1974 to start a retail business. He has dealt with differences in his store's location (now at 833 Massachusetts ), ups and downs in the economy, the dot.com bubble and a downtown that is constantly changing.
Positives include the great labor pool of students in Lawrence who have worked for him before going on to careers of their own, having a good banker and joining the Small Business Administration.  He said he has always been involved in community activities and believes in running a hands-on business.  "When you're in business you're constantly learning," he said. "You never quit going to school."
The learning has involved adopting enormous changes in technology. Blaine Allmond,  an artist and designer, who has worked with Cummings for the last 10 years, demonstrated a computer technique using a T-Spline Timelapse Matrix 7 computer which creates three dimensional models of his jewelry designs.  These computers create wax models, although, Allmond said, some of the newer computers use plastic.
"I find these changes positive," Cummings said. "They make being in business exciting."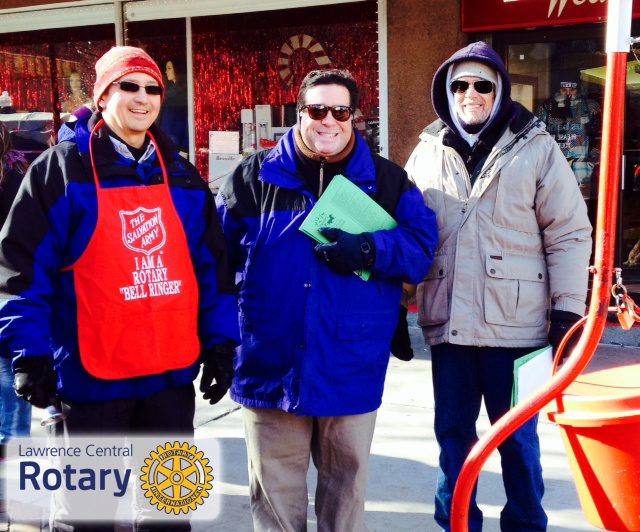 Lawrence Central Rotary Club spent a chilly Dec 7th Saturday ringing bells for The Lawrence Salvation Armyon Mass Street in Lawrence.
Club Members pulled double duty that morning as they also passed out programs to those who braved the cold to watch the Lawrence Old-Fashioned Christmas Parade.
Thanks to everyone who came out and helped!