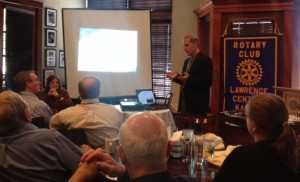 Bob Nugent, Administrator of Lawrence Transit, assured members of Lawrence Central Rotary that getting on any bus in town, no matter what the shape or the marking, can get riders where they want to go—six days a week, 307 days a year.
The City of Lawrence and the University of Kansas began coordinating their bus systems in 2009 through a memo of understanding.  Their cooperation means that riders in Lawrence pay a universal fare, no matter which bus they take.   Communication about routes, schedules, policy and procedures are found on a common website.  The two entities share vehicles and have a joint maintenance facility as well.  The cooperation between KU and the City allows the system to flex for high volume routes near campus and lower intensity routes in the perimeter of Lawrence.  There are nine routes that use 51 vehicles during peak times.
The City of Lawrence contributes $2.3 million annually, income from a 2.5% sales tax to support the buses and related transportation services.  Those dollars are supplemented by around $2 million in Federal money and $290,000 in state funds.  KU contributes $3.3 million collected from student fees and $1.5 million gleaned from parking revenue on campus. These coordinated services have 2.9 million passengers annually and have been recognized with awards for Ridership, Sustainability and System of the Year, since 2008.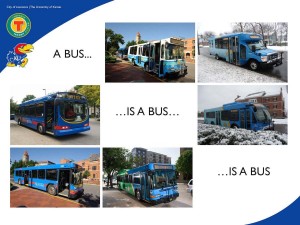 Members of Rotary testified to the high quality of customer service from bus drivers in Lawrence.  The City offers door-to-door service on "the T" by appointment, especially helpful to riders with physical limitations.  Riders may also call in advance for flex service and for rides between 8:00 p.m. and 6:00 a.m.  KU service includes Safe Bus and Safe Ride for students who call to request pickup outside of normal bussing hours.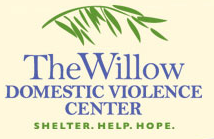 For the second year now the members of Lawrence Central have resolved to adopt the Willow Domestic Violence Center.
For those of you who may not be aware The Willow Domestic Violence Center works toward peace in the world by elimination of violence in our communities.  They are dedicated to the empowerment of survivors of domestic violence; the creation of a peaceful, safe space; the promotion of equality and respect for all people; the appreciation of differences, and the social action necessary to achieve these goals.
The Willow fields upwards of 1600 crisis calls and referral calls per year, houses 250-300 women and children annually, runs adults and child support groups, and offers services and public education in the Kansas counties of Douglas, Franklin, and Jefferson.  For more information about Willow check out their website at http://www.willowdvcenter.org
So how is Lawrence Central helping? At our weekly meetings we will be collecting items (or gift cards/cash donations) that can be used by clients of Willow.  In planning with them for this year their current needs are:
Day planners / journals
Shower loofas
Icy Hot / Bengay
Gas X / Turns
Deodorant
Finger nail polish remover
Children's shampoo /conditioner / body wash
Children's toothpaste and toothbrushes
Children's hair detangler
Diapers – size 5 and 6
Gas gift cards
During the month of May we welcome you to drop of items any of our meetings on Wednesday's at noon in the Eldridge's All American Room and if you have time stay for lunch and learn about what Lawrence Central Rotary does for Lawrence and beyond!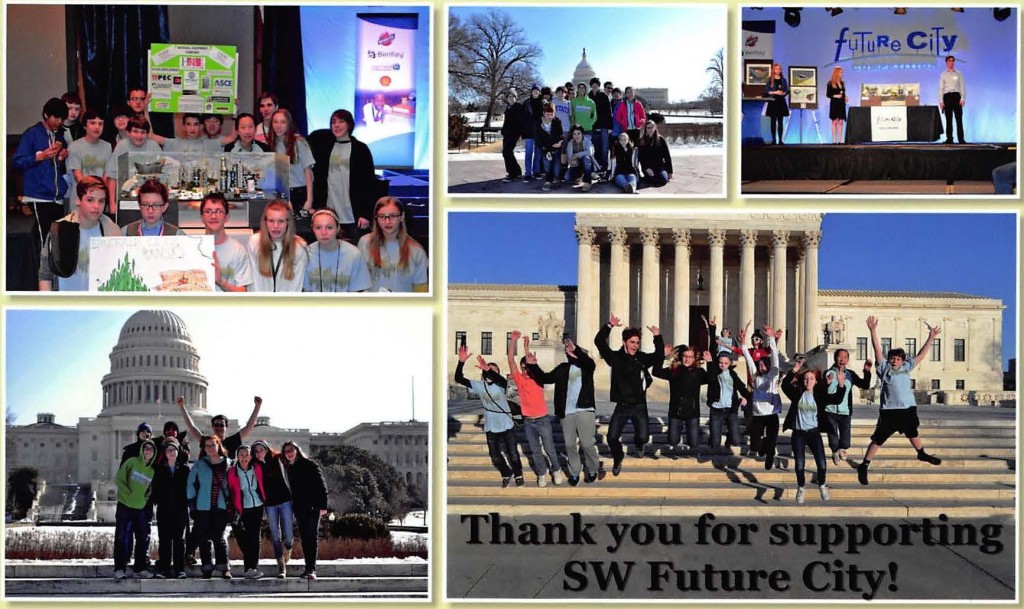 We recently received a great note from the Southwest Middle School Future City team who we helped in part to attend the National Future City Competition in Washington, D.C. in February.
The team members who represented Libban-Eft at the National Future City Competition were: Eli Bork, Anna Bial, John Ely, David Gates, Hirsh Guha, Harrison Hughes, Quentin Harrington, Madelyn Johnson, Ben Katz, Jeseung Lee, Paul Loupe, Ulises Magana de la Paz, Jake Morris, Brian Myers, Anna Osterhaus, Ting Ting Shi, Isaac Springe, and Claire Walther. The educators who represented Southwest Middle School in D.C. were: Danielle Lotton-Barker and Ceridwen Coulter. Christopher Storm of Landplan Engineering served as the professional mentor to the students.
The note read: "Thank you SO MUCH for supporting our SWMS Future City team Libban-Eft in our fundraising efforts to go to tine National Future City Competition in Washington, D.C. in February! Tliese students did such an amazing job "on and off the court." They represented Southwest, the Lawrence Public Schools, and the Great Plains Region with integrity and pizazz! You would have been so proud of the grace under pressure that they demonstrated when dealing with the fact that their model didn't even arrive until 90 minutes before their presentation and they had to completely reconstruct it. They acted like true engineers, handling the challenges and problems as they came to them, and finding workable solutions!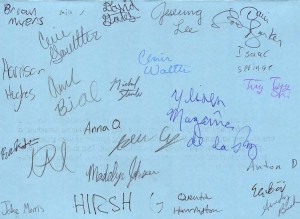 In the end, our team was awarded 4th place in the nation against the 36 other regional winners and Most Accessible City by the Paralyzed Veterans of America. The team gave their presentation in front of hundreds of students, parents, and coaches and judges that included executives of major engineering firms and Joe Paica (the NPR Science correspondent). We couldn't be more proud of them! Thank you for making this experience possible for all 18 students
– SWMS Enrichment Resource Staff — Dani Lotton-Barker, Ceri Coulter, Sandy Bush"
If you want to experience a bit of the excitement vicariously, check out this link to their music video encapsulating the trip for posterity! https://www.youtube.com/watch?v=th4LYsvy6_Y
Great Job SWMS Future City Team!  Lawrence is proud of you!
2014 Lawrence Kids' (Free) Bicycle Helmet Fair Scheduled for May 10
Bike helmets may be the "Gift of Life". By choosing to wear a helmet, you will reduce your risk of a head injury from a crash by 85%!
To make that a reality for Lawrence children, on Saturday, May 10th, local businesses and organizations are sponsoring a free bicycle helmet fair and Family Fun Zone before the KU baseball and softball games. The events will be in the KU parking lot # 125 & 127 between the baseball and softball complexes.
The bicycle helmet fair will be from 11:30 a.m. to 1:30 p.m. Activities include a free helmet for children under the age of 14 who are accompanied by an adult, bike inspections and a safe ride course. Participants will learn about rules of the road, bicycle trail etiquette, booster seat safety, and bicycle and pool safety.
The Family Fun Zone will be open from noon to 2 p.m. and will include family-friendly inflatables, a face painter, Big Jay and Baby Jay, and music.
After the activities, you can cheer on KU's baseball and softball teams at 2 p.m. Admission is free.