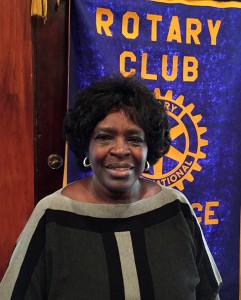 Justine Burton, the speaker at Lawrence Central Rotary on December 9, was homeless at 16. She faced a world where drug and alcohol addiction, prostitution and theft were everyday occurrences. But rather than give in to any of it, she completed an Associate's Degree in Human Services from Kansas City Kansas Community College and a Bachelor's Degree in Human Services from Ft. Hays State.
And then she began to give back to older teen-agers who needed help.
Burton founded StopGap in 2008. Children in foster care "age out" at 18. At that age they are no longer in foster care or in a group home. They are on their own to survive as best they can. StopGap gives them tools for survival.
"Sometimes they don't know the basics such as how to cook, clean, find a place to live, pay rent, use a computer. They don't know what family is all about, they don't bond with siblings," " Burton said. "StopGap assists at-risk youth's safe transition from dependence on a system to independence."
With its Youth Empowerment Outreach Program, StopGap offers classes in life skills in donated space at Victory Bible Church.
"We went to get their feet on solid ground," said Chela Ingram, StopGap volunteer community coordinator, who accompanied Burton to the meeting, "so they will learn consequences of actions. We want to give them knowledge that will stick with them."
They offer an eight-week program with interactive workshops to give youth a hands-on experience with real world issues, as well as supplying information on health and giving them contacts in the community through speakers who come in.
There are currently 60 youth enrolled.
"My future goal is to establish a transitional living program where youth from 16 to 21 who are aging out of foster care or at-risk can live in an 18-24 month supervised transitional living program," Burton said. "I want them to achieve their full potential."
StopGap's offices are at 1942 Massachusetts Street., Lawrence, phone 785-856-7833; email: stopgapinc.org@gmail.com