It was a little gloomy October 7th in front of the Lawrence Arts Center but a big crowd came out for the
dedication of the first bike rack. Withthe help of the City, the Lawrence Arts Center and the fabricators.
Mark Emge's bike rack design concept called "Arbitrary Triangulation" was inspired by the frame geometry of bicycles. In his proposal he wrote: "There seems to be something methodic and chaotic when multiple bikes are parked at a bike rack. The geometries of these bicycles create a random pattern that is unique to those bicycles and how they are parked. Each day a new series of patterns emerge. "Arbitrary Triangulation" is an interpretation of this random pattern."
To the left are members of the bike rack committee from the Lawrence Central Rotary, the designer, the fabricator and Carolyn Chin Lewis, Mark Emge, and the representative from the Lawrence Arts Center.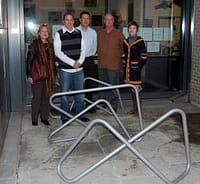 Carolyn Chin Lewis – Lawrence Central Rotary
Mark Emge – Bike rack designer
Scott Wagner – Lawrence Central Rotary
Randy Harwerth – Fabricator from Harnoy Metal
Bonnie Cherry – Lawrence Arts Center