Lawrence Central Rotary (LCR) is proud to announce a service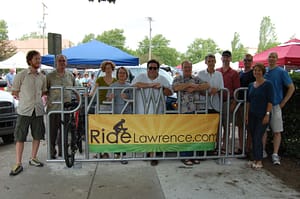 project that will install a new bicycle rack at the Saturday Downtown Lawrence Farmers' Market located in the 800 block of New Hampshire.
LCR has chosen 'Community Bicycling' as a common theme for its service projects. The bike rack is of tubular construction and spells out "Ride Lawrence" designed by local artist Sean McCue. Sean entered the his design into last year's bicycle rack design contest to install a bike rack outside the Lawrence Arts Center.
"Although Sean's design was not chosen for the Lawrence Arts Center rack we felt he had a great design that we wanted to incorporate into the overall biking theme for the Lawrence community," said Scott Wagner who is the chair of the bike rack committee. "It also sparked the imagination of the club members to rally around the project by incorporating "Ride Lawrence" as the overall theme for this community initiative."