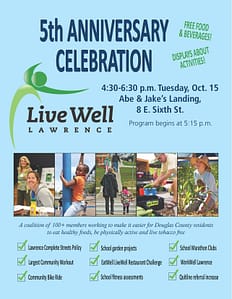 You are cordially invited to the fifth anniversary celebration of LiveWell Lawrence. The celebration will be from 4:30 p.m. to 6:30 p.m. Tuesday, Oct. 15, at Abe and Jake's Landing, 8 E. Sixth St., in downtown Lawrence.
LiveWell Lawrence is a coalition of more than 100 community members who are working together to make it easier for Douglas County residents to eat healthy foods, be physically active and live tobacco free.
The celebration's program begins at 5:15 p.m. and will include:
Welcome — Hank Booth
Bringing the vision of LiveWell to life — Marilyn Hull, of Douglas County Community Foundation
LiveWell, today and tomorrow — Cindy Johnson, chair of LiveWell Lawrence
LiveWell, a state leader — Jeff Usher, of Kansas Health Foundation, and Robert Moser, MD, secretary of the Kansas Department of Health and Environment
Community impact — Douglas County Commissioner Mike Gaughan and Lawrence Mayor Michael Dever
Special recognition of Marilyn Hull
We hope you can attend the event and celebrate our community's successes, which include passage of a Complete Streets Policy in Lawrence, adoption of school marathon clubs and school gardens, and establishment of WorkWell Lawrence, a network of employers who are working together to create a culture of health in the workplace.
There will be free food and beverages along with information booths about community activities ranging from school gardens and bicycling to workplace wellness and transportation planning. It's a great opportunity to network and learn about LiveWell!
Lawrence Central Rotary and Ride Lawrence will be set up with information about local biking and other exciting giveaways!
Help us promote the celebration. Download and share the event flyer here.