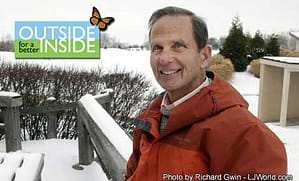 John McGrew has been interested in the relationship between nature and wellness for decades.  Richard Louv coined a term in his book Last Child in the Woods that gave John a name for what he was observing:  Nature Deficit Disorder.   Realizing that others shared his concerns that today's children are growing disconnected from nature, he renewed his commitment to luring children away from the plugged in culture that preoccupies them and  providing opportunities for them to enjoy the out-of-doors at farms, nature areas, and walking trails.  The goal is better physical and emotional development for every child.
John is founder of Outside for a Better Inside, a Lawrence organization that is becoming a leader in the national Children and Nature movement.  Outside for a Better Inside has sponsored annual Nature Education Days in Lawrence, often at the Rotary Arboretum in southwest Lawrence.   They also commissioned Kelly Hunt, well-known R&B musician, to compose and record a song with the Lawrence Children's Choir called "Let's Go Outside for a Better Inside."
The group's current initiative is a walking trail to be built this summer in conjunction with the City of Lawrence.  It will extend from an entry point northwest of Second and Indiana streets, go past Lawrence Memorial Hospital, Bert Nash, and Lawrence/Douglas County Health Department, continue along the Kansas River to the City of Lawrence Burcham and Constant Parks near Vermont and Sixth Street downtown. The trail has received funding from the Sunflower Foundation.