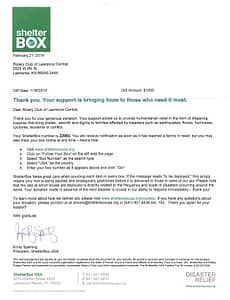 We got a note back from Shelterbox USA that they received our donation of $1000 for another shelterbox.  The letter has the serial number of the box so we can track where it went to help people in times of disaster.
If you don't remember Shelterbox responds instantly following natural and other disasters by delivering boxes of aid to those who need it most and each ShelterBox supplies an extended family with a tent and essential equipment to use while they are displaced or homeless.
When we know where it was deployed we'll update you!