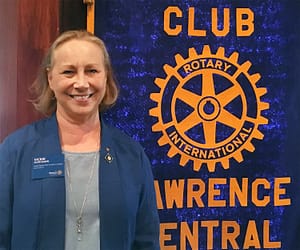 Vickie Randell, former Rotary District Governor, current district Rotary Foundation coordinator, (and now Assistant Regional Foundation Coordinator for Zone 27) is excited about what the Rotary Foundation has done and even more excited about what's coming in the future.
"People tell me I'm a Rotary faucet," the member of the Lawrence noon club said. "You ask me about the Rotary Foundation and you've turned the tap for a flood of information."
The Rotary Foundation supports projects all over the globe as well as locally. "In our district we have clubs whose members have formed especially strong bonds with people in Panama and Guatemala.
"We've done global grants there that have helped educate people about clean water sources, worked on schools and provided medical supplies, "she said. She showed a slide of a rocky, road, filled in spots with water that children had to walk through to get to school.  Rotarians cleaned it up and graded it.
The water supply for one community was a filthy, refuse filled stream. Through Rotary intervention there are now huge tanks supplying clean water.
"Teams of Kansas Rotarians have  gone to Mexico to build houses," she said.  In India dump dwellers, who made their living scavenging in the dump, where they also lived, are being taught other ways to support themselves.  In Uganda vocational training teams are teaching nurses in pediatric hospitals.
"Foundation money comes to local communities too," she said. "A holiday shopping event is sponsored for children who otherwise couldn't shop for  gifts.  The Lawrence Rotary arboretum is a sterling example of what clubs can do when they work together."
Randal also talked about how in an unusual twist, Rotary clubs in Japan sent foundation money to the U.S. to help victims of hurricane Katrina proving the work of Rotary goes wherever it is needed.
There is always more to do. "We're building the Rotary Peace Fellowship project, dedicated to eliminating conflict and helping the victims of conflict.  And polio is not quite gone. There were still  54 cases in the world this year.
"Everything we do in Rotary builds peace, " she said. "And peace helps people become their true selves."