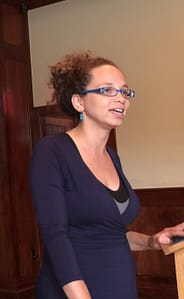 Jasmin Moore, Sustainability Director for Douglas County, reminded Rotarians that Lawrence became a national leader in 2016 in quality of life measures, the first community in Kansas to earn a 4-STAR certification.  The STAR measurement framework ("Sustainable Tools for Assessment and Rating") allows communities to track progress toward improved quality of life against seven sets of objectives–and to compare themselves with others working on similar goals.
Moore defines a sustainable community as one that is economically, environmentally, and socially healthy and resilent.  She uses a four-way test to evaluate sustainability initiatives:
How does it impact environmental health?
How does it impact the well-being of people?
How does it impact relationships, effective government, social justice, and overall livability?
How does it impact the local economy and at what short-term and long-term costs?
Originally from the Kansas City area, Moore chose to study urban planning at KU when she became intrigued with the idea that the built environment of a community influences the health of the community.   After a series of jobs in Colorado, Texas, Arkansas, and Johnson County, she has landed back in Lawrence.  Now she coordinates the City/County collaboration to develop integrated solutions and long-term investments for sustainability.