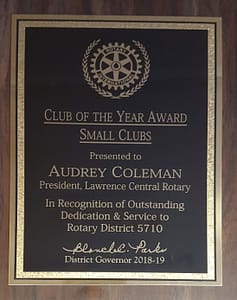 Thanks to Rotary5710 District Governor Blanche Parks for recognizing our fine club this year at the Annual District Conference!!
What an honor to recognize our hardworking members and ongoing projects, including the Lawrence Community Bike Ride, Ride Lawrence, and the Lawrence Kids Calendar!!
It takes MANY people and MANY years to make a "Club of the Year"!
Our club is a team AND a family – want to join us? Join us for lunch Wednesdays at noon at the Eldridge Hotel!