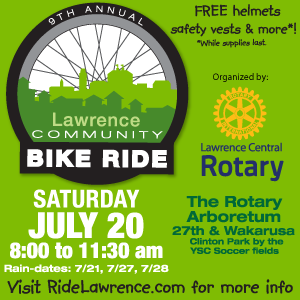 The 2019 Community Bike Ride is set for July 20th.  We'll again be at Lawrence's Rotary Arboretum at 27th and Waukarusa.
This year we have 4 rides planned for folks of all ages and experience.
4 Miles – 9:30 am – Sanders Mound
6/8 Miles – 9:00 am-  K-10 Trail
12 Miles – 8:30 am – I-70 Turnaround
22 Miles – 8:00 am –  Lawrence Loop
We are excited to again to be sponsoring free helmets, safety vest, and other exciting goodies (while supplies last).
After a trial run last year, we will again be partnering with Lawrence's bike share company VeoRide who will offer FREE bikes for use during the event if it is too difficult for you to get a bike to the Arboretum. You just need to register before 7/18 at http://bit.ly/cbr-bike-res
All of this is made possible by volunteers from Lawrence Central Rotary and some fine local sponsors who love supporting getting outdoors and being active. 
You are also welcome to join the ride after-party at S&S Artisan Pub and Coffee House at 2228 Iowa Street between 12 and 2pm.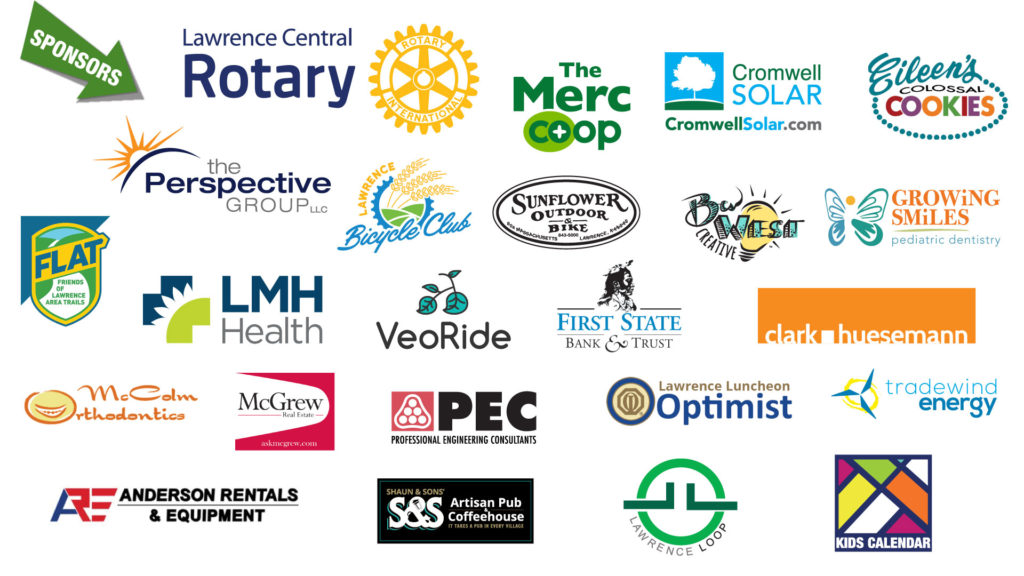 We will have releases on-site for attendees to sign when checking in, but you can also download one here to fill out and bring if you like.
See you on July 20th!
Updated Ride Maps!
We've had some requests for maps so we've put this together for you. If you'd like to download a pdf of one use this link.