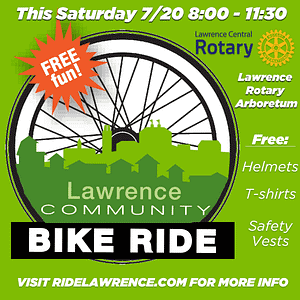 It had been a scorching week, but after discussions with the organizers and the forecast that said we'd start with a temp of 80 degrees and be done before the mercury broke 90 we forged ahead.
We were able to use the new shelter at the Lawrence Rotary Arboretum which allowed more space in the tent to fit people with new helmets.
Thank you to our sponsors and everyone who came out to ride and volunteer.
The team from Matty D Media was onsite and put together this video of the event (more coming soon)!
We also got some great photos of the event check them out below.  If you took any pictures you'd like to share email them to: [email protected] or post them to our facebook page at https://www.facebook.com/LawrenceCentralRotaryClub/