Archive for the 'Biking' Category
Ben Alford and Karl Fundenberger, volunteers representing the Topeka Community Cycle Project shared the history of the Topeka initiative with Lawrence Central Rotary.  The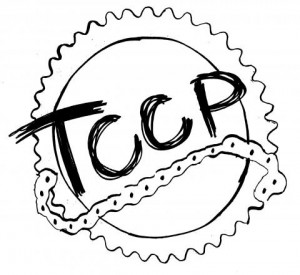 (TCCP) is a non profit volunteer organization committed to the reclamation and distribution of recycled bicycles and in the process promotes self-reliance, sustainability, and healthful living.
The TCCP work space is open on Thursday evenings and mid-day on Saturdays providing opportunities for members of the community to volunteer their time and/or have access to the free bicycle maintenance work space. The work space includes shop stands and tools in their downtown Topeka location. There are also opportunities for people to learn from shop volunteers how to repair and maintain bicycles.  Through an Earn-a-Bike (EAB) program, volunteers refurbish bicycles that would otherwise take up space in a landfill, giving new life and utility to bicycles.   Once an individual has invested 10 hours of volunteer time at TCCP, they may pick out a donated bicycle and work with a shop mechanic to refurbish it for their own use.  The organization also gives away bicycles and helmets to children and serves as an information source about all forms of cycling and cycling events in the area.
TCCP welcomes donations of time, money, and used bicycles, bicycle parts, and tools.  The group is located at 423 S. Kansas Avenue in downtown Topeka.  They are renovating a historic space for use as their permanent community bicycle work space.
Locally there is some interest in creating a similar work space to refurbish bikes and teach maintenance skills.  There is a local group, called Lawrence Unchained Bike Coop that is currently working on the creation of a similar project in Lawrence. For more information about their work and/or to get involved email lawrenceunchained@gmail.com.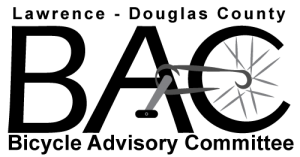 The Lawrence Douglas County Bicycle Advisory Committee is looking to fill two member seats at large, for positions Lecompton and Baldwin City have elected not to fill through their appointments. The first consideration for appointments will be at our February 4th, 2014 meeting. Please attend the February 4th meeting if you are interested in serving a three year term on the BAC.
Please find the agenda packet for our next BAC Meeting on February 4th, 2014 at the following link: http://lawrenceks.org/boards/bicycle-advisory-committee
This meeting will be held in the Public Works Conference Room, Lawrence City Hall, 6 East 6th Street, at 5:00pm.
The Lawrence-Douglas County Bicycle Advisory Committee provides a communication linkage between the City and County Commissions and the community on bicycling related issues. The Committee works to improve bicycle safety and awareness through education of motorists and non-motorists; review, update, and oversee the distribution of the City's Biking Map; seek information from multiple sources on current trends, programs, and facilities outside the local area; and promote bicycle awareness by coordinating activities with the City, County, the school district, universities, and the local bicycle clubs.
For questions please contact:
Jessica Mortinger, AICP, Transportation Planner – jmortinger@lawrenceks.org
Lawrence – Douglas County Planning & Development Services | www.lawrenceks.org/pds/
City Hall 6 East 6th Street
P. O. Box 708 Lawrence, KS 66044-0708
office (785) 832-3165 | fax (785) 832-3160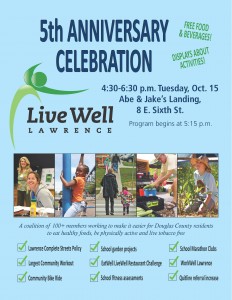 You are cordially invited to the fifth anniversary celebration of LiveWell Lawrence. The celebration will be from 4:30 p.m. to 6:30 p.m. Tuesday, Oct. 15, at Abe and Jake's Landing, 8 E. Sixth St., in downtown Lawrence.
LiveWell Lawrence is a coalition of more than 100 community members who are working together to make it easier for Douglas County residents to eat healthy foods, be physically active and live tobacco free.
The celebration's program begins at 5:15 p.m. and will include:
Welcome — Hank Booth
Bringing the vision of LiveWell to life — Marilyn Hull, of Douglas County Community Foundation
LiveWell, today and tomorrow — Cindy Johnson, chair of LiveWell Lawrence
LiveWell, a state leader — Jeff Usher, of Kansas Health Foundation, and Robert Moser, MD, secretary of the Kansas Department of Health and Environment
Community impact — Douglas County Commissioner Mike Gaughan and Lawrence Mayor Michael Dever
Special recognition of Marilyn Hull
We hope you can attend the event and celebrate our community's successes, which include passage of a Complete Streets Policy in Lawrence, adoption of school marathon clubs and school gardens, and establishment of WorkWell Lawrence, a network of employers who are working together to create a culture of health in the workplace.
There will be free food and beverages along with information booths about community activities ranging from school gardens and bicycling to workplace wellness and transportation planning. It's a great opportunity to network and learn about LiveWell!
Lawrence Central Rotary and Ride Lawrence will be set up with information about local biking and other exciting giveaways!
Help us promote the celebration. Download and share the event flyer here.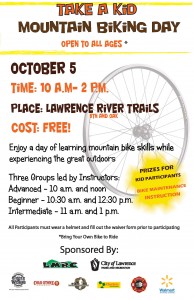 Enjoy a day of learning mountain bike skills while experiencing the great outdoors!
Three Groups led by Instructors:
Advanced – 10 a.m. and noon
Beginner – 10:30 a.m. and 12:30 p.m.
Intermediate – 11 a.m. and 1 p.m.
All Participants must wear a helmet and fill out the waiver form prior to participating and bring own bike to ride.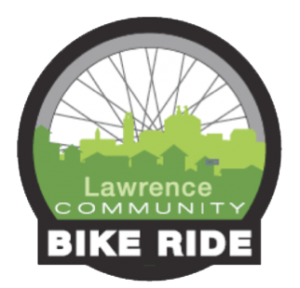 "The old song says "The best things in life are free!" and this is true of one of the best  things about summer in Lawrence, the Central Rotary Community Bike Ride, July 20 at the Rotary Arboretum by the YSC Soccer fields at Clinton Park. With no charge of any kind to participants, the Ride offers a morning of family fun and outdoor activity, as well as promoting safe cycling.
Cyclists have three rides to choose from, all traveling along the South Lawrence Trafficway bike path, a wide paved surface that is  "car-free."
The first ride begins at 8 a.m. and is a 10-mile ride that travels near I-70 and back.

A three-mile family ride begins at 8:30 a.m. and goes to the Clinton Lake Overlook and back.

A one-mile easy loop is available between 8 a.m. and 11 a.m. and circles around the arboretum. It also accommodates those who'd just like a brisk walk.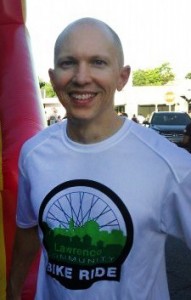 Participants  also receive, while supplies last, free t-shirts, helmets, drinks from McDonalds, healthy snacks from the Merc, and free bike tune-ups from on site mechanics.  Jim Whittaker, who leads GP VeloTek which is staffing and supporting the Ride, is working on getting free chair massages for cyclists. Cycling experts will conduct "training wheel take-off," helping the youngest riders learn to ride without training wheels when they're ready. Safe Kids of Douglas County with Lawrence Memorial Hospital will provide cycling safety tips for kids of all ages.
Central Rotary member Stephen Lane, who has been Bike Ride chairman since its inception three years ago, said all riders will be well cared for, with mobile mechanics and volunteers stationed at the few street crossings. Those in the 10-mile ride will also get food at a SAG (Support and Gear) stop at the five mile point. The SAG stop, promoted by Lawrence Bicycle Club members Justin Graham and Craig Weinaug, will be manned by the Bicycle Club. He suggested riders bring, in addition to bikes in safe working order, water and sunblock. Release letters will be available at the event.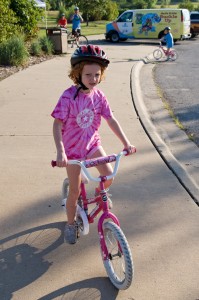 Scott Wagner, also a member of Central Rotary, said the Community Bike Ride was started by a two-year grant from LiveWell Lawrence in March of 2010 and included three parts: building bike racks, creating a website called RideLawrence and  a community ride.  The Central Rotary Club has funded the ride with a portion of the grant for 2011 and 2012 and is now funding it on its own, as well as installing bike racks in the city.
" We can't think of a better way to involve families in a healthy, fun activity," Lane said. "Last year we had 225 cyclists and walkers and we're hoping to double that this year. We've had riders and walkers in their 80s and three year-olds riding on training wheels. Last year we even had a training wheel Superman, red cape and all. Costumes and decorated bikes are welcome. And we're going to have  several surprise guests."
Riders may download the forms to preregister at www.ridelawrence.com.