Archive for the 'Biking' Category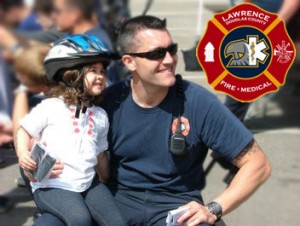 The Fire Medical Department will hold their annual Helmet Fair on Saturday, April 25th on the University of Kansas campus alongside the annual Spring Football Scrimmage. The event will be the parking lot just West of Memorial Stadium in Lot 58. The event will run from 11:00 a.m. to 1:00 p.m. and is free to attend.
Immediately following the Helmet Fair, the KU Spring Football Scrimmage will take place at 1:00 p.m. in Memorial Stadium.
At the event, public safety staff will be on hand to provide and custom-fit bike helmets for children age 15 and younger (with an adult, while supplies last). Participants can have their bicycle inspected and take a ride on the Safe Ride Course. Staff will provide information on bicycle safety tips, bike trail etiquette, booster seat safety and swimming safety.
The Hyvee Hawk Zone will be offered from 11:00 a.m. to 1:00 p.m. featuring family-friendly inflatables, face painting, music and appearances by Big Jay and Baby Jay.
The city's Police and Fire-Medical Departments and Kansas University Public Safety are joining efforts to provide this event, along with several private and non-profit business partners including Kansas Athletics, Laird Noller, Safe Kids Douglas County, McDonalds, Sunflower Outdoor and Bike Shop, Douglas County Medical Society, Lawrence Mountain Bike Club, Dillons, Ranjbar Orthodontics and Lawrence Pilot Club.
Contact the Lawrence-Douglas County Fire Medical Department at (785)
830-7000 for more information.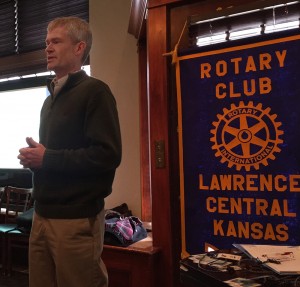 Currently, only 14.2% of children in Lawrence walk or bike to school.  The majority of children are driven by their parents, according to survey results compiled by the Lawrence-Douglas County Health Department.
The reasons vary.  Many parents are worried about children crossing busy streets without assistance.  They may believe that the school is too far away or that the weather can be too severe.  Some are concerned about the danger of potential crime.  Many do not believe that the school district even encourages their children to walk or bike on a routine basis.
Chris Tilden, Director of the Community Health division of Douglas County-Lawrence Community Health Department,  noted that new grants have allowed expansion of the initiatives for improving community health in Lawrence and the surrounding county.  In particular, Community Health has received a $1.3 million grant to promote physical activity, one of five areas of emphasis in the Health Department's five-year plan, Roadmap to a Healthier Douglas County.  One way to reach that physical activity goal for children is to encourage them to walk or bike to school.
Charlie Bryan, Planner in Community Health, reviewed statistics gathered in a recent Lawrence-wide survey to assess the this need and described the initiative developed in response.  "Safe Routes to School" hopes to increase biking and walking by 25% over the next five years.  The program "uses a comprehensive approach to make walking and biking to school safe and fun for students.  In Lawrence, we use Evaluation, Education, Encouragement, Enforcement, Engineering, and Equity to prioritize Safe Routes decision-making."
Lawrence Central Rotary will be one of the sponsors of a town hall meeting and safety fair on March 25, 2015, from 7:00 to 9:00 p.m. at Liberty Hall to raise awareness of this initiative.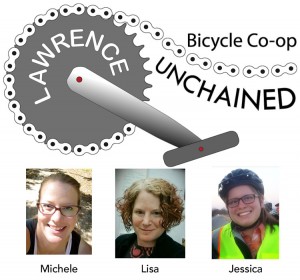 Lawrence Central was visited by the founders of a growing grass-roots movement in the US to get people on bikes by creating spaces where old bikes can be rehabilitated, where people can rediscover bicycling, learn how to maintain their bikes and learn how to bicycle safely and legally.
Lawrence Unchained was founded in 2014 by Michele Berendsen, Lisa Hallberg, and Jessica Mortinger.  All three are avid cyclists who were inspired by initiatives in Topeka – Topeka Community Cycle Project – and in Kansas City – Revolve KC and 816 Bicycle Collective, as well as other similar shops.
The founders make bicycling a part of daily life, both as regular bicycle commuters to jobs in and around Lawrence, Kansas, and also as social and sport cyclists.
Their mission is to share the enjoyment that bicycling brings to our lives to others in the area by advocating for cycling, by teaching safe bicycling techniques and, most importantly, bringing old bicycles out of sheds and basements and garages and getting them back to life and back on the street.
Lawrence Unchained first bicycle pop-up event with the Lawrence Community Shelter happened in September.  Attendees, in exchange for committing time to learn bicycle basics and taking a safety ride received refurbished bikes complete with  lights, locks and helmets.
Right now they have lots of bikes but are looking for a place to set up shop where people can come in, volunteer time, learn biking basics, and be able to eventually have dependable basic bicycling transportation and know how to be safe while doing it.
The three will happily discuss how to get anywhere around the region on a bike.  Michele even explained to someone how to get back and forth from Lawrence to Johnson County and that The Joe will let people take their bikes on it and drops you off at the KU Edwards campus.
The group recently submitted their 501-C3 tax paperwork and were granted non-profit status so now any donations to the Co-Op are tax deductible.
For more information about Lawrence Unchained Bicycle Co-Op check out their website at http://www.lawrenceunchained.com/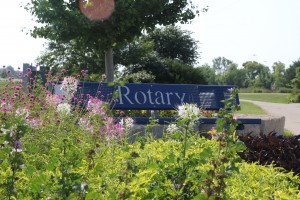 The weather spirits were with us the third weekend in July when we arrived to set up at Lawrence's Rotary Arboretum for our 4th Community Bike Ride.
Over 100 families and approximately 200 people came out to enjoy the summer morning with one of three bike rides.
There was a 10 mile (actually 11.1) mile ride that rolled out at 8:00am followed by a three mile ride out to Clinton Park's Sander's Mound at 8:30 whole local kids rode around the 1 mile closed loop at around the Arboretum throughout the morning.
Funds raised were used to purchase kid's bike helmets that were free to kids who came and they were also fitted on-site to make sure there was a proper fit.
We'd again like to thank all the sponsors who make this event possible:  Anderson Rentals, The Merc, Sunflower Outdoor & Bike, Lawrence Econolodge, Ryde Barre, Ortho Kansas, McDonalds, GP Velotek, Lawrence Bicycle Club, Lawrence Community Hospital, Safe Kids Douglas County, and Bev West Creative.
We're in the planning stages for a new fall Community Bike Ride on Lawrence's East side starting from the Haskell University Stadium Parking lot and riding the Burroughs Creek Trail. The Ride is scheduled for September 20th and more information if coming soon. If you'd like to be a part and volunteer or help sponsor please email us at lawrencecentralrotary@gmail.com.
For a gallery of the individual pictures we took that day navigate your browser over to RideLawrence.com.  Below is a picture pile.