Archive for the 'Rotary International' Category
Below is a post by Lawrence Central President Bob Swan:
---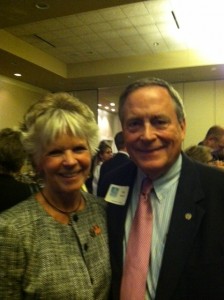 This past Saturday I was honored to attend the Rotary Foundation Banquet in Overland Park and to meet one of PolioPlus's most inspiring leaders, Ann Lee Hussey. Her after dinner presentation both informed and motivated the several hundred in attendance at the Rotary District 5710 event.
Ms. Hussey related that there were 1,000 cases of new polio cases per day when Rotary International began its noble campaign in 1985. She shared the pain and helplessness caused by the disease through sharing her own experiences as a child who contacted the dread disease in Maine in 1955 at the age of 17 months. Ann Lee was initially paralyzed from the waist on down, and the next eight years had many surgeries and endless physical therapy, three times a week. She faced the taunting of childhood peers—a "cripple" she was called back then as she struggled to cover up and hide the braces on her legs.
Through a lifelong commitment to her health and rehabilitation, Ann Lee Hussey became a productive member of society—but her greatest contribution lay ahead. In India and other lands, seeing children crawling on all fours, she experienced her "Rotary moment" when she saw a small polio victim struggling just as she had, with great fortitude and courage—but with far less support than Ann Lee had been fortunate to receive in the United States sixty five decades earlier. She decided to dedicate her life to polio's eradication—and has now done more than 20 NIDs—National Immunization Day trips around the globe.
Rotary International's commitment and leadership inspired a worldwide campaign to eradicate polio once and for all. The CDC, World Health Organization, UNICEF and Rotary International are now full partners in the crucial home stretch of eradicating polio and are now seeing the lowest number of new polio cases in recorded history. With only several dozen new cases per year, just three countries remain that have experienced new cases of polio the past twelve months. But these are very difficult countries, with war and extreme poverty and terrorism—Nigeria, Afghanistan and Pakistan. One health worker, Mohammed Ishag, was shot and killed while immunizing children. Rotarians are on the ground in these countries doing NIDs—and in Nigeria alone there have been numerous terrorist acts during the past month. A number of other countries are still at risk—but funding is lacking to deal with these nations. So time is of the essence in this noble endeavor and our financial support is needed now more than ever.
Our worldwide cooperative campaign of polio eradication will prevail—and thousands of deaths from other diseases, such as measles and malaria, are being prevented by this model of cooperation spearheaded by Rotary. The Vitamin A supplementing by Rotary is boosting the immune systems of millions of children worldwide—and one official claims that it may have already saved the lives of three million children!
Ann Lee Hussey concluded by reminding us that, even with polio eradicated, there will be twelve to twenty million polio survivors in the world. Many will experience Post Polio Syndrome, with symptoms appearing decades later. Extreme fatigue and often pain return. Ann Lee has looked into the eyes of thousands of these children and adults across the globe and experienced their horrible suffering. They will need our help with treatment and rehabilitation for decades to come.
FDR, our president who personally was stricken by polio, once said, "Our ability to work together…will make our victory over polio endure." He could have been speaking about Rotary International—for Rotary is the only non-governmental organization that could have raised one billion dollars and organized thousands of teams to immunize hundreds of millions of people in more than 200 nations. We as Rotarians can be very proud to have been both the catalyst and the indispensable ingredient, the leading force with thousands of followers, in the eradication of polio. Now is the time for us, mindful of what we have done, to redouble our commitment to support PolioPlus as generously as we can and, once and for all, to eliminate polio from the face of the earth.
Lawrence Central Rotary recently inducted five wonderful new members, Charles Branson, Angela Freeze, Nancy Hause, Steve Kesler, and Billie Wedel.  All will become active and valuable members of the club, and Steve and Angela have agreed to serve on the board.  Nancy, Steve and Charles have previous Rotary club affiliations.
District Attorney Charles E. Branson, a life long Kansan was recently re-elected as District Attorney of the 7th Judicial District.  A native of Hutchinson, he graduated from the University of Kansas with a Bachelor of Science in Business Administration and received his law degree from the University of Kansas School of Law.  His work on the behalf of consumers lead the local press to refer to him as a true "consumer advocate."  He also revamped the agency's response to domestic violence, in part, by starting a domestic violence unit.  Charles and his wife Kathy, a teacher at Lawrence West Junior High and their children Chance and Grace are proud to call Lawrence and Douglas County their home.
Angela Freeze grew up in Celebration, Florida (the town that Disney built).  She was an active member of her high school Interact Club.  She earned her degree in International Business from Palm Beach Atlantic University and, had the opportunity to study abroad in the United Kingdom, Czech Republic, China and Egypt.  She went on to run her family's real estate companies, responsible for Business Development, Marketing, and managing daily operations.   Angela and her husband Eric relocated to Lawrence, Kansas several years ago as her husband took a position with the University of Kansas.  Angela is currently a Member Consultant and Loan Officer with KU Credit Union, which was recently named the best financial institution in Lawrence!  Angela is very excited to have recently been inducted into Lawrence Central Rotary, and honored to be serving on the Board of Directors.  She will be focusing on developing a local Interact Club and increasing membership in the 20's and 30's demographic!
Nancy Hause is a third generation Coloradan, born in Boulder. She graduated from UC – Boulder. She and her husband were both educators who eventually found themselves in Manhattan where they both taught at K-State. After opting for early retirement they went back to Estes Park, Colorado and were heavily involved with the local Rotary. After her husband passed, at the urging of her children, Nancy moved to Lawrence to be closer to her children and grandkids split between Lawrence and close by in Missouri.
Steve Kesler is a longtime Rotarian, transferring to us from the Rotary Club in Grand Junction, CO.  He was originally from Lawrence and left in 1972 to go to Austin, TX to do a PhD in Psychology.  Steve is currently president of Kesler Group, a real estate investment company.  He has worked in real estate, property management, and sales in a variety of capacities during the course of his career.  He has been involved in both District and Club leadership in Rotary and was next in line to be President of the Grand Junction club.  Steve sent out his full resume to all members recently.
Billie Wedel is a realtor with McGrew Real Estate.  She grew up in South Central Kansas, attending Wichita State University where she earned a Bachelor's and Master's Degree in Music Education. She moved to Lawrence in recent years to be close to her daughter and husband and their family.  Recently retiring from a career in teaching, Billie decided to return to her former career of real estate. During 1986-1996, she was a realtor in Wichita, specializing in new construction and re-sale homes. She is a member of the National Board of Realtors, Kansas Association of Realtors, Lawrence Board of Realtors, and Lawrence Multiple Listing Service.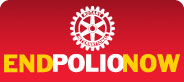 If it were only that simple. Well – we're pretty darn close!
This year Lawrence Central is selling wreaths from Lynch Creek Farms and all the profits from the sales are going to the Rotary Foundation's END POLIO NOW campaign.
After 25 years of hard work, Rotary and its partners are on the brink of eradicating this tenacious disease, but a strong push is needed now to root it out once and for all. It is a window of opportunity of historic proportions. Reaching the ultimate goal of a polio-free world presents ongoing challenges, not the least of which is a hundreds of million dollar funding gap. Of course, Rotary alone can't fill this gap, but continued Rotarian advocacy like Lawrence Central's drive can help.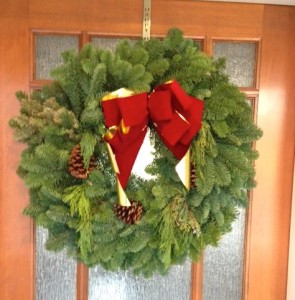 Our reality is that as long as polio threatens even one child anywhere in the world, children everywhere remain at risk and we're doing our part locally to help.
You can contact any of our members to purchase in person, wreaths are 39.95 and $10 of each sale goes to helping eradicate polio.
If you'd like to purchase online or something other than a wreath you can use this link http://bit.ly/LCRPolioPlus – It will direct you to the Lynch Creek Website and 25% of your purchase will come back to Lawrence Central to be sent to the Rotary Foundation.
The 26" Christmas wreaths are made with noble fir, juniper and incense cedar, topped off with ponderosa pine cones and your choice of a red or burgundy velveteen hand-tied bow. The price INCLUDES UPS ground shipping.
Click HERE to download a pdf form you can fill out and give to a member locally.
If you have any questions at all email Bob Swan , Tobin Neis or Steve Kesler and they can help you out.
We're proud to do our part locally for this cause and we invite you to help us!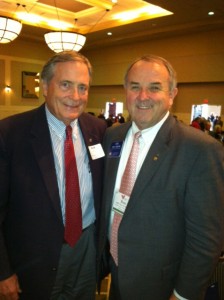 Several members from Lawrence Central welcomed our incoming Rotary President Ron Burton while joining the 300+ attendees of the Zone Institute (Zone is the level above the district and the Institute is a gathering of regional Rotarian leaders) from Mexico to Canada.
It was a great event to see a broader vision of worldwide Rotary and what Mr. Burton has planned for his term in office.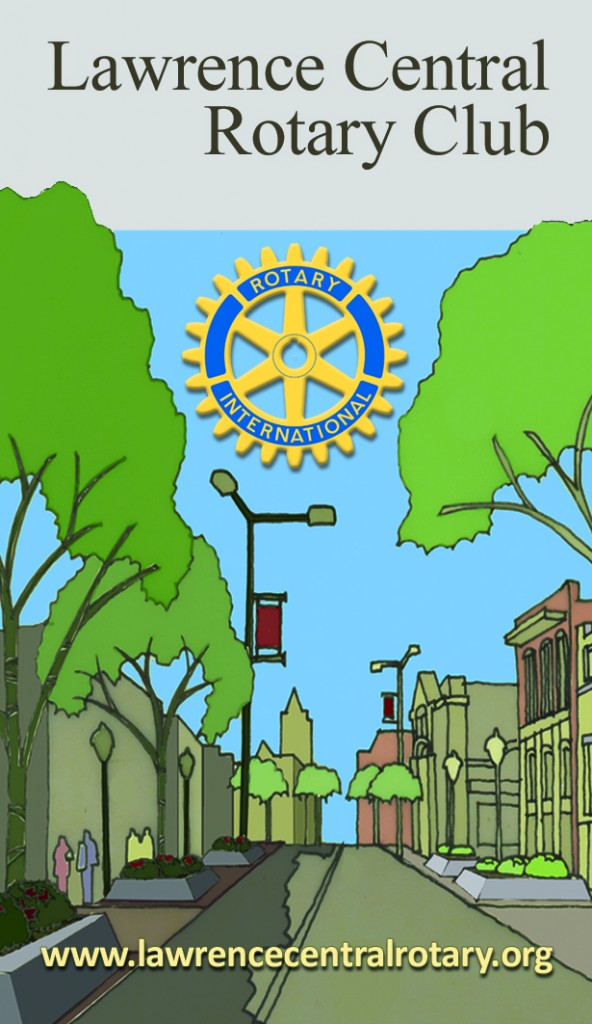 The members of Lawrence Central Rotary invite you to an hour of

fellowship and information about Rotary International.
We are proud of our local impact and international contribution.
Let us tell you about our club.
Please join us!
Wednesday, September 26, 2012
5:15 p.m. to 6:45 p.m.
Program at 5:50 p.m.
The Eldridge Hotel
701 Massachusetts Street
RSVP to Kate Campbell,
ccampbell@sunflower.com