Archive for the 'Rotary International' Category
Last week we had a visiting Rotarian from the Rotary Club of Albuquerque.  Bob Haladay came to lunch and presented us with one of their woven banners and told us about their work they've done over the last 97 years! We'll get a scan of it posted to the Banner page soon.  We've just ordered a new batch of Lawrence Central banners so the second they appear on our stoop we'll have one in the mail to the fine folks in Albuquerque.
Here's a great video from their club about the club and the work they do.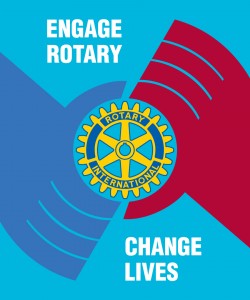 As we start a new calendar year for Rotary (July 1 – June 30) we wanted to take the time to introduce the new Rotary International President Ron Burton and he's asked Rotarians to "Engage Rotary and Change Lives".
He unveiled the RI theme during the opening plenary session of the 2013 International Assembly in San Diego, California, USA, the annual training event for incoming district governors.
"If we really want to take Rotary service forward, then we must make sure that every single Rotarian has the same feeling about Rotary that each one of us here has today," Burton said. "We need to make sure that every Rotarian has a meaningful role to play, that they're all making a contribution, and that their contribution is valued."
Burton said the July launch of The Rotary Foundation's new grant model, Future Vision, makes it an exciting time to be a Rotarian. He said the new grant model, which has been used by about 100 pilot districts since 2010, represents a new era for the Foundation, and will help Rotarians get excited about Rotary's ability to change lives.
"It takes everything that is wonderful about Rotary and raises it to a new level — by encouraging bigger, more sustainable projects while providing increased flexibility for local projects, both of which address the needs of the community being served," he said.
Burton asked the incoming district governors to take the lead in helping their clubs through the transition, with the assistance of their district Rotary Foundation chairs, who also attended the assembly this year. The training sessions are focusing heavily on equipping these leaders to go back to their districts as experts on the new grant model.
Before the assembly, Burton asked each of the incoming governors to make a donation in their name to The Rotary Foundation in order to demonstrate leadership by example. At the assembly, he announced that all 537 governors-elect had complied; along with donations from all RI Board members and Foundation Trustees, the contributions totaled US$675,412.
"Now, I have to believe that some of this is money that The Rotary Foundation probably would not have received had I not asked. And I think that this is an important lesson" he said. "If you want somebody else to do something, you can just sit around and wait for them to get the idea, or you can ask."
Burton applied that lesson also to membership development, which he insisted is the responsibility of every Rotarian. He told the audience that although he had been an active member of the Key Club, a youth program of Kiwanis International, he went on to join Rotary simply because the Rotary Club of Norman, Oklahoma, invited him to.
"You have to ask," he said.
But Burton emphasized that the job doesn't end when a new member joins: "It's not done until that new member is engaged in Rotary, inspired by Rotary, and uses the power of Rotary service to change lives."
If you are interested in seeing Mr. Burton speak he is planning to visit  the Topeka Downtown Rotary Club on Thursday, July 18 at their noon meeting.
IA13 Ron Burton theme speech from Rotary International on Vimeo.
Group Study Exchange  is Rotary's International Exchange Program for Young Professionals. The GSE team will visited District 5710  April 28 – May 28, 2013, and visited the Central Lawrence Rotary at our May 15th Lunch Meeting.  The team is from East Africa and all are medical professionals and their leader Caroline Abeja Apunyo is Medical Doctor from Uganda working as a public health consultant.  She is also Past President for Rotary Club Kampala South and Past Assistant Gov D9200.
District 9200 comprises the six East African countries Eritrea, Ethiopia, Kenya, South Sudan, Tanzania and Uganda. The geographical variation ranges from beautiful coastal beaches (both in Kenya and Tanzania), to Mt. Kilimanjaro, the highest mountain in Africa and Lake Victoria, the largest fresh water lake in Africa. The Big Five – lion,
leopard, elephant, rhino and buffalo – still roam our vast savannahs and bush land. The equator passes through Kenya and Uganda. The total population of all five countries is about 130 million in an area of 3,139,000 sq kms.
Caroline Abeja Apunyo, Group Study Exchange (GSE) Team Leader from Rotary District 9200, poses with her Lawrence Central
Rotary host Kate Campbell during the team's visit in Lawrence in mid-May.
Apunyo is medical doctor with a specialization in Public Health in Kampala, Uganda.  Since 2010, she has run her own business, ABJA Consulting Services, providing public health consulting services in Uganda and neighboring countries.  She has been a Rotarian since 1996.
While in Lawrence, the GSE team of five medical professionals shadowed physicians at Lawrence Memorial Hospital and toured Health Care Access, Heartland Community Health Center, Bert Nash Community Mental Health Center, and the Lawrence/Douglas County Health Department.
Below are scans of the Rotary trading banners the team exchanged with our club.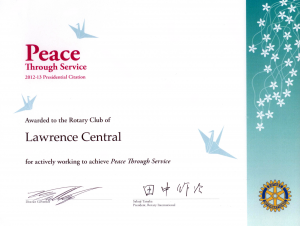 Rotary District 5710's annual conference club president Bob Swan was on hand to receive two awards on behalf of the club.
The first award is the 2012-2013 Peace Through Service Presidential Citation.  The Presidential Citation recognizes Rotary clubs for achieving an array of accomplishments that help them become stronger, deliver more effective service, and enhance their public image. By qualifying for the Presidential Citation, clubs contribute to Rotary's organizational goals and multiply the impact of their good work through the collective focus of 34,000 Rotary clubs worldwide.
In order to qualify Clubs were asked to assess their accomplishments this Rotary year. In order to qualify for a citation, clubs must meet the Presidential Challenge and complete one required activity, along with at least three additional activities, in each of the three categories listed. All activities had to be undertaken and completed between 1 July and 31 March of the 2012-13 Rotary year.
We're proud to say we accomplished these tasks and we are a better club for it!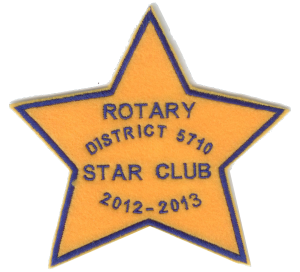 The second award Lawrence Central was for being a District 5710 Eastern Kansas Rotary Star Club for 2012-2013.  District 5710 recognizes as a STAR CLUB every club whose annual contribution to the Annual Program Fund averages $100 or more per member.
(Per capita calculation based on APF giving.)
In order for a club to receive STAR CLUB designation, and be recognized at the District Conference, the club MUST turn in its Annual Fund contributions by March 31 each year. This will allow enough time to determine which clubs will be recognized at the annual District Conference.
Lawrence Central is proud to continue our designation as one of the District 5710 Star Clubs that achieved this annual level of support for our Rotary Foundation.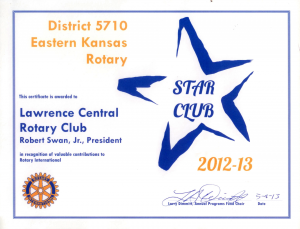 10 years ago former Lawrence Central charter member Ed Samp had an idea. Samp and several other area residents began talking in November 2002 about the idea of forming another chapter. They had heard of several people who were interested in joining a Rotary club but the meeting time, location or size of the existing two chapters wasn't appealing to them.
A decade later the current members of the Lawrence Central Rotary celebrated our 10th anniversary.   On March 13th, instead of our usual haunt at the Eldridge All American room, we descended upon Famous Dave's banquet room and discussed the past and the future of our club.  Members old and new brought their significant others and families for some time together to celebrate.  Many thanks to Lynn O'Neal for putting together a slide show of memories and taking pictures.
Below pictures from the event and a scan of the program from the Rotary Charter Night held March 12, 2003.  We've also posted our current President Bob Swan's remarks to the attendees below.   Thanks to everyone for coming!
Continue reading "Lawrence Central Rotary Celebrates 10 Years" »