Archive for the 'Service' Category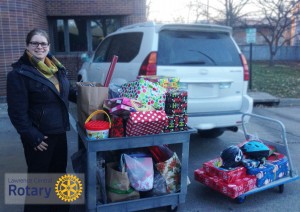 Lawrence Central Rotary Club collected gifts for three families as a part of the local The Salvation Army USA Douglas County Adopt a Family program.
Here's our own Jessica Mortinger who along with Scott Wagner collected all the items so they could be dropped off.
Thanks to all our members who helped out!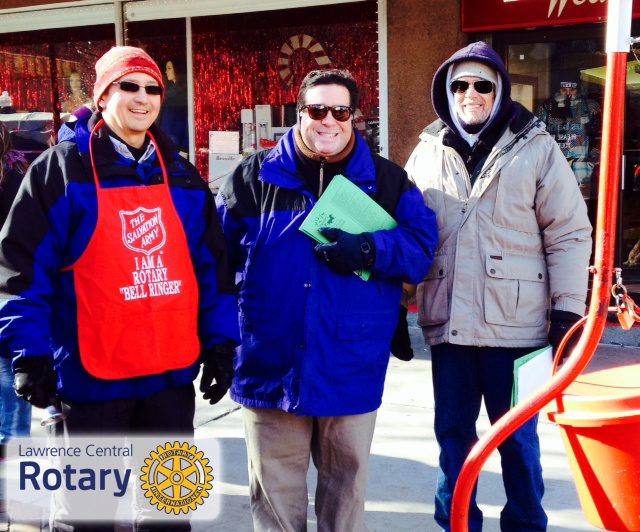 Lawrence Central Rotary Club spent a chilly Dec 7th Saturday ringing bells for The Lawrence Salvation Armyon Mass Street in Lawrence.
Club Members pulled double duty that morning as they also passed out programs to those who braved the cold to watch the Lawrence Old-Fashioned Christmas Parade.
Thanks to everyone who came out and helped!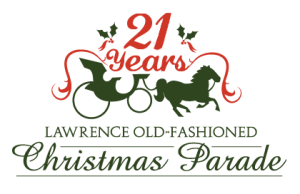 With a blend of Currier and Ives, Norman Rockwell, the expansive history of the American West and Christmas rolled into one, the Lawrence Old-Fashioned Christmas Parade (by clicking on the underlined words, you link to the parade's website) kicks off its 21st season on Saturday, Dec. 7, starting at 11 a.m. in downtown Lawrence.
This must-see Christmas parade, named by USA Today as one of the top 10 great places to put a spin on Christmas, is the only exclusively "horse" parade in the Midwest and one of very few throughout the United States.  It kicks off the holiday season in Lawrence with exclusively authentic horse-drawn carriages and even a stagecoach. Cozy up with hot cocoa and blankets, and feel the true holiday spirit while watching dozens of beautiful horses and wagons adorned in garland and bells. Join us to celebrate our American heritage and keep our traditions alive this holiday season.
Lawrence Central Rotary volunteers will be distributing flyers describing the entries before the parade next Saturday morning.  Come and say hello, then enjoy the holiday spirit on Mass Street—one of the things that is so great about Lawrence!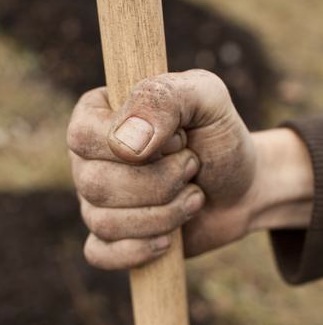 If it were only that simple, but this is a good way to start. Again this year, Lawrence Central Rotary is selling wreaths and holiday decorations from Lynch Creek Farms and all the profits from the sales are going to the Rotary Foundation.
The Rotary Foundation transforms these funds into projects that change lives both close to home and around the world. As the charitable arm of Rotary, the Foundation taps into a global network of Rotarians who invest their time, money, and expertise into Rotary's priorities, such as eradicating polio and promoting peace. Rotary Foundation grants empower Rotarians locally and worldwide to approach challenges such as poverty, illiteracy, and malnutrition with sustainable solutions that leave a lasting impact.
You can contact any of our members to purchase in person, wreaths are $39.95 and $10 of each sale goes to the Rotary Foundation helping make the world a better place.
But there's even an easier way! You can purchase a broader array of holiday decorations online by using this website. http://bit.ly/LCRWreath13 – It will direct you to the Lynch Creek Website and 25% of your purchase will come back to Lawrence Central Rotary to help locally and globally uniting for the common good.
Lawrence Central Rotary is proud to do our part locally and we encourage you to help us!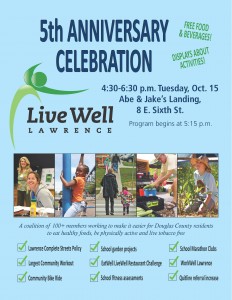 You are cordially invited to the fifth anniversary celebration of LiveWell Lawrence. The celebration will be from 4:30 p.m. to 6:30 p.m. Tuesday, Oct. 15, at Abe and Jake's Landing, 8 E. Sixth St., in downtown Lawrence.
LiveWell Lawrence is a coalition of more than 100 community members who are working together to make it easier for Douglas County residents to eat healthy foods, be physically active and live tobacco free.
The celebration's program begins at 5:15 p.m. and will include:
Welcome — Hank Booth
Bringing the vision of LiveWell to life — Marilyn Hull, of Douglas County Community Foundation
LiveWell, today and tomorrow — Cindy Johnson, chair of LiveWell Lawrence
LiveWell, a state leader — Jeff Usher, of Kansas Health Foundation, and Robert Moser, MD, secretary of the Kansas Department of Health and Environment
Community impact — Douglas County Commissioner Mike Gaughan and Lawrence Mayor Michael Dever
Special recognition of Marilyn Hull
We hope you can attend the event and celebrate our community's successes, which include passage of a Complete Streets Policy in Lawrence, adoption of school marathon clubs and school gardens, and establishment of WorkWell Lawrence, a network of employers who are working together to create a culture of health in the workplace.
There will be free food and beverages along with information booths about community activities ranging from school gardens and bicycling to workplace wellness and transportation planning. It's a great opportunity to network and learn about LiveWell!
Lawrence Central Rotary and Ride Lawrence will be set up with information about local biking and other exciting giveaways!
Help us promote the celebration. Download and share the event flyer here.