Archive for the 'Service' Category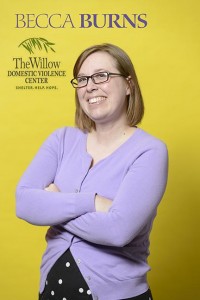 Becca Burns, the Director of Volunteer Services for The Willow Domestic Violence Center, joined Rotarians for lunch to kick off the club's third annual fund-raising effort on behalf of the agency. Each May, Lawrence Central Rotary collects personal hygiene items and financial contributions for The Willow.
Burns highlighted the range of services available at The Willow as well as the wide-spread need for those services. One in three women will experience some sort of domestic violence in their lives; one in six men are victims. The agency is now providing programs to educate and prevent domestic violence as well as assist those escaping from it. The Willow is also addressing the issue of human trafficking for labor or sexual exploitation. Their programs include efforts in Franklin, Jefferson, as well as Douglas County.
Becca is responsible for training, recruiting and supervising volunteer and intern advocates, many of whom work directly with the survivors The Willow serves. She obtained her Master of Social Work degree from Washington University and her Master of Education from the University of Missouri at St. Louis.
All month Lawrence Central encourages members and guests to come to our meetings and drop off cash donations or items that will go directly to help the work that The Willow does.  Please consider making a cash donation or picking up some items from the list provided by Willow:
1. Ethnic hair care products (wide-tooth combs, Pink brand products, Pantene in the brown bottles) – if your members have any questions about where to go, they can stop by Sally's in the Kohl's shopping center or check out the Ethnic hair care sections of Walmart and Target
2. Tampons
3. Over-the-counter stomach remedies, pain medication, and allergy relief
4. Adult body wash
5. Baby wipes
6. Diaper rash cream
7. Diapers, size 0-6
8. Flash drives
9. Planners
10. Watercolors – for the Art Program
11. Bubble machine – for the Children's Program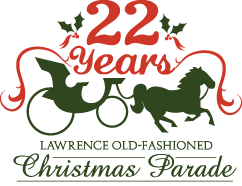 The weather was approximately 40 degrees warmer this year as members of Lawrence Central Rotary arrived downtown to help pass our programs for the Lawrence, Kansas Old-Fashioned Christmas Parade now in its 22nd year. It's one of the most unique parades in the nation, the Lawrence Old-Fashioned Christmas Parade kicks off the holiday season with exclusively authentic horse-drawn carriages parading down Massachusetts Street. Attendees arrive downtown early to park their vehicles along Mass Street and open up the backs or sit in the beds of trucks and cozy up with hot cocoa and blankets, and feel the true holiday spirit while watching dozens of beautiful horses and wagons adorned in garland and bells roll by.
Club members layer and bundle up and walked up and down the sidewalks and along the parade route to pass out programs that list all the entries that are in the parade so onlookers can see how far some of these groups traveled to be in the parade.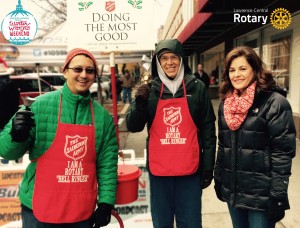 At the same time at the Southwest corner of 9th and Mass other club-members took shifts wishing season's greetings and ringing the bell next to the Douglass County Salvation Army's Red Kettle that raises money for the important work they do.
In 1891, Salvation Army Captain Joseph McFee was distraught because so many poor individuals in San Francisco were going hungry. During the holiday season, he resolved to provide a free Christmas dinner for the destitute and poverty-stricken. He only had one major hurdle to overcome — funding the project.
Where would the money come from, he wondered. He lay awake nights, worrying, thinking, praying about how he could find the funds to fulfill his commitment of feeding 1,000 of the city's poorest individuals on Christmas Day. As he pondered the issue, his thoughts drifted back to his sailor days in Liverpool, England. He remembered how at Stage Landing, where the boats came in, there was a large, iron kettle called "Simpson's Pot" into which passers-by tossed a coin or two to help the poor.
The next day Captain McFee placed a similar pot at the Oakland Ferry Landing at the foot of Market Street. Beside the pot, he placed a sign that read, "Keep the Pot Boiling." He soon had the money to see that the needy people were properly fed at Christmas.
Again this year, and in memory of a tradition started by founding member Becky Castro who passed away earlier this year, Lawrence Central Rotary is selling wreaths and holiday decorations from Lynch Creek Farm and all the profits from the sales are going to the Rotary Foundation.
The Rotary Foundation transforms these funds into projects that change lives both close to home and around the world. As the charitable arm of Rotary, the Foundation taps into a global network of Rotarians who invest their time, money, and expertise into Rotary's priorities, such as eradicating polio and promoting peace. Rotary Foundation grants empower Rotarians locally and worldwide to approach challenges such as poverty, illiteracy, and malnutrition with sustainable solutions that leave a lasting impact.
You can contact any of our members to purchase in person to arrange a purchase, but there's even an easier way!
You can purchase a broad array of holiday decorations online by using this website http://bit.ly/lcrholiday14 – It will direct you to the Lynch Creek Website and 25% of your purchase will come back to Lawrence Central Rotary to help locally and globally uniting for the common good.
Lawrence Central Rotary is proud to do our part locally and we encourage you to help us!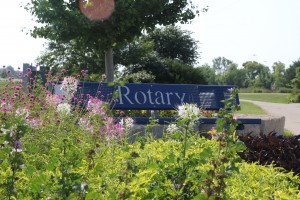 The weather spirits were with us the third weekend in July when we arrived to set up at Lawrence's Rotary Arboretum for our 4th Community Bike Ride.
Over 100 families and approximately 200 people came out to enjoy the summer morning with one of three bike rides.
There was a 10 mile (actually 11.1) mile ride that rolled out at 8:00am followed by a three mile ride out to Clinton Park's Sander's Mound at 8:30 whole local kids rode around the 1 mile closed loop at around the Arboretum throughout the morning.
Funds raised were used to purchase kid's bike helmets that were free to kids who came and they were also fitted on-site to make sure there was a proper fit.
We'd again like to thank all the sponsors who make this event possible:  Anderson Rentals, The Merc, Sunflower Outdoor & Bike, Lawrence Econolodge, Ryde Barre, Ortho Kansas, McDonalds, GP Velotek, Lawrence Bicycle Club, Lawrence Community Hospital, Safe Kids Douglas County, and Bev West Creative.
We're in the planning stages for a new fall Community Bike Ride on Lawrence's East side starting from the Haskell University Stadium Parking lot and riding the Burroughs Creek Trail. The Ride is scheduled for September 20th and more information if coming soon. If you'd like to be a part and volunteer or help sponsor please email us at lawrencecentralrotary@gmail.com.
For a gallery of the individual pictures we took that day navigate your browser over to RideLawrence.com.  Below is a picture pile.