Archive for the 'Service' Category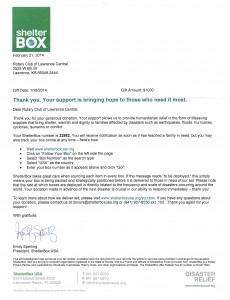 We got a note back from Shelterbox USA that they received our donation of $1000 for another shelterbox.  The letter has the serial number of the box so we can track where it went to help people in times of disaster.
If you don't remember Shelterbox responds instantly following natural and other disasters by delivering boxes of aid to those who need it most and each ShelterBox supplies an extended family with a tent and essential equipment to use while they are displaced or homeless.
When we know where it was deployed we'll update you!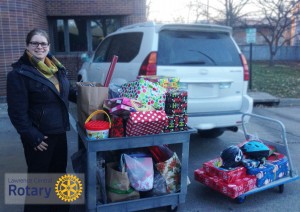 Lawrence Central Rotary Club collected gifts for three families as a part of the local The Salvation Army USA Douglas County Adopt a Family program.
Here's our own Jessica Mortinger who along with Scott Wagner collected all the items so they could be dropped off.
Thanks to all our members who helped out!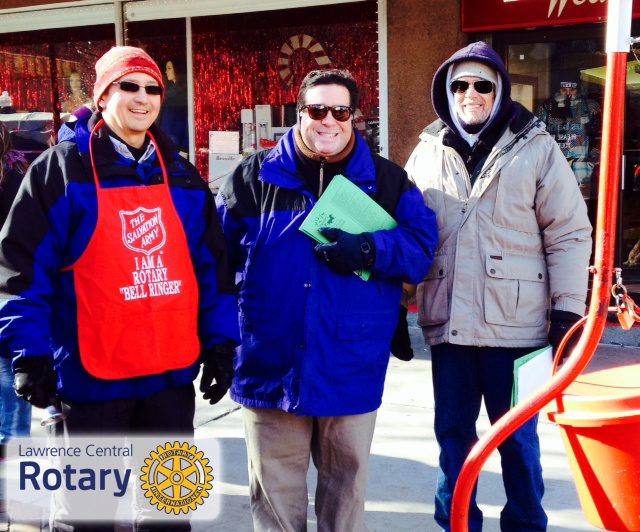 Lawrence Central Rotary Club spent a chilly Dec 7th Saturday ringing bells for The Lawrence Salvation Armyon Mass Street in Lawrence.
Club Members pulled double duty that morning as they also passed out programs to those who braved the cold to watch the Lawrence Old-Fashioned Christmas Parade.
Thanks to everyone who came out and helped!