Archive for the 'Service' Category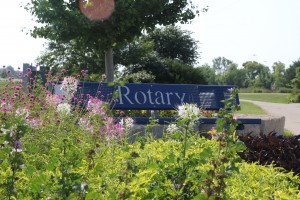 The weather spirits were with us the third weekend in July when we arrived to set up at Lawrence's Rotary Arboretum for our 4th Community Bike Ride.
Over 100 families and approximately 200 people came out to enjoy the summer morning with one of three bike rides.
There was a 10 mile (actually 11.1) mile ride that rolled out at 8:00am followed by a three mile ride out to Clinton Park's Sander's Mound at 8:30 whole local kids rode around the 1 mile closed loop at around the Arboretum throughout the morning.
Funds raised were used to purchase kid's bike helmets that were free to kids who came and they were also fitted on-site to make sure there was a proper fit.
We'd again like to thank all the sponsors who make this event possible:  Anderson Rentals, The Merc, Sunflower Outdoor & Bike, Lawrence Econolodge, Ryde Barre, Ortho Kansas, McDonalds, GP Velotek, Lawrence Bicycle Club, Lawrence Community Hospital, Safe Kids Douglas County, and Bev West Creative.
We're in the planning stages for a new fall Community Bike Ride on Lawrence's East side starting from the Haskell University Stadium Parking lot and riding the Burroughs Creek Trail. The Ride is scheduled for September 20th and more information if coming soon. If you'd like to be a part and volunteer or help sponsor please email us at lawrencecentralrotary@gmail.com.
For a gallery of the individual pictures we took that day navigate your browser over to RideLawrence.com.  Below is a picture pile.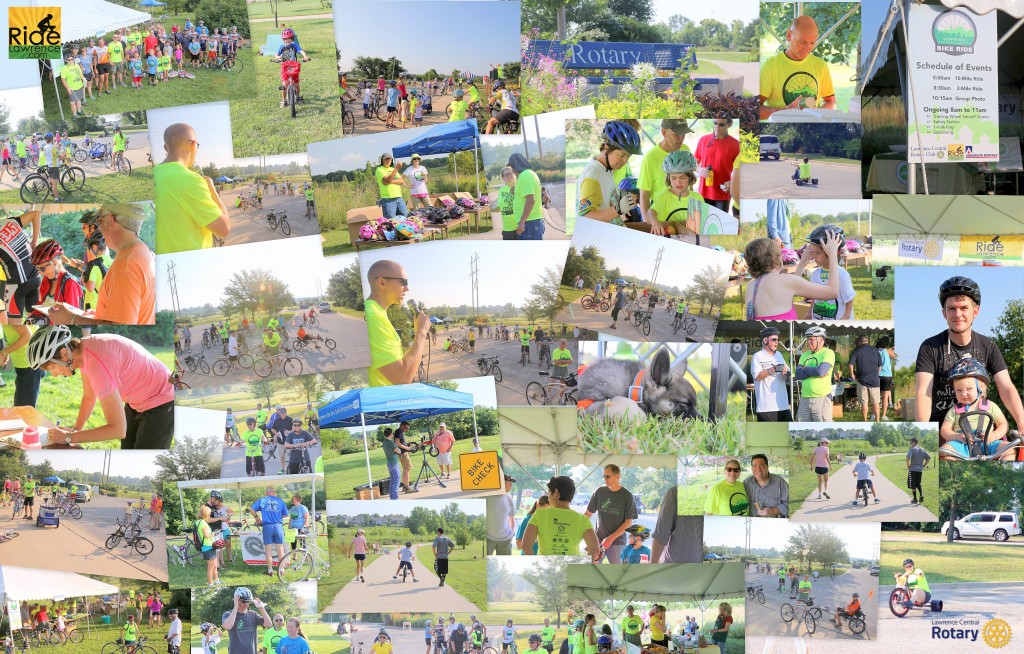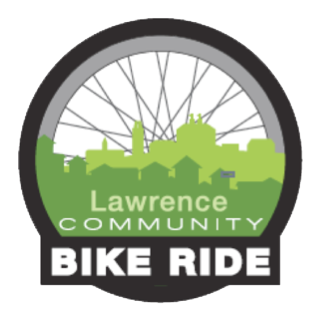 Lawrence Central Rotary Club is hosting a Lawrence Community Bike Ride on Saturday, July 19, at the Lawrence Rotary Arboretum, 5100 W. 27th St., near the Youth Sports Complex soccer fields. The event is open to anyone and there is no cost to participate.
There will be three rides to choose from and they all travel along the South Lawrence Trafficway bicycle path, a paved surface that is a car-free environment:
Ten-mile ride. It begins at 8 a.m. and travels almost to the Lecompton interchange on the Kansas Turnpike and back.
Three-mile ride. It begins at 8:30 a.m. and goes to the Clinton Lake Overlook and back.
One-mile ride. It loops around the pond at the Lawrence Rotary Arboretum and is available anytime between 8 a.m. and 11 a.m.
Other activities from 8 a.m. to 11 a.m. include:
A Training Wheel Takeoff. Experts will help children who are ready to take off their training wheels in a safe environment.
Safety Zone. Safe Kids Douglas County will help outfit children with helmets while supplies last and provide bicycling safety tips.
"We hope more and more people discover cycling as a fun and healthy activity," said Steve Lane, a member of Central Rotary Club. "This event is a great opportunity for families and individuals to enjoy cycling in a safe and scenic area of Lawrence."
Participants should wear a bicycle helmet and they are encouraged to bring water and wear sunscreen. This is the third year for the Community Bike Ride. The first event in 2011 drew 50 participants, followed by 125 in 2012. Last year's event was rained out.
If it is raining July 19, the ride will be held on Sunday, July 20, at the same times. Registration for the event is required and can be done before the event. For more information, visit ridelawrence.com.
Releases will be available at the event or you can download one HERE.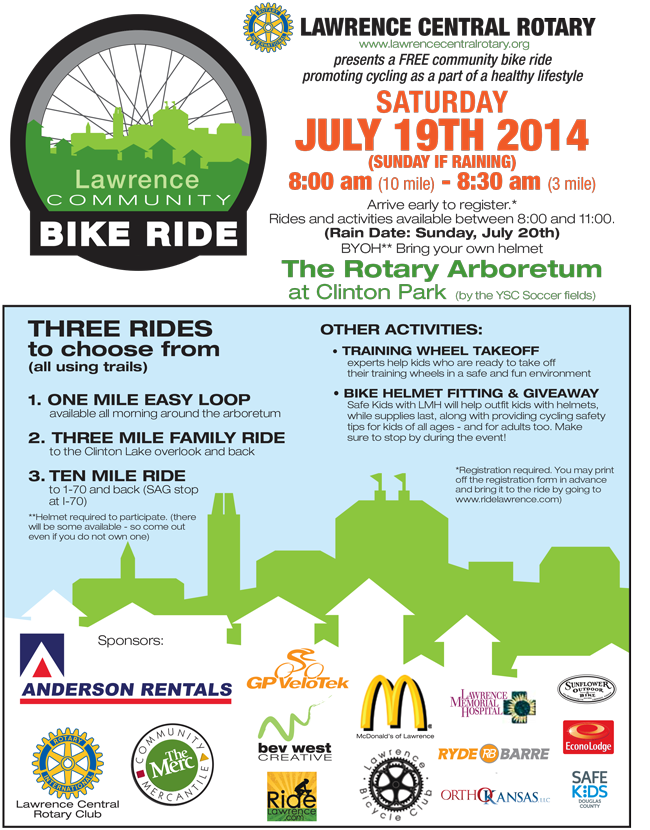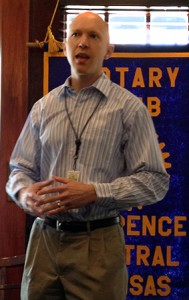 The Lawrence Central Rotary Bike Ride is gearing up (literally) again and Steve Lane got the ball rolling at the Central Rotary Club meeting on June 11.
Steve, who definitely holds the title "most organized man on the planet," presented a schedule of dates and time frames, got volunteers for various areas, and  showed the poster for the July 19 Community Bike Ride at the Lawrence Rotary Arboretum.
The idea for a community bike ride started in 2009 when Central Lawrence Rotary reached out for a project and wanted to provide a way for local people to live a healthier lifestyle.  The first activity was to install bike racks around the city, and creating the Ride Lawrence Website as a clearing house for all thing bicycle related in Lawrence.  The initiative evolved into the Community Bike Ride and by 2011 the ride included 60 children and their parents.
It has has grown each year and now offers three routes: a one-mile easy tour; a three-mile family ride; and a 10-mile ride to I-70.
In summer 2013, Steve said the club applied for and received a grant and will focus on people who are new to riding. There will be training wheel take-off, with experts helping young riders, bike helmet fitting and a helmet give-away. Lawrence Memorial Hospital Safe Kids will assist. Karrey Britt, communications coordinator for the Lawrence Douglas County Health Department, has also offered her services.
And, Steve said, he has scheduled Sunday, July 20 as an alternative date to avoid the  cancellation that occurred in 2013 when  a torrential rain storm  washed out the ride.
He was excited to confirm that based on the grants Lawrence Central has received we will have officially been able to schedule a second ride to be held the third Saturday of September on Lawrence's Burroughs Creek Trail to commence from the Haskell Indian Nations stadium Parking lot that is alongside the trail.. More information will be posted soon both here and at RideLawrence.com
Have you ever noticed how the planters at the intersections of Mass Street always look so nice?  A team of volunteers descended upon Mass Street Saturday, May 10th, for a great purpose,  the yearly cleaning and planting of flowers along Lawrence's Massachusetts Street.
The Lawrence Parks and Recreation Department provides the flowers and local residents and service groups come together to make the city a more beautiful place.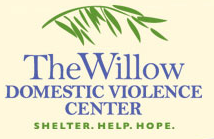 For the second year now the members of Lawrence Central have resolved to adopt the Willow Domestic Violence Center.
For those of you who may not be aware The Willow Domestic Violence Center works toward peace in the world by elimination of violence in our communities.  They are dedicated to the empowerment of survivors of domestic violence; the creation of a peaceful, safe space; the promotion of equality and respect for all people; the appreciation of differences, and the social action necessary to achieve these goals.
The Willow fields upwards of 1600 crisis calls and referral calls per year, houses 250-300 women and children annually, runs adults and child support groups, and offers services and public education in the Kansas counties of Douglas, Franklin, and Jefferson.  For more information about Willow check out their website at http://www.willowdvcenter.org
So how is Lawrence Central helping? At our weekly meetings we will be collecting items (or gift cards/cash donations) that can be used by clients of Willow.  In planning with them for this year their current needs are:
Day planners / journals
Shower loofas
Icy Hot / Bengay
Gas X / Turns
Deodorant
Finger nail polish remover
Children's shampoo /conditioner / body wash
Children's toothpaste and toothbrushes
Children's hair detangler
Diapers – size 5 and 6
Gas gift cards
During the month of May we welcome you to drop of items any of our meetings on Wednesday's at noon in the Eldridge's All American Room and if you have time stay for lunch and learn about what Lawrence Central Rotary does for Lawrence and beyond!